Get all your fasteners tightened securely with Milwaukee® ratchet and socket sets. These Milwaukee hand tools are suitable for all sorts of work. They're designed for use on plumbing, HVAC, repair and electrical projects.
Overview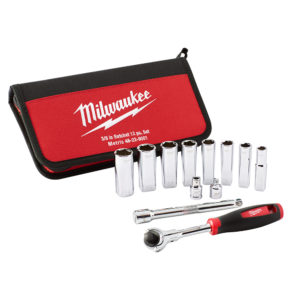 Milwaukee ratchet sets with 12 pieces come in both metric and SAE so you can use them on American or international machines. As most tradesmen end up using automotive ratchets for their other jobs, these tools are designed with all types of trades in mind. You can use these Milwaukee hand tools for opening access panels, tightening machine parts and many more tasks. They're ideal for hanging or removing pipe straps, building data trays, fastening clevis hangers, attaching couplings for refrigerant lines, installing panel boxes, setting up victaulic couplings and more.
Made To Fit Anywhere
These convenient Milwaukee ratchet and socket sets have pivoting heads for working at odd angles in tight quarters. They're compatible with bits that you can use both for ratcheting or driving nuts. The Milwaukee ratchet sets have squared ends so you can grasp them in wrenches for added torque. A series of 72 teeth let you ratchet in increments as small as 5 degrees for greater precision.
Designed For Comfort
Beyond performance, these tools offer convenience and comfort thanks to an ergonomic handle that reduces strain from extended use. The flat sides keep the Milwaukee hand tool sockets from rolling around when you set them down. You also get adapters for attaching hex or 1/4-inch sockets so you can use the handle with virtually all other accessories, plus a 6-inch extension for reaching into the tight spaces of your car or other machinery. The Milwaukee ratchet set comes with bits from 10mm to 19mm, and the SAE version includes 5/16 to 3/4 inches for getting most standard tasks done with just one set.