Get the job done right with the Milwaukee® 48-08-0551 miter saw stand. The heavy-duty jobsite stand improves the classic sawhorse and stands up to harsh conditions. It's made from aluminum for rust resistance and lightweight strength.
A Stable Table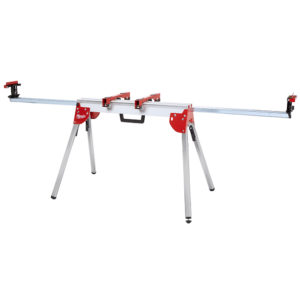 This miter saw stand from Milwaukee gives you a stable place to set up for cutting lumber outside of your workshop. It has a leveling foot that you can use to ensure it's stable, even on uneven surfaces. The portable saw mounting brackets are quick to set up, and they're compatible with virtually all brands of saws, Milwaukee or otherwise, to make this a useful addition to any setup.
Compact Folding Design
Whether you're on a commercial site or working in your garage, space is always at a premium; this accessory gives you more room thanks to its skeletal design. The entire miter saw stand folds up when not in use, so you can fit it into a corner. It's lightweight, 30-pound body allows for easy transport and setup. You can get an optional carrying strap for more comfortable transport. The sides extend up to 100 inches for holding lumber as wide as 16 feet.
Just How Much Can It Handle?
The heavy-duty jobsite stand can safely hold up to 500 pounds at a time, making it ideal for processing large boards and other pieces. The worktable accessory gives you a spot to perform other tasks or to just keep your cut pieces more stable while you work with them. The hexagonal slider edges prevent the miter saw stand from flexing for greater stability and more precise cuts. A handle on the bottom makes it easier to carry away when you're all done.




While you're here, make sure to check out these tips for getting the most out of your miter saw: