Popcorn isn't bad, unless it's on your ceiling. If you are ready to say goodbye to a dated popcorn ceiling, there are three ways to get the job done. You can scrape the popcorn away, cover the ceiling with a new layer of drywall, or use a skim coat with plaster to create a new texture. Unless there is a lot of damage to the ceiling, most DIYers choose to simply scrape the popcorn off.  Yes, scraping your ceiling is a messy process, but it's also the least expensive and can be completed by one person relatively quickly.  Here's a step-by-step guide to remove popcorn ceiling.
How To Remove Popcorn Ceiling
Check for Asbestos
If the popcorn was added before 1979, get it tested for asbestos. You can either use a home-testing kit, or have a professional come out and test for it. If asbestos is in your ceiling, the project is best completed by a professional who is trained and certified in asbestos abatement.
Prepare your room's walls and floor.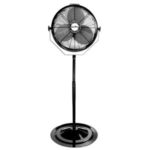 Remove the furniture. Protect the walls and floor by hanging plastic sheets from the crown molding and placing a waterproof drop cloth on the floor. Put a fan in the window to add good ventilation, this will keep the humidity lower and provide you with some relief while working in the room.
Remove all light fixtures and tape off electrical switches and outlets.
Be sure to turn off the power at the fuse box before removing the fixtures.  Pay close attention to the disassembly of any light fixtures and label wire connections.  This will make putting them back up is easier and that the correct wires get connected to each other. Another good idea is to cover electrical switches and outlets with plastic.  You will be using water in the area and do not want to accidentally get any of the water in the outlets.
Protect yourself with safety glasses and a dust mask .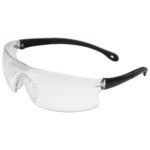 Removing popcorn texture is a dirty job, it is best to leave the protection equipment on throughout the entire process.  Safety glasses or goggles are a must when working above your head and in this project you will always be working over your head.
Spray the ceiling with water.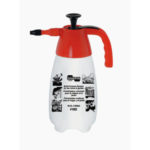 Most people prefer to dampen the ceiling before scraping as it makes the job go faster. Others prefer to scrape it dry as this method is usually a lot less messy. You may wish to test both ways to see which method you prefer. If you decide to spray, use a basic garden sprayer filled with water to wet down the ceiling. Work in small sections at a time and don't apply too much water which could damage the drywall surface.  You just need to put on enough to dampen the texture and not enough to get the drywall paper wet.
Scrape off the popcorn texture from the ceiling.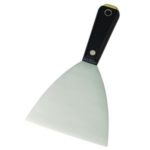 Use a 4-inch utility scraper or a drywall knife to scrape away the texture and create a smooth surface. Keep a plastic bag handy while scraping so any wet debris can quickly disposed of.  If you are using the dry method you can use a shop vacuum to collect any of the pieces being scraped off.  This will make the final cleaning of the floor much easier.
Wipe with damp sponge.
Once all the popcorn has been removed, wipe down the entire ceiling with a damp sponge to remove any straggling pieces and to get your ceiling ready for repair and paint.
Repair any damage or scraper marks.
Inspect the ceiling for any imperfections. Spread spackle over any area that needs smoothing. After the spackle dries, sand smooth and wipe again with a damp sponge. Now is the time to be picky.  If you can see an imperfection now you will be able to see it after primer and paint.
Prime and paint the new ceiling.
Depending on how much damage was caused to the ceiling during texture removal you may need to prime the new ceiling. Once that is done one or two coats of a good quality flat, matte, or eggshell paint should do the trick.