Ready to start grilling? There are many considerations to keep in mind when you're looking at the different types of grills available. Think about the reasons you want a grill, which type best suits your particular cooking style, and whether you want a freestanding or built-in grill. Grill size, cooking capacity, and accessories offered are important factors to consider.
Cooking on a grill is a nice change from kitchen duty, requires less cleanup, and gives you an opportunity to spend time with family and friends. Whether you're cooking in the backyard, tailgating, heading to the beach, or grilling at a cabin up in the mountains, a grill is a welcome companion. Knowing how to buy a grill and accessories to make it everything you want allows you to find just what you need.
Grill Type
Different grill types include electric grills, gas grills, charcoal grills, and smokers. The type of grill you choose will depend on where you want to use it, how you want your food flavored, convenience, what size you want and what cooking capacity you need.
Electric Grills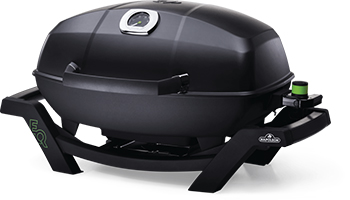 Electric grills come in multiple sizes. They range from small tabletop models to larger ones that can make enough food to feed a group. This type of grill comes in both indoor and outdoor models. However, electric grills don't add that classic wood or charcoal flavor to your food, which is why some electric grills come with an attached smoker box.
It's easy to control the heat levels on an electric grill. You use the temperature knobs to maintain, raise and lower the temperature to suit your needs with precision.
Gas Grills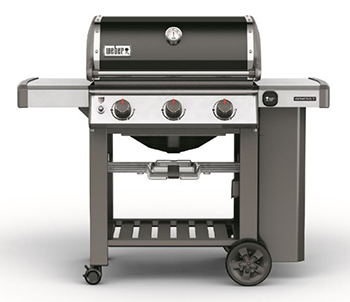 Gas grills make cooking easy without the fuss of cleaning up ash after each use. These grills rely a portable propane gas tank, but many may be retrofitted to be natural gas grills that directly connect to a gas line. One of the best features of gas grills is that they heat up quickly.
Gas grills require close attention while you're cooking because temperature control is not as precise as an electric grill, and it can take a few extra minutes to find the perfect flame height for the food you're cooking. These types of grills come in all sizes, so knowing how many people you'll usually be serving is important.
Charcoal Grills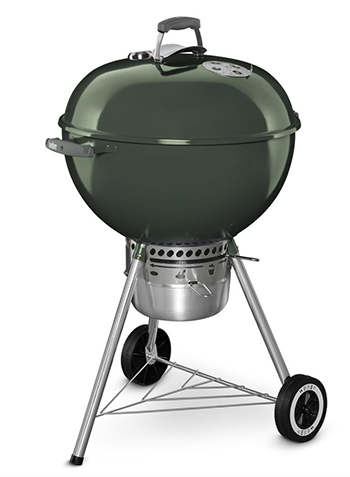 Most charcoal grills are portable and, since these grills come in a variety of sizes, you can choose a smaller one that you can take to the beach, park or tailgate party. Charcoal can take a while to get the grill hot enough; pre-heating is a slower process than it is with other types of grills. Starter fluid or easy-start charcoal can help.
Charcoal adds an excellent smoky taste to your food, and sprinkling some wood chips over the charcoal beefs the flavor up. One downside is cleaning a charcoal grill. You cannot clean it until it has totally cooled down, and in some cases, this may take hours. Charcoal grills don't provide even heat, so you'll need to be vigilant while cooking.
However, you can use the uneven heating to your advantage by using the different areas of the cooking surface to cook steaks, burgers and grilled vegetables at appropriate temperatures. You can also move the coals around to create hot and cool spots as needed.
Smokers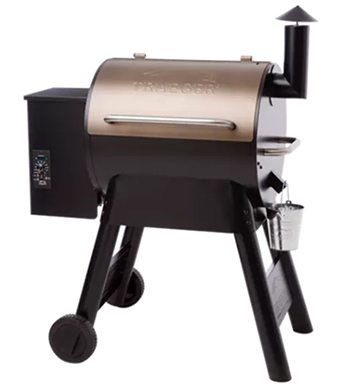 Smokers are useful types of grills for making bacon, ribs, smoked turkey and other popular dishes. Among the different types of smokers there are electric, gas and charcoal smokers. Styles include free-standing, cabinet, barrel and bullet. They are also available as attachments for an existing grill.
An electric smoker offers convenience and ease of use. You can set the temperature, and then do something else while your food cooks. It produces a moist meat because the moisture does not escape during the cooking process. However, the smokey flavor from cooking in an electric is typically milder than other types of smokers.
Most gas smokers use propane as a fuel source, but there are gas smokers that you can attach to a gas line at your home for convenience. These smokers produce a considerable amount of heat and smoke and are common in restaurants where barbecue is on the menu.
Charcoal grills only require a lid to use them as a smoker. However, smoking meat over charcoal takes time so you may prefer to add a smoker box or use a freestanding smoker. Charcoal smokers also come in bullet and barrel shapes or as cabinets. Charcoal smokers produce the most intense smoke flavor of these types mentioned.
Freestanding vs. Built-In Grills
If you like to take your grill along to the beach or on picnics, a freestanding grill is what you need. A freestanding grill is also useful for the backyard or patio because you can move these types of grills from home to home or even across the yard. Built-in grills work well when you want to build an outdoor kitchen.
Grill Size and Configuration
Grill sizes range from small enough for two hamburgers to one that can fix enough food for a party. Knowing how many people you want to feed is essential when you're choosing a grill size. The space a grill can take up should also factor into your decision.
Many top-rated grills including multiple levels of grates to increase cooking space. This lets you cook some foods such as baked potatoes on one level and steaks or fish on another. Optional burners and side burners can increase the cooking capacity. Some grills also come with side counters so you have space to place your basting sauces and tools.
Types of Grill Surfaces
Different grills have different types of cooking surfaces. Each surface has its pros and cons.
Grate Material
The way a grill grate transmits heat is important, and some metals are more efficient than others. Stainless steel grates are easy to clean, conduct heat well and are rugged. Cast iron grates are good at holding heat but must be cleaned and oiled to prevent rusting. Cast aluminum increases the heat, makes it easier to flip food on the grill and is lightweight. Tempered steel is also lightweight and transmits heat well. But like cast iron, steel will rust if the grates are not kept clean and oiled.
Coatings
Some top-rated grills features coated grates that keeps food from sticking. A Teflon coating makes it easier to clean the grill, but Teflon can be easily damaged by using metal utensils. Porcelain enamel is similarly easy to clean. Chrome and nickel plating makes a grill surface easy to clean but are not as long-wearing as Stainless Steel or other types of surface coatings.
Regardless of whether you choose a coated or uncoated surface, at some point you'll need to replace the grates, so choose for a more universal grill size so that you have lots of options to when it's time to replace.
Accessory Features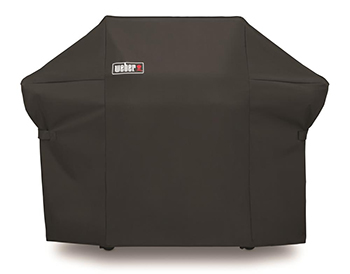 Storage covers are available for all types of grills. A grill cover is a good investment since it protects your grill from the elements, cutting down on cleaning and maintenance and extending the life of your grill. Some grills come with a grease drip pan or bucket that make internal cleanup easier.
Smoker boxes are available for many grills. These enhance the smokey flavor of everything cooked on the grill. Rotisseries are handy accessories for evenly cooking and browning a roast, turkey, chicken or other meat. As the spit turns, grease drips off, which both helps the food to brown on all sides and reduces the amount of calories and fat. For those who need additional grilling space, multi-level racks are available to fit almost any grill. These racks also provide warming space to keep already cooked foods warm or to grill buns or other foods.
Basic Grill Safety
Never leave a grill with an open fire unattended, and be sure to keep your grill a safe distance from flammable material and structures in the event of flare-up. Never use charcoal or propane grills indoors. Also, keep grease buildup, which can start a fire, to a minimum by allowing t to burn off for several minutes before and after cooking, and occasionally scraping off buildup.
Grills are a good way to prepare a meal outdoors and enjoy the unique taste of grilling while spending time with your family or friends. There are many different grills to choose from, which is why learning how to buy a grill is important.