Farm equipment has to work correctly whenever you need to use it. Baldor industrial motors deliver the outstanding performance you require to get consistent results. They feature a number of design considerations that help solve any issues you may face on your farm, including durable frames that hold up to daily use.
What You Need to Know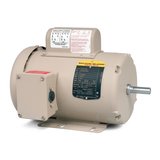 Farm equipment tends to be fairly power-hungry, so your best bet is to go with a high-horsepower model. The greater the HP rating, the more intense of a load the motor can handle. The other big consideration is the unit's phase. If it's set for single-phase, then you can run the motor on virtually any household current, but it's not likely to be as powerful as a three-phase version. Three-phase motors can draw more power safely and with a more efficient consumption than single-phase designs, though you have to wire your home or business up to handle it specifically.Customize the Motor to Meet Your Needs
Your farm or workshop has a unique setup with needs and apparatus that varies from your neighbors, so Baldor motors are part of the Motor Mod Express® program, where the manufacturer re-configures a stock unit to fit various machines or for a special performance. They can install a C-face mount, space heaters and thermostats, cords and plugs, convert the mechanical switch to an electric version, ground the shaft or more. Baldor electric motors also come in various performance levels, from 1/4 HP to 100 HP; the various power ratings help to ensure you get the one that best fits in your machine chassis.
Motors For All Seasons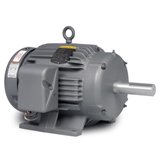 These models have thick epoxy coatings, which stops rust and prevents damage from flying rocks and other debris. Baldor motors are also equipped with rodent screens to keep snakes and other small animals from getting into the inner workings. Gaskets along the conduit box, plus sealant on the drive end and V-ring prevents particles from getting in for uninhibited operation. This design also protects against moisture, and a series of drains allow what little condensation does gather to roll out harmlessly. These Baldor industrial motors are suitable for use in a variety of machines, including dryers, feed systems, cleaners and more, so you can move them from one machine to another as the seasons change.
Cost Savings
You run your operation on a budget, and these products help you to stay within it. They meet NEMA® efficiency ratings to ensure that you get power for minimal electricity costs. The Baldor motors also have three-year warranties to protect your investment. Their individual components, such as rings and seals, are long-lasting to reduce resources spent on replacements. The motors are simple to install and remove, which means you can swap them from one machine to another for getting added duty from a single piece of apparatus.
Easy to Maintain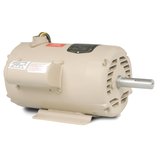 Baldor electric motors require relatively little maintenance thanks to their durable design. The bearings are permanently lubricated, so there's no need to add more. A low-friction design reduces wear on the bearings to keep them working at their peak longer. Mobil Polyrex EM® grease does double duty as a lubricant and a moisture barrier to prevent the Baldor motor from suffering rust and water damage. Thermal protection allows certain varieties to run in ambient temperatures of up to 112 degrees Fahrenheit (50 Celsius) for constant performance in high-demand situations. Motors with capacitor starts are easy to turn on and off rapidly without causing damage.
Versatile for Multiple Functions
What do you need to do on your property? Baldor motors come in several lines, each designed around a specific function, and in a range of horsepower ratings for running smaller or larger equipment. You can also use them on your custom-designed machines.
| | | | | |
| --- | --- | --- | --- | --- |
| Duty | Cooling System | Phase | HP Rating | Additional Features |
| General | Fan | Three-Phase | 1 to 100 | NEMA Premium efficiency, condensation drains, gasketed conduit box |
| General | Fan | Single-Phase | 1/3 to 10 | Condensation drains, moisture-resistant grease, sealed ball bearings |
| Grain Dryers, Centrifugal | Fan | Single- or Three-Phase | 5 to 50 | Open drip proof, long shaft, screened against rodents |
| Grain Dryers, Vane Axial Fan | Air Over or Open Air | Single- or Three-Phase | 1-1/2 to 15 | Long shaft, internal tap, sealed bearings |
| Universal Dryers, Switchless | Air Over or Open Air | Single-Phase | 3 to 15 | No mechanical switch, reduces wear, soft start |
| Irrigation Tower Drives | None | Three-Phase | 1 | High overload protection, sealed at endplates |
| Poultry Feed Auger Drive | Fan | Single-Phase | 1/3 to 1-1/2 | Capacitor start, flange mount for easy installation |
| Grain Stirrers | Fan | Single-Phase | 1-1/2 | Slotted fan to stop clogs, capacitor start |
| Barn Cleaners and Bulk Feeders | Fan | Single-Phase | 3/4 to 2 | Thick steel construction, instant reversal |
| Aerators and Exhaust Fans | Air Over | Single- or Three-Phase | 3/4 to 3 | NEMA T-frames to perform maintenance directly on site, ball bearings |
| Confinement Houses | Air Over | Single-Phase | 1/4 to 3/4 | Permanent split capacitor, 1-inch extended bolts |
| Dairy Vacuum Pumps | Fan | Single-Phase | 7-1/2 to 10 | Thermal overload protection, farm epoxy paint |
| Meter Pumps | Fan | Three-Phase | 1/3 | Easy to mount on injection pumps, runs at 50Hz or 60Hz |
| Hatchery/Incubator Fans | Air Over | Single-Phase | 1/3 | Aluminum endplates, extended bolts, pilot circuit |
You're busy so the manufacturer provides you with power options to keep most of your machines running smoothly. They're easy to install and operate efficiently. We stock a wide selection of Baldor motors to help you get your farm work done right, on time and with minimal effort. The manufacturer makes a motor for every job on your property, so compare your specific needs to the available features to determine which model to get today.