April is here, May is right around the corner (no joke) and summer's not far behind. Keeping cool on the jobsite is imperative so if you haven't already done so, you'll have to break out your cooling gear to handle higher temps and the hazard of workplace heat stress soon. But the innovative cooling PPE solutions in our Chill-Its® Cooling Line can't help you do your job unless they're activated to do theirs. Fortunately, activation is like washing your hair: just rinse and repeat. Though some products in the line may look similar, they cool using different technologies, and as a result, are activated differently, so we're breaking it down for you…
Polymers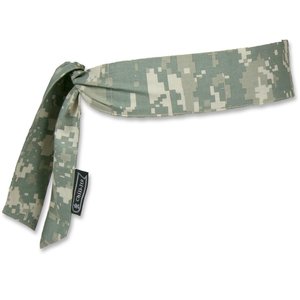 A very traditional and effective cooling technology, polymers use non-toxic, super-absorbent acrylic polymer crystals to retain water and provide cooling relief. To activate a polymer product, place it in a sink, bucket or cooler of ice water. Let it sit and soak for 2-5 minutes or until plump.
PVA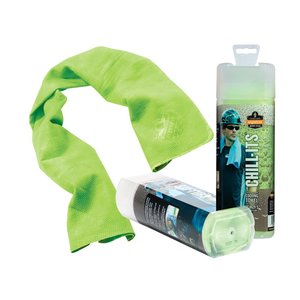 This material uses a unique, hyper-evaporative poly vinyl acetate (PVA) material that retains water while remaining damp to the touch. These products are particularly appealing because they are less bulky, activate quickly, and leave no sticky residue behind. To activate a PVA product, hold it under water for about a minute or until fully saturated. Twirl it a few times for up to four hours of cooling relief.
Microfiber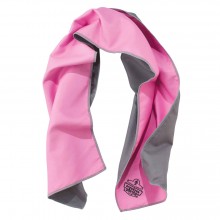 A lightweight, woven material that wicks away sweat, this next-generation technology is soft, machine-washable and uses a 50+ UPF treatment to protect wearers from the sun's harmful UV rays. To activate, wet the product. Then wave, twirl or shake it to accelerate air flow and start the activation process. Cooling relief should last up to two-and-a-half hours.
Once activated, place Chill-Its® products around the head or neck to regulate core body temperature since these areas contain large blood vessels near the surface of the skin. That temperature regulation – along with sufficient amounts of water, rest and shade, rest – will be critical to beat the heat.
---
This blog post was created in cooperation with Ergodyne, maker of Tenacious Work Gear®. Acme Tools is a proud distributor of Ergodyne products and supports their blog.
We would love to hear how you plan to keep cool this summer. Tag us with #DoYourBestWork on Facebook, Instagram, Twitter, and Pinterest.