With so many choices in table saws, buying one can be a daunting task. Let's break this decision down into 4 steps to make the process a whole lot easier.
Step #1: Consider Where and How It Will Be Used?
Before shopping for a table saw, take a moment to ponder two important things: 1) how you will use the saw, and 2) where will you use it.
The first consideration is what you plan to do with it. Sure, you're looking for a DIY saw, but there are all types and levels of DIYers. Are you a home-improver that just wants to make basic cuts like ripping boards to width and cross cutting stock to length? Or, are you into making furniture and will use the saw to make bevels, box joints, dadoes, raised panels, and the like? You should buy a saw that is adequate for the most complex operation you plan to perform.
Then, consider the location and space available for the saw. Will it be in a spacious dedicated home shop? Will it be stored away in the garage after use? Do you want it to be mobile, e.g., take it to remodel a lake home?
Step #2: Pick the Category That Fits You Best
Now that you know how and where you'll be using the saw, you can review the main categories of table saws to determine which one meets your objectives. There are three main categories: benchtop (or job site), contractor, and cabinet.
Bench Table Top Saws: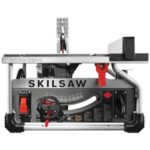 Table top saws often called portable saws or job site saws, are the smallest and lightest, and are most often used by DIYers who are making construction-type cuts, and who want portability and easy storage. Most won't overtax home electrical systems and can be operated on a portable stand or workbench. These saws are used by DIYers with limited working space. They are not as powerful as saws in other categories and can labor while cutting thick stock. The tables are smaller and don't support larger stock, as well.
Contractor Table Saws: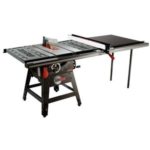 Contractor table saws are a popular choice of DIYers. Most come with 1 – 2 horsepower motors that provide enough power for nearly all tasks. At 200 – 300 pounds, they feature heavy-duty parts that provide durability and accuracy. The tables are spacious and provide good support for larger projects. Many come with superb fences as a standard feature. They also can run off standard residential 120V voltage.
Cabinet Saws: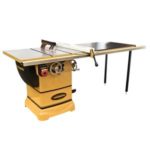 Cabinet saws are the "King Kong" of the shop and preferred by the DIYer who is into serious woodworking. Simply put, these saws can do it all. They are powerful (typically 3 -5 horsepower) and highly accurate. There are many choices for large table extensions and outfeed tables. These machines require a substantial amount of dedicated space, because at 450-plus pounds, it's not mobile. You should check to see if you can handle the amp and voltage requirements.
Step 3#: Decide What Table Saw Features Are Important To You
If you've selected the category of saw you want, it's now time to choose a specific saw. This all boils down to product features and personal preference. Here's a run-down on the most common features to consider:
Flat top: Accurate cuts demand a flat table. Check the saw's flatness deviation (0.005" is typically acceptable for a cabinet saw).
Fence type: The rip fence should lock down solidly and be perfectly parallel with the blade. If a good fence does not come with the saw, you may be able to purchase an upgraded one for it.
Miter gaug: Look for an accurate miter gauge, one with stops at 45 and 90 degrees. Also, make sure the saw has a miter gauge slot on the table and that's perfectly parallel to the blade.
Dust collection: If you'll be using the saw inside, make sure the saw has a dust port so that you can connect a vacuum or dust collector.
Power: Know what might want to cut in the future. Make sure your saw is powerful enough for the task.
Wing additions: For contractor and cabinet saws, you may want to make sure auxiliary side and outfeed tables can be easily attached.
Blade factors: Consider how the blade is changed. You may be switching blades often and you'll want this process to be easy. Also, if you will be making grooved cuts, make sure the table can handle a dado blade.
Bevel capability: To make angled cuts, most table saws allow you to tilt the blade to the left for angled cuts. With some, you tilt the blade to the right. This is a matter of personal preference. In either case, the adjustments to set the exact angle should be straightforward and easy.
Safety: Table saws are safe when used properly with all guards in place. However, if you are concerned about added safety, consider a saw with an automatic blade brake that instantaneously engages when the blade encounters skin.
Step #4: Research, Research, Research
Go to Acme Tools for information on a full range of table saws in all categories or check out our list of the best table saws. Use the in-depth product information provided for each saw to pick the one that is perfect for your specific DIY projects.