When you need to move water from one location to another, the power equipment you need is a water pump. The types of pump you choose will determine what you can use it for. You may be able to remove water and debris from a flooded basement, pump water into your home from your well or even pump muddy water and trash out of certain areas. Selecting the right pump will determine exactly what the equipment is capable of doing for you, and there are many elements to consider.
Home Use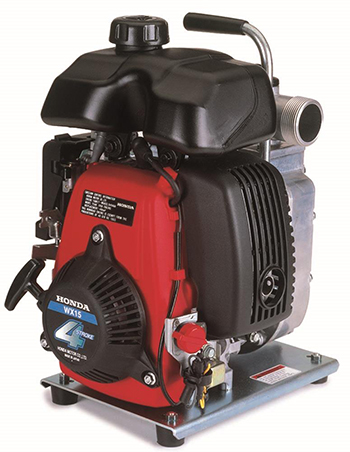 De-watering pumps are used to remove certain types of water, including clear, slimy, mucky, and silty water. There are three general types of pumps used for de-watering: lightweight, general-purpose, and high pressure. When it comes to residential use, lightweight and general purpose pumps are often used. They are used by recreational users, boat owners, gardeners, and homeowners for specific tasks, like:
Watering lawns
Watering gardens
Pool draining
Flood control
Professional Use
In the professional setting, water pump uses vary depending on specific needs. On a farm, for instance, a farmer may need to transfer water from a stream or pond to the trough where his livestock come to drink. On a construction site, rainwater may become trapped in an area that needs to be excavated. The water pump may be used in this instance to ensure operations can continue as planned and ensure safe work conditions. General-purpose pumps or high-pressure pumps are often used in industrial and commercial settings, as these provide the correct pressure and flow to handle a greater amount of water quickly.
De-watering general purpose and high-pressure pumps are not the only Honda pumps designed for professional use, however. While these pumps are efficient at carrying water from one location to another, there are specific pumps that must be used for other materials.
Type of Pump
Description
Points to Consider
Applications
Trash Pump
Designed to handle high-volume water and solids up to 1-1/16 inches in diameter

•

Quick clean-out port makes servicing the pump simple and fast



•

Able to handle up to 433 gallons per minute (GPM)
Rental applications and contractors
Chemical Pump
Used for pumping water, but able to pump agricultural and industrial chemicals as well
To avoid damage, only approved chemicals may be used with this pump
Industrial and agricultural applications
Diaphragm Pump
Positive displacement and slow seepage pump designed to pump trash, mud and waste
Capable of handling high solid content, including refinery waste, industrial fluids, sticks and even stones
Used by many commercial businesses, including restaurants, campgrounds, construction and mining corporations
Other Types of Water Pumps
When it comes to pump models, many homeowners and professionals are familiar with submersible pumps. These pumps are unique in that they can be installed or even temporarily placed below water level. They feature a sealed motor that protects the interior from being affected by moisture and dust that could alter its operation. These pumps function in both residential and commercial settings and are typically used for a variety of tasks, including:
Removing water from washing machines
Draining basements
Providing water to decorative fountains
Electric vs. Gas: Choosing a Water Pump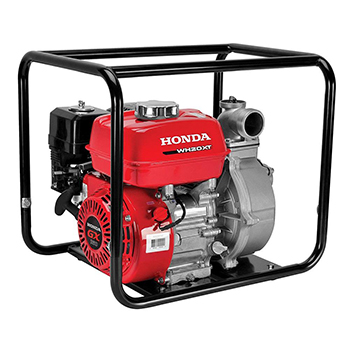 When learning how to select a pump, determining whether or not you want to purchase an electric or gas version is an important decision. Both have their advantages, but each is suited for specific uses.
Water pumps powered by electricity are often used indoors, where outlets are readily available. Most operate on 120V and can be plugged into any standard outlet. Some may be 230V pumps, however, which will require additional electrical support. Electric pumps are typically less powerful than gas pump models. However, they don't require as much maintenance and don't require oil changes. Because of their need for electricity, you will have to use Honda portable generators with them if you want to use them in a location where no outlet is available.
Gas water pumps aren't limited by cords and outlets. They are the perfect solution for jobs that take you outdoors, far away from electrical outlets. They also tend to offer a higher GPM than their electrical counterparts. These pumps cannot be used inside, however, because of carbon monoxide emissions.
Features to Look for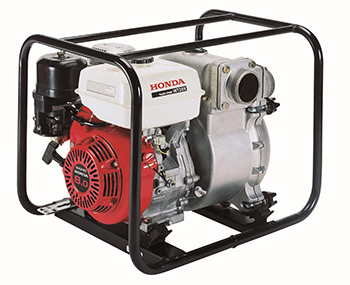 When evaluating water pump specifications, there are many features to look for that will help you decide what pump is the right one for you.
If you're going to leave your pump in the same place most of the time, its weight might not be an element of concern when you're selecting it. If, however, you need to move the pump to different locations often, a lightweight design is important. Take care to consider the overall weight and construction of the water pump.
When transferring water from one location to another, having the ability to hook the pump up directly to a garden hose is essential. This can be especially useful when you're using the pump to water your lawn, garden, or field. If this is the case, make sure the pump you choose comes with a garden hose adapter, clamps, a strainer and a suction hose.
When you're learning how to select a pump, understanding the GPM discharge capacity is critical. GPM refers to how quickly the water, waste or chemicals flow from the source to the point at which they are discharged.
Some pump models are equipped with silicon carbide mechanic seals. These seals are resistant to abrasions, promoting the extended use and wear.
On a water pump, the volute is the casing that creates pressure from the energy produced by the impeller. As the impeller pushes the water, chemicals or solids into the volute, it creates enough pressure behind the water to push it toward the point of discharge. Many pump models are equipped with a cast iron volute. This material helps to reduce the amount of wear experienced by the casing and improves the longevity of the water pump.
Additional Features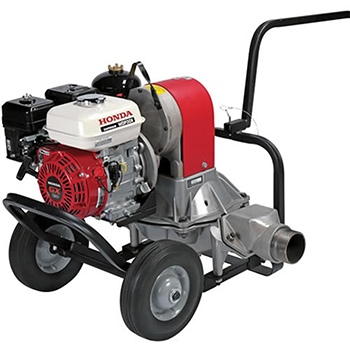 When it comes to water pump function, Honda engines are a significant feature to consider. Many pumps come with a Honda overhead valve (OHV) engine. Unlike older engines, which feature valves in the block, these engines have valves located in the cylinder head. This increases their overall power and makes startup easy.
Gas-powered water pumps require oil in order to function correctly. In some engines, checking the oil often is required, as a low oil level could result in damage to the engine if it goes unnoticed. When it comes to Honda outdoor power equipment, this isn't a problem. Most engines are equipment with Oil Alert. This technology involves a sensor that is capable of detecting when oil levels are too low for proper water pump function. When the sensor detects a low oil level, it automatically shuts down the engine to prevent engine seizure from occurring.
On some pump models, high performance mounts are used to reduce the amount of vibration the pump experiences. This offers many benefits, including the reduction of wear and tear on the pump parts. It also reduces the chances of the Honda power equipment burying itself in the dirt or "walking" away from its set location.
Water pumps designed for chemical use require a different construction than those created for moving clear or dirty water. These pumps have features like seals made from EPDM, which is a rubber compatible with numerous types of chemicals.
Submersible pumps can be used for temporary flooding situations, but they may also be needed for moving water from one location to another on a continuous basis. For this reason, many submersible pumps are designed for continuous use. These pumps can operate all day, every day without overheating as long as they are kept in the right environment.
Necessary Water Pump Accessories
Your water pump may come with all of the parts you need to begin using it right away, or you might have to purchase a few additional accessories to enjoy all of your water pump's uses. Here are a few accessories you might need.
Couplers and adaptors connect your pump to a hose. These are generally included in Honda hose kits.
There are two types of hose kits available: pin lug and camlock. Pin lug hoses work like a traditional garden hose, threading onto your water pump with the help of a spanner wrench. Camlock hoses easily attach to your pump with a "quick connect" system.
Pipe nipples are included in the hose kits and are used to connect the hose and the strainer together.
It's a good idea to invest in a few extra gaskets. These parts are often lost and are required for the hose kit to work properly.
Maintaining Your Water Pump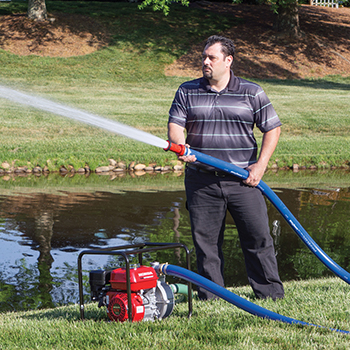 After you select the right water pump, keeping it up and running requires a bit of maintenance. For your safety, always turn off the power to the water pump before you begin working on it. You should also consult the manual that comes with the pump before attempting to clean it or repair it yourself.
In general, maintenance to the pump is simple. Before operating it, make sure to remove any visible debris from it. If you're using a submersible pump, the mechanical float should have plenty of room around it to float easily as well. Pumps with backup battery power will require a new battery every two to three years. The pump should also be flushed out once a year, but any clogs or stoppages should be dealt with between these flushes as necessary. If you are unsure how to remove clogs or flush the power equipment, make sure to consult a professional to avoid doing any damage to the system.
Selecting a new water pump requires attention to detail. Before making a purchase, consider the types of pumps available and think about how you will be using the pump. Then consider the various features available for each pump to determine which one will suit your particular needs.