Festool is known throughout the industry for their commitment to quality. That commitment extends to ensuring that workers finish the job with the absolute best quality possible. Their dust control system makes it easy to eliminate particulates not only when you've finished the job, but as you work.
Performance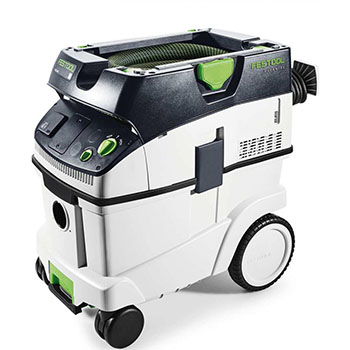 Most of Festool's extractors include HEPA filters, which are certified to reduce 99.97% or more of the particulates that pass through it. The dust prevention keeps allergens from building up so you can work without sneezing, watery eyes and blurred vision, and your clients also get to reduce the results of your handiwork. They're located at the top for easy and fast replacement. These filters get some additional backup in the form of powerful motors. Each of the vacuums in the Festool dust management line has motors that suck at least 130 cubic feet of air per minute. This vastly reduces the time you'd normally spend cleaning up.
Vacuums of this type are ideal for wet and dry messes. Thanks to their water level sensor, they shut off automatically when they're full to prevent motor damage. When yours is full, just empty it quickly and get right back to your job. The vacuums come in various sizes so you can bring the one that's big enough to hold messes the size your work is likely to create without having to take along a larger machine for greater space efficiency.
Convenience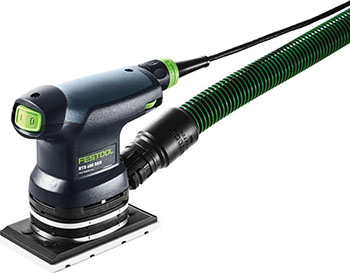 Certain Festool tools, such as saws, sanders and others, have built-in ports so that you can plug in your extractor. You can set them in sync with the tool so that they activate as soon as you start working. The hose ports are designed to hook up to compatible tools without fuss or adjustment. This saves a few seconds with each activation, which can add up to minutes per day and even hours per job.
Mobile extractors have flat tops with the SysDock feature. This allows you to latch on your Systainer or SysPort storage boxes and convert your vacuum into a tool cart for added versatility. You can stack the boxes two or more units high to take along everything you need.
Onboard cord and accessory storage allow you to keep everything in one place for easy access. These dust prevention vacuums all have anti-static hoses, which keeps particulates from settling on them. Various included and optional accessories, such as extension wands, suction brushes, crevice tools, floor nozzles, and more help you to reach tight spaces and ensure that you get every piece of debris. Grab polypropylene accessories when you're working around finished surfaces to keep from scuffing or gouging the floors or wall.
Durability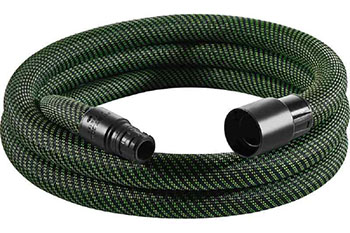 These vacuums have large wheels designed to roll right over obstacles. A rubber-like coating provides scuff protection so you can bring them onto a site at any stage of construction. The top handle makes it easy to pick up or push the vacuum to wherever you want it to go with just one hand. You can lock the wheels in place keep it from rolling off when you're busy on another part of your project.
Variable suction settings let you work at the lowest possible power level while still picking up the dust you're generating. Beyond saving power, this feature also reduces noise, which helps to protect your hearing from unnecessary strain. It's ideal for use in areas where homeowner association or local regulations limit work-related noise.
Ergonomic handles make the vacuums easy and comfortable to carry and push. Optional extension handles make it easy to move without having to bend down. The wands, hoses and nozzles are all easy to grip so you can work for extended periods without developing strain. While the vacuums operate with standard disposable bags, they come with varying degrees of durability so you can pick up ones that last longer if you need.