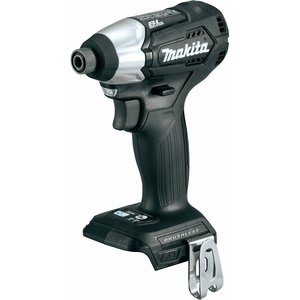 Enjoy the power that comes with an 18V motor while being able to get into cramped quarters. This Makita XDT15ZB LXT® sub-compact brushless impact driver is ergonomic, fast and able to keep up with demanding jobs.
The Makita XDT15ZB 18V LXT sub-compact brushless impact driver (tool only) helps you to make pilot holes in areas where other tools can't reach, such as between studs of a frame. This small impact driver has an 18V motor, but its body is closer in size to a 12V, so you can enjoy a combination of comfort and performance. When equipped with a 2.0 Ah battery, the complete Makita tool weighs just over 2-1/2 pounds so you can work without developing strain.
The Makita LXT impact driver has a special A-mode that assists you when starting so you can avoid cam outs, which can strip a screw head, as well as cross threading. Its high-torque design helps you to drive fasteners quickly and through hard material with little effort. Like other Makita LXT cordless impact drivers this model has an ergonomic handle that makes it more comfortable to use over extended periods. A set of dual LEDs illuminates where you're aiming so you can work in low-light conditions and still have the precision you need for a professional finish.
This small impact driver is compatible with all 18V LXT batteries so you can use one set of power cells for all of the 18V Makita cordless tools in your workshop. It comes as a standalone unit in case you already use LXT products or as part of a combo kit with two batteries, a charger and a tool bag so you can start a new collection. Its lithium-ion design provides a continuous level of power even as the charge depletes, which allows for more consistent work. Check out this unit's features to determine if it's the best small impact driver for your needs.