For the trade professional working on a ceiling at a difficult angle, it matters that the 1/4″ hex impact driver or 3/8″ impact wrench in their hand is the most compact 12V tool in its class. In fact, it matters a lot. The Bosch PS42 12V impact driver delivers a maximum torque rating of 975 In.-Lbs. and weighs just under two pounds (w/2.0 Ah battery) while the Bosch PS82 12V impact wrench offers a torque rating of 85 Ft./Lbs. at 2.2 pounds. (Due to higher capacities, Bosch measures impact wrenches in Ft.-Lbs.).
EC Brushless Motor Delivers Maximum Power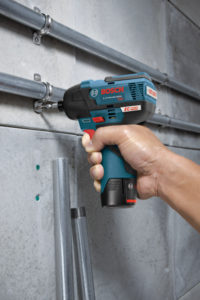 The Bosch PS42 12V impact driver and Bosch PS82 12V impact wrench are the right tools for serial driving applications, with the capability to complete virtually all driving tasks found on the jobsite. The Bosch EC brushless motor and all-metal gearbox ensure no scheduled maintenance, long life and deliver outstanding power efficiency. In addition, these tools feature Bosch-exclusive Durashield™ housing, a tough, flexible exterior that withstands the toughest jobsite conditions. The tools' optimized impact system features a compact head length (5.4 inches for impact driver; 5.5 inches for impact wrench), which delivers efficient impact force and better operation for most wood- and metal-fastening tasks.
Optimized Tools for Better Performance
The Bosch PS42 12V Max EC Brushless 1/4″ Hex Impact Driver has an optimized impact system to deliver outstanding impact force, fits all standard hex drive bits and accommodates 85 percent of impact driver applications. The Bosch PS82 12V Max EC Brushless 3/8″ Impact Wrench also offers an optimized impact system for efficient impact force and a square drive anvil. Both units include an LED light ring to illuminate the work area and dark locations, as well as a battery gauge indicator for easier charge monitoring.
Settings, Speed and Torque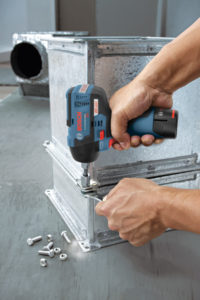 The Bosch PS42 12V impact driver and PS82 12V impact wrench are engineered with the Bosch performance control system. It provides two speed settings: one for high speed and high torque, and one for low speed and low torque. Users are able to match the correct setting to the specific application and material to prevent over tightening. In addition to impressive torque rating, these tools offer no-load rpm ratings of 0-1,200 and 0-2,600 rpm; no-load bpm ratings are 0-2,700 and 0-3,100.
Each tool's manageability is enhanced by its lightweight and ergonomic, easy-grip handle – an ideal solution for overhead applications. The tools' short profile allows the user to work comfortably on the most challenging all-day jobs.