A walk behind worm drive concrete saw? Now that's not something you hear every day. That's because Skilsaw's new Medusaw walk behind worm drive concrete saw (SPT79A-10) is the only walk behind worm drive concrete saw on the market! Pretty cool, huh? We agree.
Same Great Saw, New Walk Behind Design
Skilsaw Medusaw Concrete Saw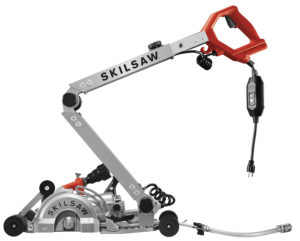 The actual saw portion of this new walk behind concrete saw is actually none other than the Skilsaw SPT79-00 Medusaw worm drive circular saw. This saw combines Skilsaw's legendary worm drive power with the new Cut-Ready adjustable plunge lock and a pivoting pointer to you achieve precise and accurate results every time. One of the best features of this saw is that you're able to cut wet or dry concrete. From its footplate with rubber wheels for smooth rolling, to its powerful Dual-Field motor that promotes cooling and extended tool life, this concrete saw is a gem!
A Walk Behind Concrete Saw?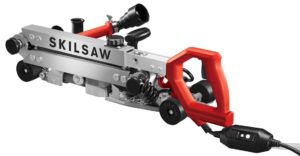 What makes this concrete saw unique is its integrated and adjustable folding handle that allows you to stand up and walk/push this concrete saw while cutting. So what does this mean for you? It means, you can tackle big concrete jobs while standing up! And while you'd imagine that this may be hard to transport around, we're here to tell you it's not! This walk behind concrete saw folds down super easy so you can quickly and easily store and transport, which could be the best news ever…okay almost the best news ever. The actual best news ever is no more aching knees, and no more clumsy knee pads. If you ask us, that really is the best news ever!
Dust management
Like the Medusaw saw, this new walk behind design also includes an integrated dust management system so you can make cleaner cuts while keeping your jobsite clean. You can pair this new walk behind concrete saw with any approved line of dust management systems, helping stay compliant with OSHA's silica dust regulations.
Other Features We Love:
15 Amp
7 in. blade diameter
Adjustable folding handle
2 finger trigger
Integrated dust management option
Cuts wet or dry concrete
Die-cast aluminum housings, guard, and foot
Rust resistant brackets
Cut-Ready™ adjustable plunge lock
Pointer wheel mirrors the blade kerf
GFCI protection
Integrated rolling foot plate with rubber wheels
Final Thoughts
From its power to it's convenience, Skilsaw's Medusaw walk behind concrete circular saw is going to be a game changer! If you're like us and dying to get your hands on this new saw, you can purchase it now at acmetools.com!