It might come as a shock that the 2021 Holiday season is right around the corner, which means it's time to start gift shopping! But don't feel overwhelmed, Forney is here to help!
Read on and find the perfect gift for the metalworker in your life.
Forney Easy Weld 140 FC-i
Give a gift that will continue giving for years to come and surprise your loved one with a Forney Easy Weld 140 FC-i Flux-Core wire welder. This welder is perfect for those just beginning the trade, but it's also great for experienced metalworkers that are looking for a machine that can be easily carried from job site to job site. No gas is required to use this machine, all they'll need is some flux-core wire and they'll be ready to weld!
Looking for a different process? Check out the rest of the Forney Easy Weld line here!
Get your metalworker the ultimate setup for this machine, and fill their stocking with these accessories and consumables.
Command PRO Abrasives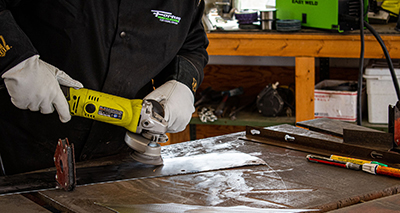 Do you have a professional metalworker in your life? Upgrade their workshop with top-of-the-line abrasives. Built with the professional in mind, these superior products require less downtime, longer life, and overall better-quality finishes.
Looking for more abrasives? Check out these great products!
Forney Industries Auto-Darkening Welding Helmet
Want durable protection at a reasonable price? Forney's line of ADF welding helmets is sure the fit the bill! There are several designs to fit every style and ability. Check out the three series we offer below!
The Forney Easy Weld ADF Welding Helmet Series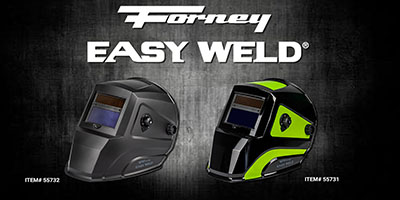 The Forney Easy Weld auto-darkening welding helmets are perfect for DIYers, hobbyists, and novice welders. They feature easy-to-use controls, so you don't have to worry about learning complicated instructions before you begin welding. These helmets also feature a lightweight, impact-resistant, fireproof shell for increased comfort and protection. This is a perfect gift for those just getting into welding!
The Forney ADF Welding Helmet Series
The Forney auto-darkening welding helmets feature HD optical clarity with true color technology that allows you to clearly see what you're doing, resulting in clear and precise welds. They also encompass an adjustable ratchet headband with increased padding for comfort. Both the technology and headgear allow you to weld for long periods of time without feeling the discomfort of a standard helmet. The perfect gift for moderate-level metalworkers!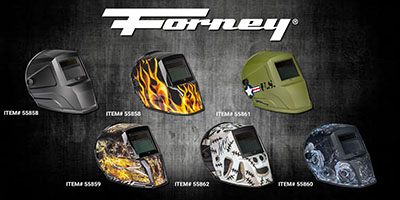 The Forney PRO ADF Welding Helmet Series
The Forney PRO auto-darkening welding helmets include four optical arc sensors, supplying extra protection against arc flash. The viewing area is 10.44 sq. inches and features Arc Optics technology, providing a crisp and clear view of your welds. The headgear is heavily padded for increased comfort, making them perfect for professionals who weld for extended periods of time. The perfect gift for professional metalworkers!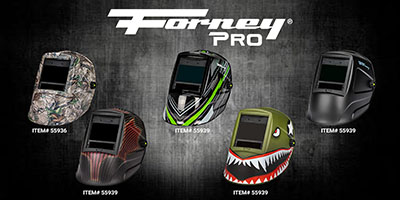 Forney Easy Weld 100 ST Welder Start-Up Kit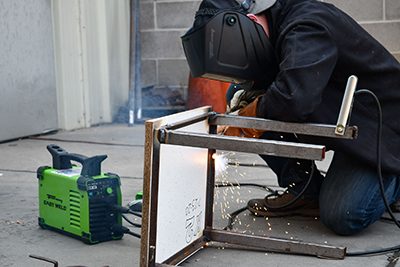 Looking for a complete kit to gift? The Forney Easy Weld 100 ST start-up kit provides everything that's needed to start welding right out of the box! Complete with a Forney Easy Weld 100 ST stick and TIG capable welder, an auto-darkening welding helmet, 3/32" steel electrodes, 4-1/2" Type 27 metal/steel grinding wheel, wire brush, driver gloves, and a pair of welding gloves- this is the perfect gift for a beginner who needs a full setup.
Bench Battery Charger
The Forney bench charger is portable and easy to use, featuring LED indicators and button controls that make it easy to read. It can charge both a 6-volt and/or a 12-volt battery at 2 amps (trickle), 10 amps (standard), and 20 amps (quick charge). At 12-volts, this bench charger also has a 100-amp engine start charging capability. Using the 100 amps emergency start setting is powerful enough to bring cars, SUVs, and small trucks back to life! Give the gift of peace of mind, and get your loved one a Forney bench charger!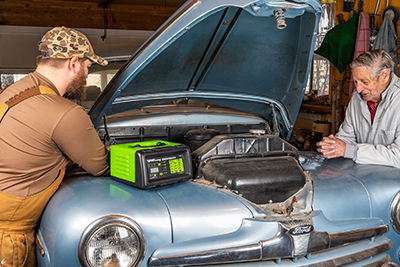 DIY GIFT IDEAS
Looking to give a handmade gift this year? Check out these DIY ideas and gift something that you create with your own two hands!
DELUXE DOG WATERER!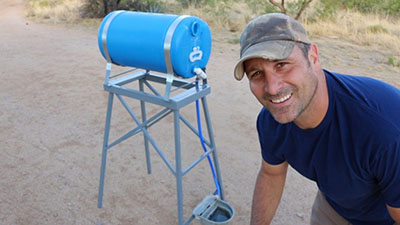 Are you tired of constantly filling up that water bowl for your thirsty four-legged friend? Check out the blog below for step-by-step instructions to build an eye-catching dog water tower. Pets deserve gifts too!
VINTAGE INSPIRED INDUSTRIAL STOOL
Build something unique and add an extra personal touch to your holiday gifts this year with this vintage inspired, European stool. This DIY project is sure to impress and is easy to create with a welding machine, metal and the step-by-step instructions in this blog: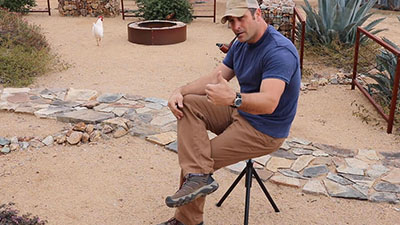 CHIMINEA PIZZA COOKER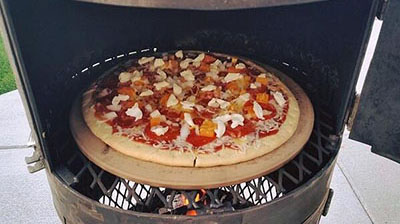 Get ready to be invited to all the pizza parties by gifting this handmade pizza cooker! Check out this blog for step-by-step instructions:
DIY METAL ROSE
Gift a flower that will last forever and follow these step-by-step instructions to create a DIY metal rose: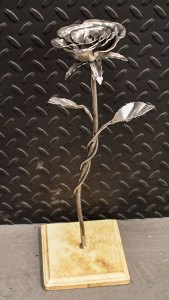 Everyone at Forney Industries would like to wish you a safe and happy holiday season! For more information and inspiration, visit the AskForney blog!