Bosch is known for producing innovative power tools for professionals and homeowners. With a strong presence in power tool categories like rotary tools, oscillating tools, laser leveling devices, power tool accessories, and more, it's not surprising that users rely on Bosch tools day in and day out. Because Bosch launches more than 100 new power tools per year, we've put together a list of the most popular Bosch tools to help you do your best work.
10 of the Best Bosch Tools:
10″ Worksite Table Saw with Gravity-Rise Wheeled Stand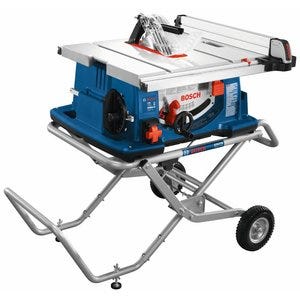 The Bosch Worksite Table Saw gets the job done, no matter the location. The 15 Amp Table Saw provides portability and a rip capacity that leads to outstanding performance. The integrated soft-start circuitry manages the intensity of motor start-up with a smooth but quick ramp-up to operating speed while also minimizing the chance of tripping a circuit breaker. For better user experience, the rip fence easily glides along the rail, allowing for one-hand operation. The Smart Guard System features a three-position adjustable riving knife, anti-kickback pawls, and non-obstructed-view barrier guard assembly. Additionally, the Gravity-Rise Wheeled Stand features 8″ rubber composite tires and a single-action setup.
| | |
| --- | --- |
| Part Number: | 4100-10 |
| Bevel Capacity: | 47° |
| Blade Speed: | 3650 RPM |
| Horsepower: | 4 hp |
REVOLVE4000 Connected Self-Leveling Horizontal/Vertical Rotary Laser Kit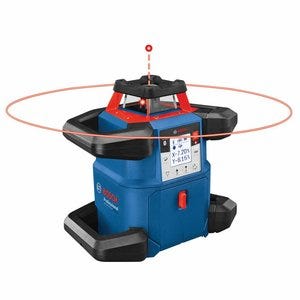 The 18V Horizontal/Vertical Rotary Laser Kit creates a precise solution for indoor/outdoor leveling. The Laser delivers an accuracy of up to ±1/16″ at 100 Ft. in horizontal applications and ±1/8″ at 100 Ft. in vertical mode. The rotary Laser provides extra runtime with a Bosch CORE18V 4.0 Ah battery and is also compatible with 4.0 and 8.0 CORE18V li-ion batteries. The Laser is built to meet IP68 dust and water protection standards, featuring a cage overmold and an innovative handle design. The kit also features Bluetooth connectivity and uCAL calibration that reduces downtime. Additionally, the Dual Dial-In Slope allows for a slope angle adjustment on both the X and Y axes for grading, squaring, and layout applications.
| | |
| --- | --- |
| Part Number: | GRL4000-80CHVK |
| Voltage: | 18V |
| Max. Distance: | 4,000 ft |
| Mounting Method: | Tripod |
GCM12SD 12 In. Dual-Bevel Glide Miter Saw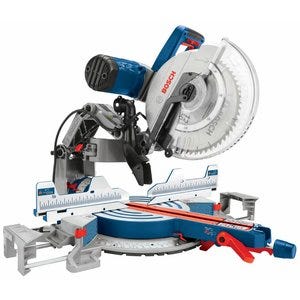 The 12″ Miter Saw has a 15 Amp motor that runs at up to 3,800 RPM for fast task completion. Featuring the Axial-Glide system, the Saw reduces the overall footprint and is a more compact tool for your work space. In order to cut corner joins, the miter saw miters 52 degrees to the left and 60 degrees to the right. Also, the grip is ambidextrous and coated with foam for a comfortable user experience. The detents at preset intervals allow users to set it to commonly used angles, eliminating the need to stop to measure. In order to keep the air clear, the dust collection system catches up to 90% of all particles. Cut with the right angle and length you need with the precise Miter Saw.
| | |
| --- | --- |
| Part Number: | GCM12SD |
| Amperage: | 15 |
| Bevel: | Dual |
| Horsepower: | 3 hp |
360⁰ Connected Green-Beam Three-Plane Leveling and Alignment-Line Laser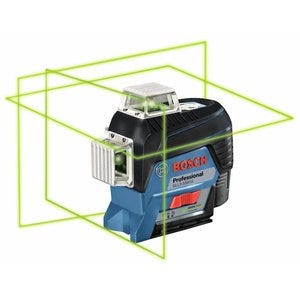 The Three-Plane Leveling and Alignment-Line Laser generates one horizontal and two vertical beam laser chalk lines in 360° laser planes. The Laser offers dual power technology, extended runtime with a 12V MAX lithium-ion battery, and VisiMax Technology for maximum line visibility. Additionally, users can use a smartphone to set up the Laser across the room with the Bluetooth connectivity. With a working range of up to 200′ diameter and 330′ with pulse mode, the Laser provides an all-in-one level and alignment solution.
| | |
| --- | --- |
| Part Number: | GLL3-330CG |
| Voltage: | 12V |
| Max. Distance: | 330 ft. |
| Mounting Option: | Wall or Tripod |
Paddle Switch Die Grinder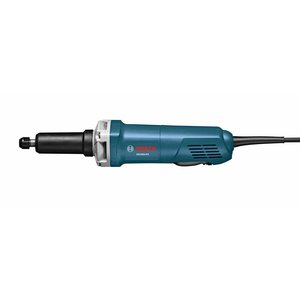 Because of the Extended Spindle, the Die Grinder is the most powerful and versatile market-leading Grinder. Directed air flow protects the components from dust while also extending the tool life. The 4.8 Amp motor provides impressive power while the Service Mindercarbon brushes increase durability and double the motor life. Increase productivity on your jobsite with the Bosch Die Grinder.
| | |
| --- | --- |
| Part Number: | DG300LPD |
| Amperage: | 4.8 |
| Voltage: | 12V |
| Wheel Diameter: | 1.5" |
Combination Plunge- and Fixed-Base Router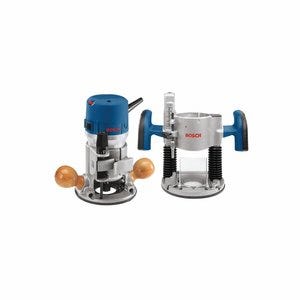 The Combination Plunge and Fixed-Base Router cuts, shapes, and trims materials while giving users maximum control. The 12 Amp motor delivers 8,000-25,000 RPM and offers multiple speed settings. The Router features Constant Response circuitry to retain consistent speed and a centering mechanism that keeps the bit aligned for precise results. Additionally, the Router features easy mounting, wide base openings for lager bit sizes, and a comfortable grip for both left and right-handed users.
| | |
| --- | --- |
| Part Number: | 1617EVSPK |
| Amperage: | 12 |
| Voltage: | 120V |
| Horsepower: | 2.25 hp |
6 In. Dual-Mode Random Orbit Sander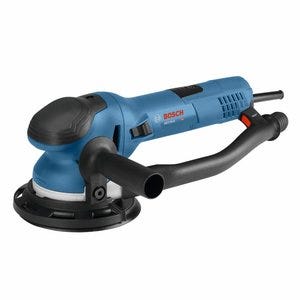 The Bosch Sander features multiple modes for aggressive stock removal. The random-orbit action both orbits and rotates to provide a well-blended and ultra-smooth surface finish. For outstanding control, the Sander offers a pad-dampening braking system to help prevent swirl marks and an auxiliary handle that mounts on either side of the tool. The Sander also features a tapered top hand grip, soft-grip design, a multihole pad system, die-cast aluminum for less vibration, and an advanced dust collection system.
| | |
| --- | --- |
| Part Number: | GET75-6N |
| Amperage: | 7.5 |
| Voltage: | 120V |
| Speed: | 290-640 OPM |
L-Boxx Stackable Carrying Case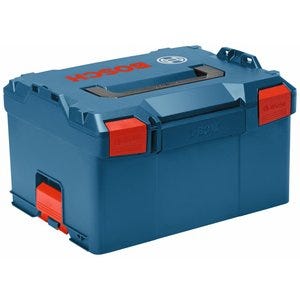 Transport your tools from location to location in Bosch's easy-to-organize Carrying Case. The durable, high-density plastic case is shockproof and water-resistant. The locking clips allow users to quickly and easily gain access to your tools. The Carrying Case features two handles on the sides and one on top for comfortable carrying. Also, this case stacks onto other L-BOXX containers with just one click.
| | |
| --- | --- |
| Part Number: | LBOXX-3 |
| Weight: | 6 lbs |
| Depth: | 17.5" |
| Material: | High Density Plastic |
Dust Extractor with Auto Filter Clean and HEPA Filter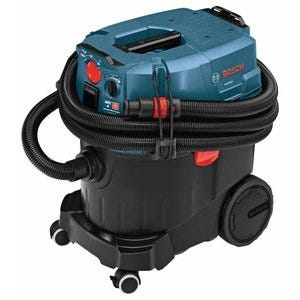 The 9-Gallon Dust Extractor produces a 150-cubic-feet-of-air-per-minute rate and features a 97″ static water lift. The shop vac helps meet OSHA standards with an automatic on-board filter-cleaning system, HEPA filters, and fleece filter bags. Also, users can match the suction force to the task-at-hand with the integrated Vac and Power Broker Dial.
| | |
| --- | --- |
| Part Number: | VAC090AH |
| Capacity: | 9 gallons |
| Amperage: | 9.5 |
| Voltage: | 120V |
12V MAX EC Brushless Planer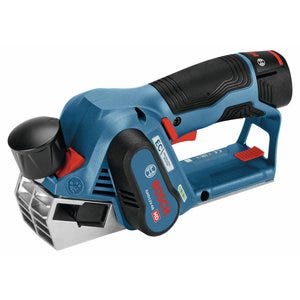 Designed with impressive power, the Bosch Planer delivers an easy to use, balanced operation for your applications. The 12V MAX Cordless Planer has a 2.2″ planing width and a single-pass planing depth of .08″. Powered by a Brushless motor, the Planer offers up to 33′ of planing per battery Amp hour. Additionally, the cord elimination ensures that users experience the easiest stock removal and smooth finish applications.
| | |
| --- | --- |
| Part Number: | GH012V-08N |
| Voltage: | 12V |
| Max. Cutting Depth: | .08" |
| Max. Cutting Width: | 2.2" |
Shop Bosch power tools at Acme Tools.