DEWALT is not only illuminating your job site but also providing easy-to-use entertainment. With the new release of the DEWALT Bluetooth Radio and the Compact Task Light, users gain access to more features on the work site. Also, both products are compatible with the 12V, 20V, and FLEXVOLT batteries in your toolbox.
DEWALT Bluetooth Radio
The DEWALT Bluetooth Radio is a portable AM/FM radio that is both 45% lighter and leaves a 45% less footprint compared to other models. In addition to impressive sound performance, the radio pairs with Bluetooth and has a range of up to 100′. With the integrated USB port, users can charge mobile devices when the radio is plugged into the wall and powered by the included AC cord or when running off a DEWALT battery. Additionally, the Bluetooth radio features a premium quad speaker design with dual 3.5-inch woofers, dual 1-inch tweeters, and a bass reflex port. For increased durability, the radio comes equipped with a roll cage that helps to protect the unit from drops and bumps and incorporates an antenna slot that fits within the top handle.
Specs
12V/20V MAX Jobsite Bluetooth Radio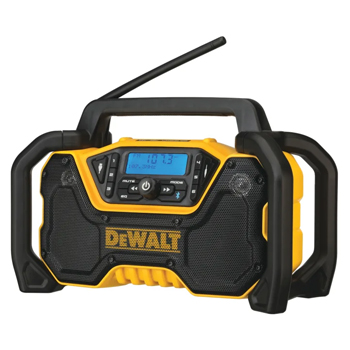 | | |
| --- | --- |
| Part Number: | DCR028 |
| Weight: | 8lbs |
| Station Presets: | 6 |
| Auxiliary Input: | 3.5mm |
| Includes: | Controllable EQ settings for bass and treble |
| Warranty: | 3-year limited warranty, 1 year free service contract, 90 day money-back guarantee |
Task Light
Users gain versatility with the handheld, self-standing, wire hung, or mounting light options. The compact light features a single button that powers on and adjusts the brightness settings and a 360° rotating handle. The rotating handle provides users with a light that illuminates a range of applications. Powered by a 20V MAX battery, the Task Light offers 2,000 lumens on high, 1,000 medium, and 500 on low. Using a 12V MAX battery, the light offers 1,000 lumens on high, 500 on medium, and 250 on low. In order to better assist with paint and drywall applications, the light emits a 4,000k light temperature that produces a natural daylight hue that helps show a surface's true color. Also, the light offers 5/8″ and 1/4″ universal thread mounts for compatibility with tripod stands.
** The Light is compatible with 12V, 20V, and FLEXVOLT batteries; however, the Compact Task Light performs best on 20V batteries.
Specs
12V/20V MAX Compact Task Light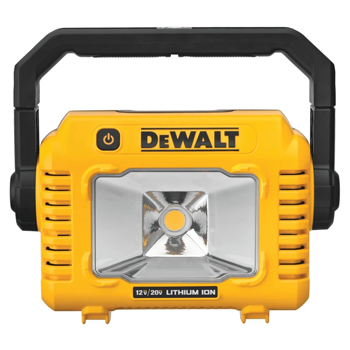 | | |
| --- | --- |
| Part Number: | DCL077 |
| Weight: | 3lbs |
| Bulb Type: | LED |
| Runtime: | 19hrs on low setting |
| Warranty: | 3-year limited warranty, 1 year free service contract, 90 day money-back guarantee |
Shop the new products and other DEWALT tools at Acme Tools.