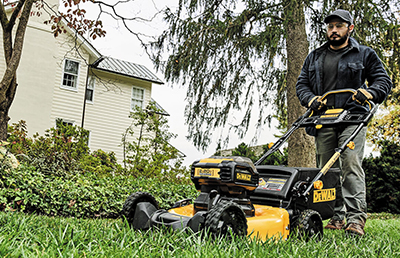 Outdoor power equipment is essential for any landscape enthusiast or professional. Why not go with one of the top brands on the market. DEWALT outdoor power equipment is some of the most powerful, technology-laden, efficient, and versatile in the industry. Whether you need a new mower to keep that lawn looking green or a chainsaw to keep the trees around the yard trimmed, we have the perfect solution for any yard.
But where do you begin? There are a lot of options across string trimmers, edgers, chainsaws, lawn mowers, and more, but our guide will help steer you in the right direction. Inside you'll find products that will cover any price point, so you don't have to worry about breaking the bank.
DEWALT String Trimmers
20V MAX 13-Inch Cordless
String Trimmer (DCST972X1)
For tackling tough overgrowth, you need power, so turn to this 60V MAX String Trimmer. The motor delivers 4650/5800 RPM allowing you to cut faster and increasing your efficiency. The cutting swath of the trimmer can be adjusted from 15 inches up to 17-inches for maximum flexibility.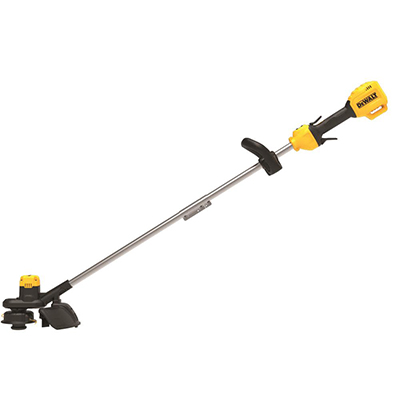 60V MAX 17-Inch Brushless
String Trimmer (DCST925B)
This trimmer packs a lot of punch with a motor that provides 5300/6300 RPM speed. A folding hinge design makes the tool more compact and easier to store during colder months of the year. A variable-speed trigger with high and low speeds creates additional control over the cutting speed.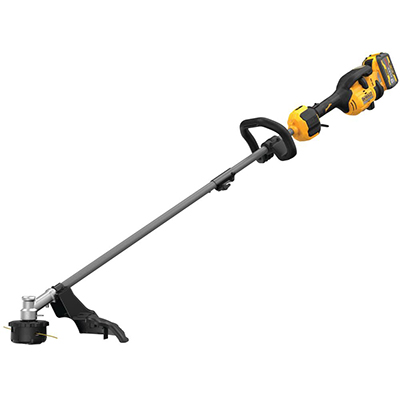 DEWALT Hedge Trimmers
20V MAX Hedge Trimmer
(5.0 Ah) (DCHT820P1)
The majority of home landscapers are looking for something cordless but with power. The 20V MAX Hedge Trimmer fits the bill. Engineered to deliver 2800 cutting SPM and combined with a 5.0 Amp-hour battery, you can make clean and fast cuts on branches up to 3/4-inch thick.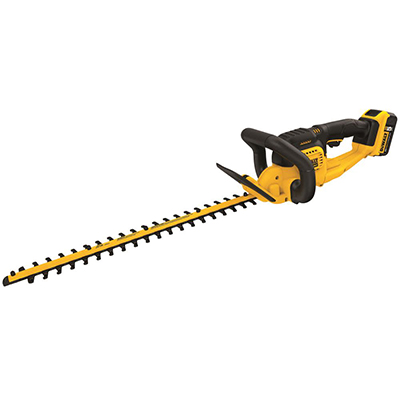 20V MAX Pole Hedge
Trimmer (DCPH820M1)
This Pole Hedge Trimmer is perfect for trimming larger hedges. A high output motor and a cutting speed of 2800 SPM provide clean, superior cuts on branches up to 1-inch thick. The trimmer can extend up to 12 feet and features a 7-position, articulating head for maximum versatility.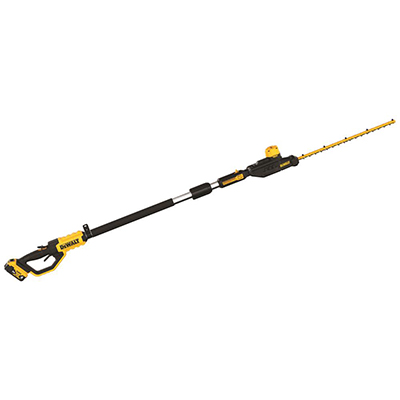 DEWALT Edger
60V MAX Brushless Attachment
Capable Edger (DCED472X1)
An edger is a vital piece of any landscape enthusiast, and 60V MAX Attachment Capable Edger will keep your lawn looking clean. The depth of the blade can be adjusted up to 2-1/2 inches. The edger can be transformed into many other outdoor tools with universal attachment capability.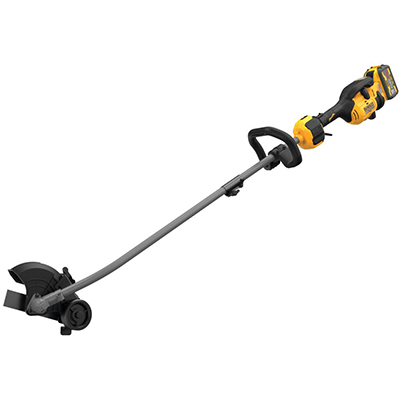 DEWALT Lawn Mowers
These mowers back up the motto of all DEWALT products, Guaranteed Tough. The cordless lawn mowers each offer three cut settings of mulching, bagging, or discharge. They feature a fold-over handle for easier transport and vertical storage, which takes up 70% less space.
2x 20V MAX Brushless 3-in-1 Cordless Lawn Mower (DCMW220P2)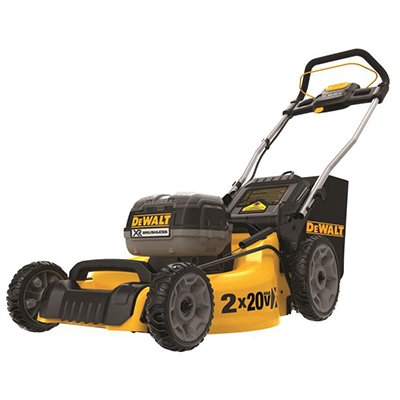 2x 20V MAX Cordless Self-Propelled
Lawn Mower (DCMWP233U2)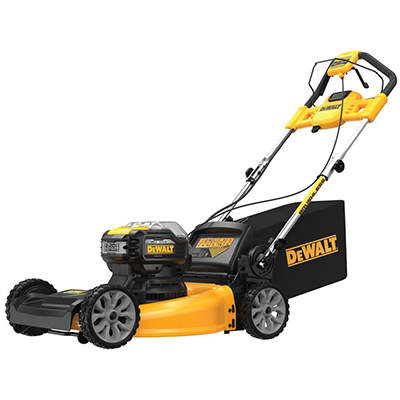 DEWAL

T Chainsaws & Pole Saws
20V MAX Compact Cordless
Chainsaw (DCCS620B)
This cordless chainsaw's compact and lightweight design gives more control over the tool. With this saw, you don't have to worry about cold initiation and carburetor issues by being gas-free; it also makes the tool easier to maintain. The chainsaw offers up to 90 cuts per charge.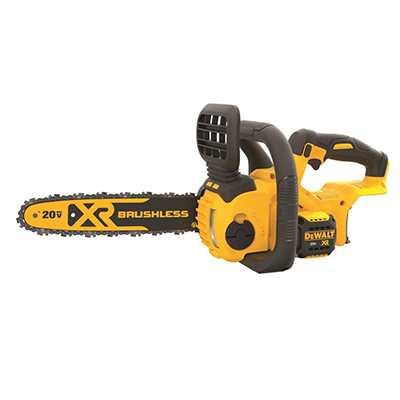 18-Inch Electric
Chainsaw (DWCS600)
This 15 Amp chainsaw brings the power you need to tackle larger projects quickly. With motor speeds up to 12 m/s, it's a breeze to cut through heavy-duty lumber. The chainsaw is auto-oiling which cuts down on maintenance on the tool and includes an oil window to monitor oil levels.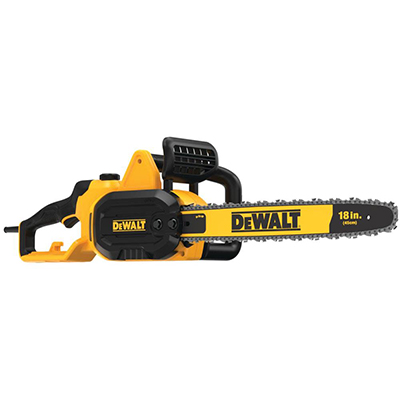 20V MAX Brushless Pole Saw (DCPS620B)
Sometimes you need some length on your chainsaw, and this 20V MAX cordless pole saw is the answer. It features an XR brushless motor that provides up to 96 cuts per charge. The saw extends up to 10 feet for a total reach of 15 feet, so you can keep your feet planted on the ground.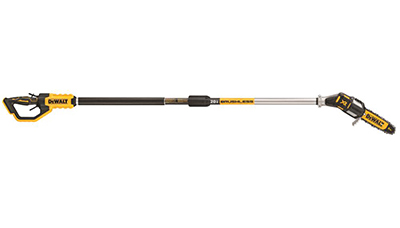 DEWALT Generators
2200-Watt Inverter
Generator (DXGNI2200)
This 2200-watt generator packs a ton of features into its small portable size. Onboard CO-Protect Technology automatically shuts down the generator when CO levels become unsafe. The smaller 1-gallon fuel tank provides a whopping 11-hour runtime at 25% load.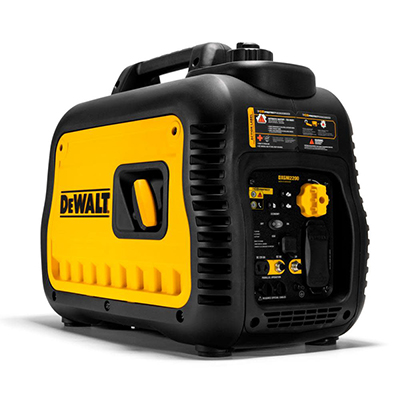 6500-Watt Portable Gas
Generator (PMC166500)
The DEWALT DXGNR6500 generator is the best solution for professionals. A 7.5-gallon fuel tank will ensure you have power throughout the entire workday with a 10-hour runtime at 50% load. An idle control feature conserves fuel and reduces noise on the jobsite.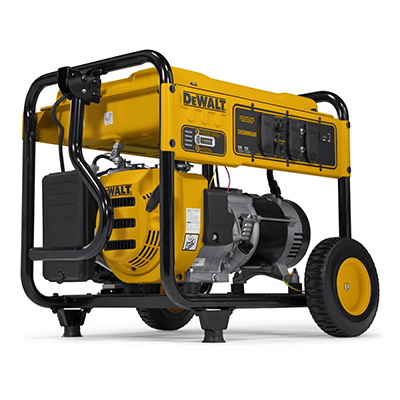 DEWALT Blowers
20V MAX XR Brushless Handheld
Blower (DCBL722B)
The 20V MAX Blower comes with a bevy of features and is one of the most powerful on the market in its class. The blower operates at a flow rate of up to 450 CFM and a speed of 125 MPH. At 66 dB(A), the DCBL722B is one of the quietest on the market, so it's perfect for noise-sensitive neighborhoods.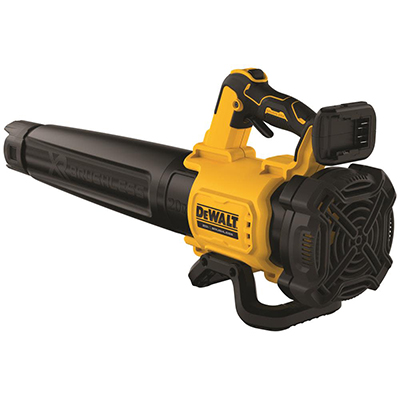 FLEXVOLT 60V MAX Handheld
Blower (DCBL770X1)
If you need something with more power, the FLEXVOLT 60V MAX Blower is the perfect tool for you. A concentrator nozzle boosts its already high speed of 129 MPH up to a whopping 175 mph. That extra power makes it easy to clear tougher debris such as wood scraps. An included 9 Amp-Hour battery gives you even more power.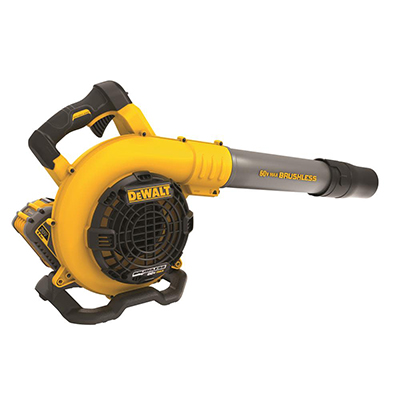 DEWALT Power Washers
20V Max Power
Cleaner (DCPW550P1)
This power cleaner kit flips what you know about most pressure washers and flips it on its head; it's cordless—no more tripping over power cords while you're walking around your project. With a PSI of 550 and the ability to draw from any freshwater source, this washer is one of the best in its class.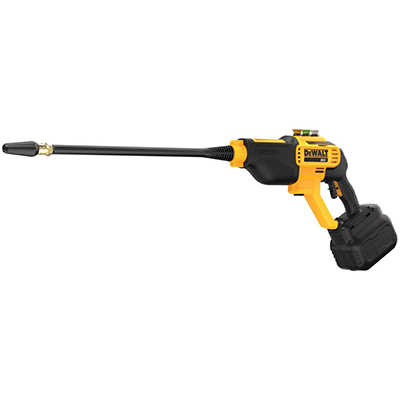 Commercial Pressure
Washer (DXPW1500E)
For more power to tackle the tougher cleaning jobs turn to the 1,500 PSI commercial pressure washer. Built with professionals in mind, it's the right solution for deck cleaning, graffiti removal, and many other applications. The washer includes five quick-connect nozzle tips for added versatility.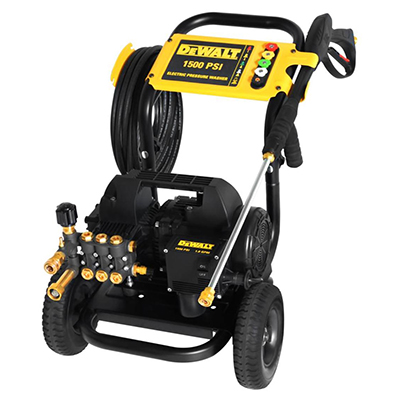 Shop more DEWALT products, including drill/drivers, impact wrenches, circular saws, and more at Acme Tools.