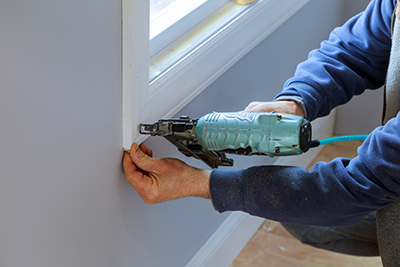 A nail gun can be a lifesaver during projects that require driving a lot of nails. Maybe you like to do your own repair projects or you're getting into a professional trade, a nail gun is a must-have. Nail guns are great for fastening many nails, quickly by driving nails deep into the wood surface without splintering the work surface.
Buying a nail gun seems simple enough until you start looking around to buy one. You'll probably end up with hundreds of more questions than before you started searching. There are several options with different power sources and accessories that all have their pros and cons. Our helpful guide will help you choose the nail gun that best fits your needs.
Types of Nailers
While there are many different types of nail guns out there, we chose the most popular choices for DIYers. The brad nailer, finish nailer, and roofing nailer will be very helpful for different types of projects. Below you will see the top three nail guns for each type of tool we think will benefit you the most.
Brad Nailer
A brad nailer is one of the smaller nailers of the bunch. Its purpose is to support more fragile projects, such as a woodworking job where a different type of nailer may ruin the wood.
Finish Nailer
Finish nailers are more lightweight than typical nail guns. They are designed to help you put together furniture and trim. These nailers have nails made of 15/16-gauge steel wire; this additional thickness allows finish nails to handle tougher tasks and create a stronger hold.
Roofing Nailer
Whether it's installing a new roof or re-roofing, these nailers do it all. Roofing nailers are designed to drive coil roofing nails into tar paper, shingles, asphalt, and insulation board.
Best Brad Nailers
When picking the proper nail gun for your projects, the brad nailer is great for smaller applications like installing wood trims. Being one of the smaller nailers, their nails are easier to conceal when finishing your work. These nails are also perfect for more delicate materials; they are thinner than an average nail which prevents splitting.
1. DEWALT 20V MAX XR 18-Gauge Brad Nailer (Bare Tool) (DCN680B)
The 100% battery-powered 20V MAX XR 18-Gauge Brad Nailer eliminates the hassle of using gas, compressor, and hose alternatives. This nail gun is perfect for fastening decorative molding, casing, kitchen crown, and shoe molding. With its brushless motor, it maximizes its runtime and durability. It has a micro nose which improves its line of sight and accuracy for nail placement, multifunctional LED lights to illuminate your workspace and a low nail lockout that prevents dry firing and accidental marks on the material.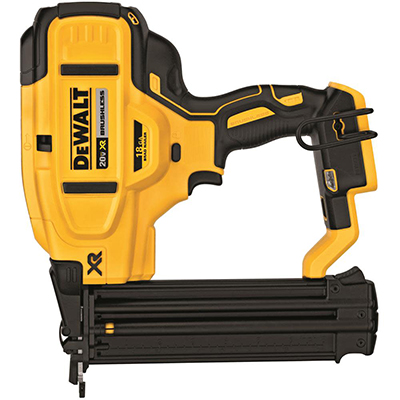 | | |
| --- | --- |
| Nail Gun Type | Brad |
| Weight | 5.3 lbs |
| Power Source | Battery-Powered |
| Nail Capacity | 110 |
| | |
2. Milwaukee M18 Fuel 18-Gauge Brad Nailer (Bare Tool) (2746-20)
The M18 FUEL 18 Gauge Brad Nailer is known for its unmatched performance. Its brushless motor and intelligence delivers a powerful fire rate with zero ramp-up time for excellent efficiency. This nail gun will leave perfectly clean holes with the proper depth in hard or softwood. This lightweight and compact model is ideal for fitting into tight spaces and limiting fatigue.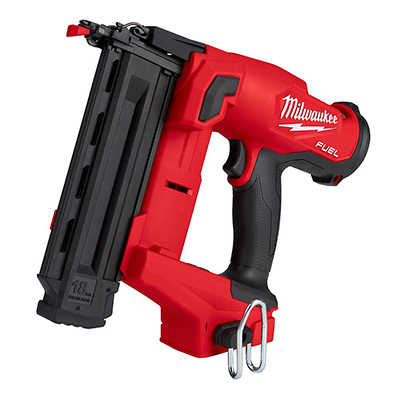 | | |
| --- | --- |
| Nail Gun Type | Brad |
| Weight | 5.35 lbs |
| Power Source | REDLITHIUM Batteries |
| Nail Capacity | 110 |
| | |
3. Bostitch 2.125-Inch 18-Gauge Clip Head Brad Pneumatic Nail Gun Kit (BTFP12233)
The Bostitch Pneumatic Nail Gun is great for working in tight spaces with interior trim, cabinetry, and furniture. It is built with Smart Point and Dial-A-Depth technologies, and allows for precise nail positioning. This brad nailer has a small nosed tip, so you don't have to compress the contact trip to the tool itself, reducing any possible damage; along with its tool-free jam release feature, the nails can be removed with ease. Lastly, it has a contact or sequential operation that accommodates new and pro woodworkers.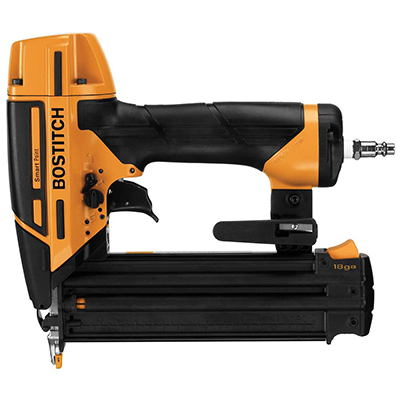 | | |
| --- | --- |
| Nail Gun Type | Brad |
| Weight | 2.7 lbs |
| Power Source | Pneumatic |
| Nail Capacity | 100 |
| | |
Best Finish Nailers
Finish nailers are great for more permanent projects. The nails are thick, long, and strong, making them worthwhile. Once placed, finish nails are harder to remove than other nails making them more suitable for appliances that get lots of usages. They're great for things such as crown molding, paneling, and cabinetry.
1. Milwaukee M18 Fuel 15-Gauge Finish Nailer (Bare Tool) (2839-20)
Without the need for a compressor or hose, the Milwaukee Finish Nailer offers unparalleled performance. This nail gun delivers pneumatic performance with the convenience of being cordless, perfect for trim, crown molding, baseboards, and more. The nailer uses a nitrogen air spring mechanism, accurately and consistently leaving clean nails to the proper depth in hard or softwoods. Its ergonomic design allows it to access tight and compact spaces while limiting fatigue on the tool.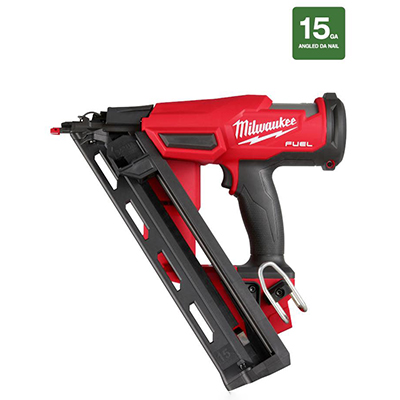 | | |
| --- | --- |
| Nail Gun Type | Finish |
| Weight | 6.6 lbs |
| Power Source | REDLITHIUM Batteries |
| Nail Capacity | 110 |
| | |
2. DEWALT 20V Max 16-Gauge Angled Cordless Finish Nailer (Bare Tool) (DCN660B)
This DEWALT Angled Finish Nailer is excellent for fastening crown molding, casing, baseboards, and hardwood floor installation. Like the Milwaukee finish nailer, this one also offers the power of a pneumatic tool while having the freedom of being cordless. With its brushless motor feature, it has increased runtime and durability. Its tool-free jam release feature is perfect for clearing nail jams fast and easily; it also has an integrated tool-free stall release lever to reset the driver blade in case of a stall. The incline magazine offers easy usage in multiple orientations and tight spaces.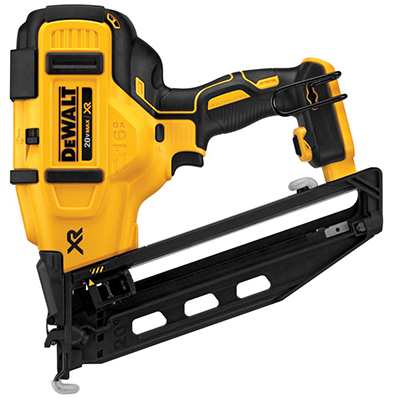 | | |
| --- | --- |
| Nail Gun Type | Finish |
| Weight | 5.2 lbs |
| Power Source | Lithium-Ion Batteries |
| Nail Capacity | 110 |
3. Metabo HPT 2-½ In. 15-Gauge Angled Finish Nailer with Air Duster (NT65MA4M)
The Metabo HPT Angled Finish Nailer is ideal for installing crown/base moldings, window/door casings, chair rails, cabinets, exterior trim, and staircases. With a simple flip of a switch, you can use sequential or contact nailing. Its tool-less depth of drive dial allows you to improve control and a professional finish depending on your material. The removable no-mar tip prevents damage to the work surface.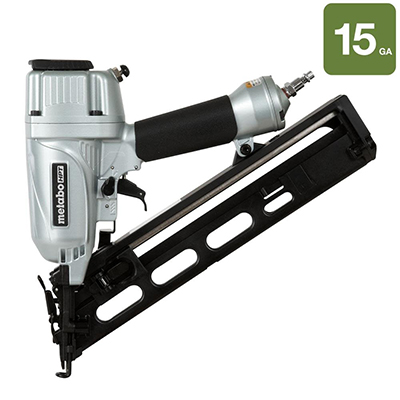 | | |
| --- | --- |
| Nail Gun Type | Finish |
| Weight | 8.7 lbs |
| Power Source | Pneumatic |
| Nail Capacity | 100 |
Best Roofing Nailers
Roofing nailers make your life easier when installing shingles on your roof. With its fast-paced firing mechanism, you can get your roofing done in no time.
1. DEWALT 20V MAX 15° Cordless Coil Roofing Nailer (DCN45RNB)
The Dewalt Roofing Nailer will get the job done if working on service repair or small tasks. Its bump actuation mode and tool-free depth adjustment will fire quick and precise nail placement. This nail gun has a brushless motor for better runtime and durability, a tool-free stall release in the event of a jam, and a great ergonomic handle design for increased comfort and control.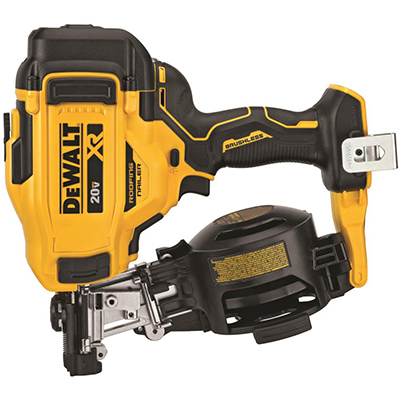 | | |
| --- | --- |
| Nail Gun Type | Roofing |
| Weight | 6.7 lbs |
| Power Source | Battery |
| Nail Capacity | 120 |
2. Bostitch Industrial Roofing Nailer (RN46-1)
The Bostitch roofing nailer is a quality, lightweight nailer with a durable aluminum housing and a one-door loading system that allows faster reloading. It includes features such as dry fire lock out to prevent dry firing and aggressive wear guards with skin pads to protect the tool from damaging the work material. Its over-molded grip offers an excellent grip with extreme comfort.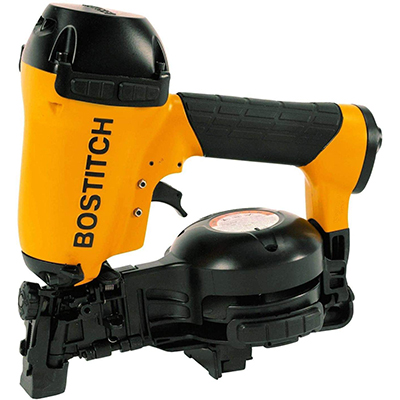 | | |
| --- | --- |
| Nail Gun Type | Roofing |
| Weight | 4.9 lbs |
| Power Source | Pneumatic |
| Nail Capacity | 120 |
3. MAX USA Coil Roofing Nail (CN445R3)
The MAX USA Roofing Nailer is the ultimate nail gun for durability, performance, and reliability. Built with a full round head driver blade, this allows you to drive nails in flush for dependable holding power. It has a tar-resistant nose specifically designed to block any tar build-up 8 times longer than other tools. It also had a self-cleaning end cap filter that traps unwanted material and substances from entering the tool; it later ejects them once it is disconnected from the air hose.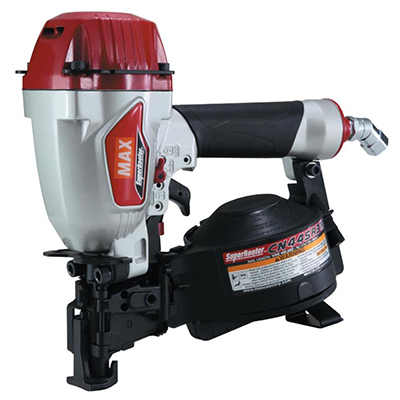 | | |
| --- | --- |
| Nail Gun Type | Roofing |
| Weight | 5.2 lbs |
| Power Source | Pneumatic |
| Nail Capacity | 120 |
Nail Gun Buyers Guide: FAQs
Advantages and disadvantages of using cordless nail guns.
Cordless nail guns have their pros and cons. The advantage of having a cordless nail gun is its portability to make it more hassle-free than pneumatic nailers. They also don't require additional air compressors and outlets. The disadvantages of having cordless nail guns are that since they have a battery, it makes them heavier and limits the amount of time you can use them.
Do Nail Guns Need an Air Compressor?
The type of nail gun you decide to purchase factors into whether you need an air compressor. If you purchase a pneumatic nailer, you must use pressurized air from a compressor. On the other hand, a cordless nail gun does not require an air compressor or any other alternative power source besides a battery.