Thanksgiving is right around the corner, which means it's time to start planning your Thanksgiving dinner. From stuffing to green bean casserole to pumpkin pie, there's something for everyone, but the star of most Thanksgiving meals is the turkey. If you're looking to spruce up your great-grandma's recipe or start a tradition of your own, check out these three ways to cook a turkey.
Getting Started
Prepping your Turkey
Thawing
If your turkey is frozen, you'll want to start by thawing it. The rule of thumb is 24 hours in the fridge for every 5lbs of bird. If you plan to wet brine your turkey, you can submerge a frozen turkey. For a dry brine, you'll want to give your turkey a few days to thaw for the brine to hold better.
Temper
About an hour before you plan to cook it, remove the turkey from the fridge; the turkey will cook more evenly when it's not super chilled. If possible, set it on a roasting or cooling rack on a large sheet pan, allowing air to circulate the turkey.
Clean the turkey
Typically, the giblets, any edible organs of poultry, including the neck, are removed before thawing; however, if you still need to remove them, now is the time. You can also run your hand along the turkey to make sure there aren't any remaining feather quills stuck in the bird; this can occasionally happen. It can be removed by gently pulling it out if you find one.
Brining a Turkey
Wet Brine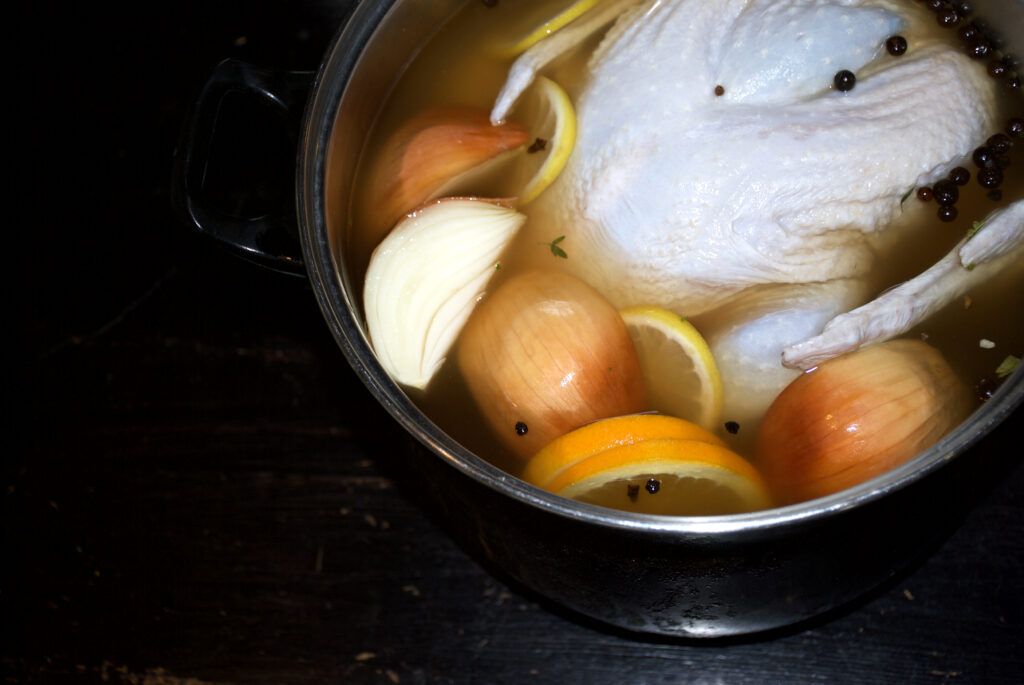 Before you start diving right into cooking your bird this year, there is a little bit of prep you can do. Some people swear by brining if you're looking to yield tender, juicy meat. To begin this process, figure out what kind of brine you're looking for; some opt for a simple brine of salt and water, while others spice it up with different herbs. There are tons of recipes online if you need to get one. It's recommended to let your turkey sit in the brine for 45 minutes per pound, but you can leave it in the brine for up to 18 hours. It should not be left in the brine for longer than recommended as it can cause the bird to have a spongy texture and be too salty.
Dry Brine
Dry brining is another way to maximize your turkey's flavor this year. Use kosher salt and herbs of your choice on the outside of the bird. This works best with a wholly thawed bird. Then put it in the fridge, uncovered, for at least 1 hour per pound. However, it can stay uncovered in the refrigerator for a few days for the most flavor and crisp skin. Don't rinse your turkey prior to cooking it if you choose to do a dry brine.
Now that your turkey is prepped and ready, it's time to start cooking!
Cooking Your Turkey
Oven Roasted Turkey
If you've decided you'd like to be more traditional and bake the turkey in the oven, there are a few things you'll want to grab before you start roasting your turkey. Pick up a roasting pan like the Stainless Steel Roasting/Drip pan from Broil King, which is multiuse. It can be used as a roasting pan, drip pan, marinating dish, and serving tray.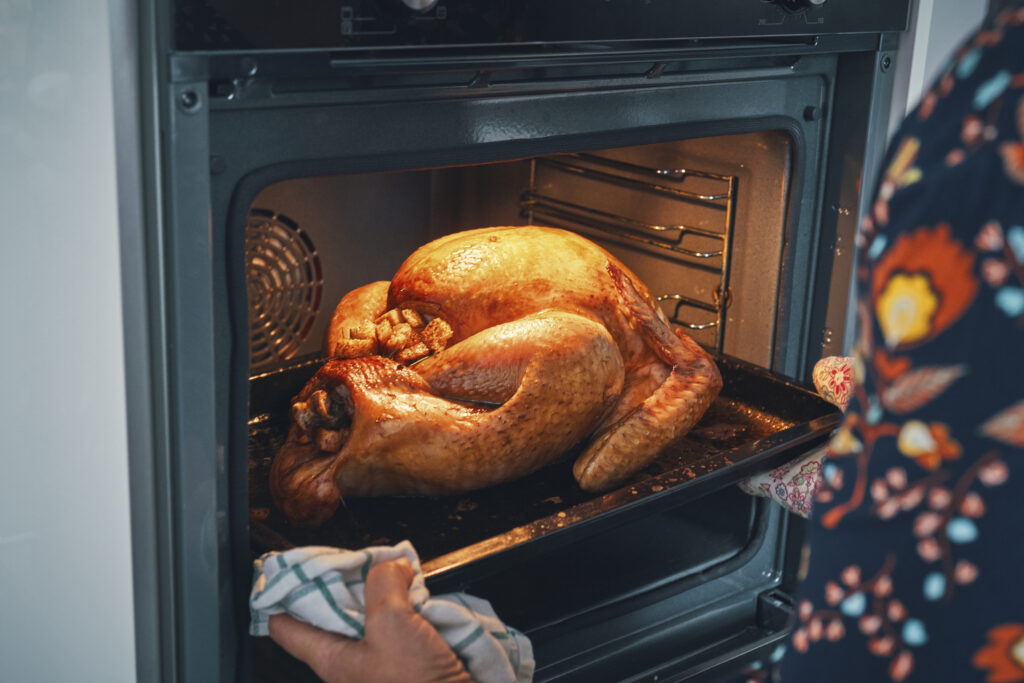 Start by adjusting your oven rack to the center of the oven and preheating your oven to 325 degrees Fahrenheit. While you're waiting, mix your herbs of choice and softened butter together. Pat your turkey dry and begin to spread the butter mixture on top. You can also carefully lift the skin and place some of the mixture under the skin. Roast your turkey for 13-15 minutes per pound until it reaches an internal temp of 165 degrees F in the thickest part of the breast. Check the temp with a thermometer such as the Extech Waterproof food thermometer with Stainless probe.  
Grilled Turkey
Grilling your turkey is surprisingly easy and doesn't stray too far from a traditional turkey in flavor. There are many ways to cook a turkey on the grill, depending on the size of the turkey and the type of grill you have, but here are two ways to make a delicious turkey that will have your guests wanting seconds – and thirds!
Charcoal grill
Prepping your turkey to grill on a charcoal grill is super simple. Start by stuffing the bird with onions, lemons, and herbs to elevate the flavor.
If you don't already own a charcoal grill or are looking to replace the one you currently have, the Weber 1-Touch Charcoal Grill is an excellent, affordable choice. With a 22-1/2 inch grill basin, it's perfect for cooking a turkey this fall and all of your cookout must-haves next summer.
Start by placing the charcoal or briquettes in the bottom of the grill and igniting them. Keep them burning until they're covered with gray ash, which usually takes about 25 to 30 minutes. Then, place some large disposable drip pans, like the Large Aluminum Foil Pans from Broil King on the briquettes. You'll want to move the charcoal around the foil pan using tongs like the WEBER Essential Grill Tong. Next, replace the grill grate and place the turkey, breast side up. Place the lid on the grill and leave the vents open. You'll want to cook it for 12 minutes per pound or until a meat thermometer, like the WEBER Instant Read Thermometer, registers 165 degrees F in the thickest part of the thigh.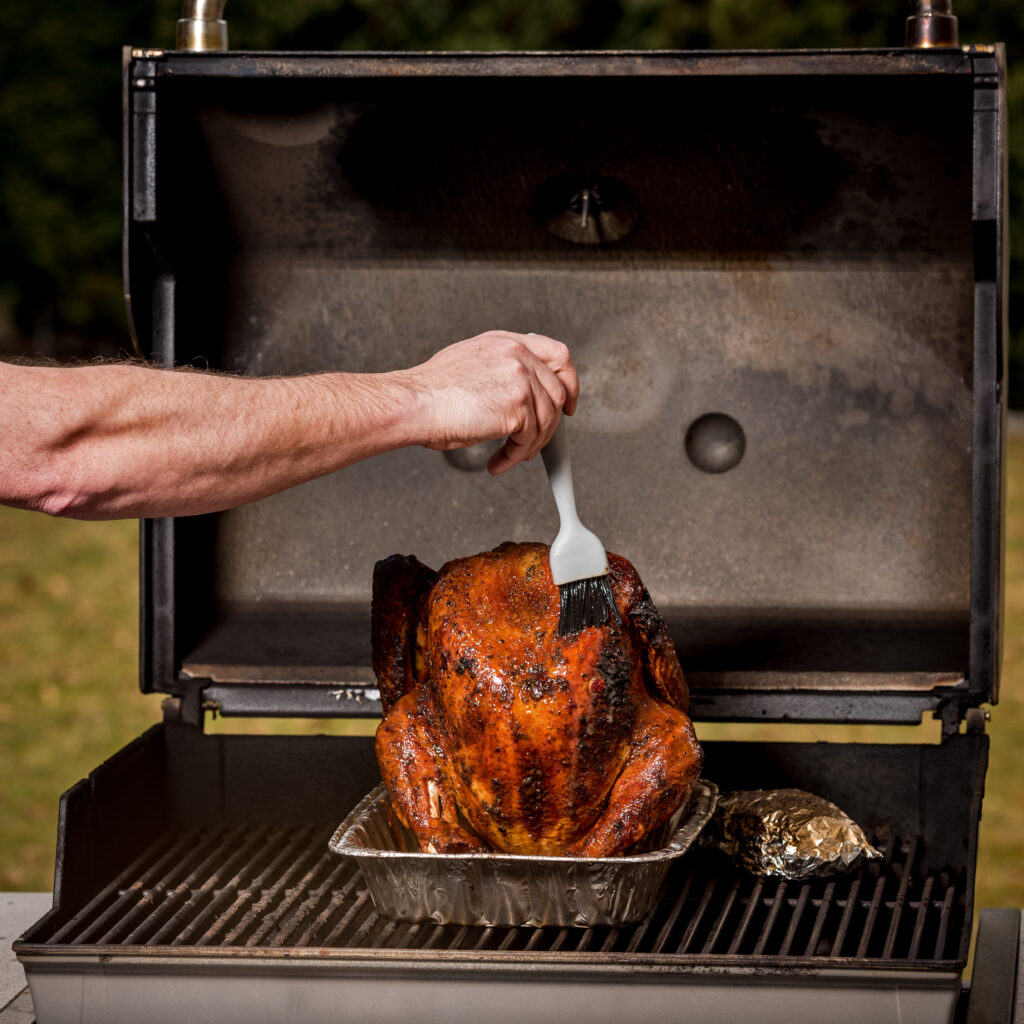 Gas Grill
Enjoy great taste and tenderness this holiday season by grilling your turkey with the Weber Style Poultry Infusion Roaster. Create a memorable meal with this roaster that infuses the meat with moisture and flavor. Use the gas grill you already have or pick one up like the Weber Spirit II E-210 2-Burner Gas Grill. 
Ignite the grill and let it preheat for 15 to 20 minutes until the grill reaches about 500 degrees F. While your grill is heating up, prep your turkey by grabbing your infusion roaster and your favorite juice, beer, sauce, or other liquid. Once you've decided what you'd like it to be infused with, pour the liquid into the integrated cup and place the turkey over the infusion cone so it's standing upright. The turkey will cook upright, and the roasting pan will collect the additional drippings for basting or gravy.
Grill your turkey for 10-13 minutes per pound until it reaches an internal temperature of 165 degrees F in the thickest part of the breast. Try the Traeger Wireless Meat Thermometer to continuously check the temp from your phone and not miss out on any Thanksgiving football.
Smoked Turkey
If you've been looking for a reason to buy a smoker, a smoked Thanksgiving turkey is the perfect occasion. If you don't already have a smoker, check out the Bradley Smoker Original 4 Rack Electric Smoker and enjoy delicious, flavorful foods all year long.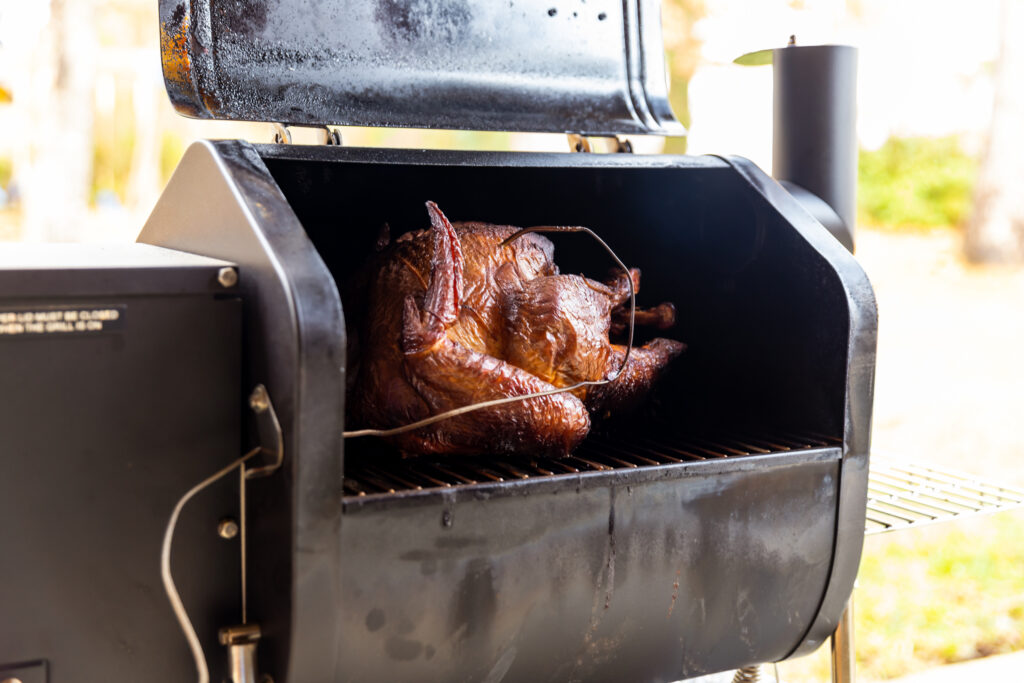 Smoking a whole turkey is a long process, but the results are well worth the wait. For a smoked turkey, preheat your smoker to 225 degrees F, choose the flavor of wood chips you'd like, and add them to the smoker according to the manufacturer's directions. In the meantime, you can get your turkey ready. Season and stuff your turkey with whatever your preference is. Some ideas are butter, cola, apple, onion, garlic powder, salt, and pepper. Place your seasoned turkey in an aluminum roasting pan like the 13X9 Foil Pan from Weber and loosely cover it with foil. Place your turkey in the smoker and check it at the 3-1/2 hour mark. Your turkey must pass the critical range of 40 to 140 degrees F in 4 hours or less. If the internal temp of the bird is low at the 3-1/2 hour mark, take it off the smoker and finish it in the oven to prevent foodborne illnesses.
Grab the 5-in-1 Carving Kit from Bradley Smoker, which includes carving knives and a meat thermometer – you'll need one to check the internal temp of the turkey. 
What to do with Thanksgiving Leftovers?
Once Thanksgiving is over, you might be left with a plethora of leftover turkey, stuffing, gravy, and more. If you don't want to have the typical leftovers of hot turkey sandwiches, check out this creamy turkey and stuffing casserole recipe:
What you'll need
Leftover mixed veggies (thaw a bag of frozen veggies if you don't have any leftover veggies or you want more in your casserole)
Sour cream (enough to make the gravy creamy)
3 cups of dice or shredded turkey
2-3 cups of gravy
3-4 cups of cooked stuffing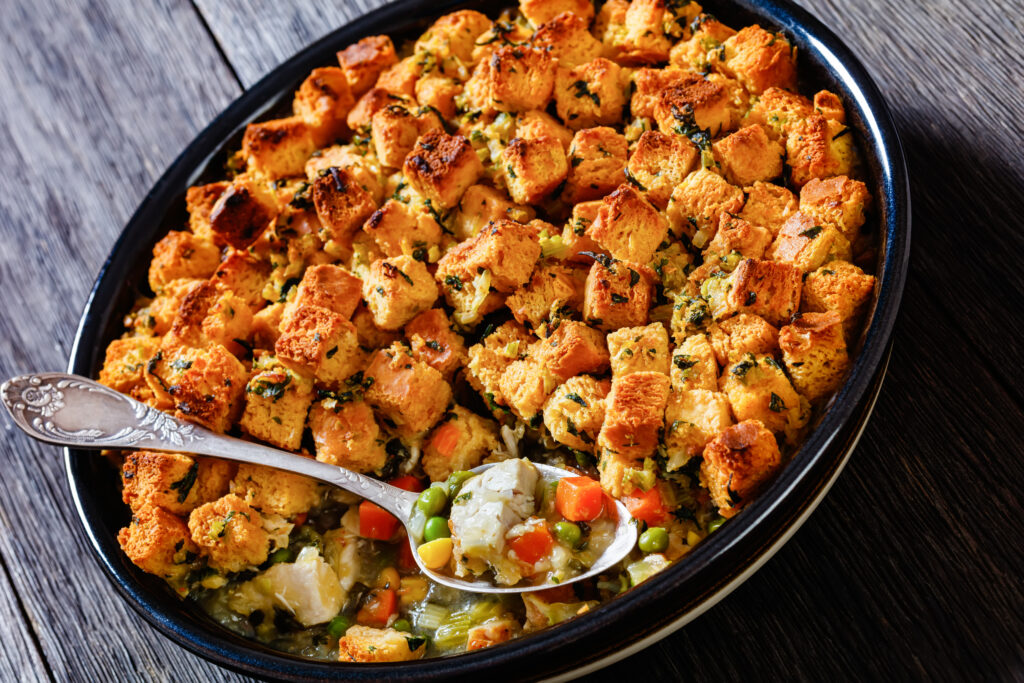 If you don't have enough of the above leftovers, you'll need to make more to complete this recipe.
In a large bowl, combine the turkey and veggies.
Pour the gravy over the mixture.
Add the sour cream until everything is well coated and the gravy becomes the creamy consistency of your liking.
Spoon the cold, cooked stuffing on top of the turkey mixture. Break up the stuffing as you go, covering as much area as possible because some will sink during baking.
Bake for 30-35 minutes at 375 degrees F or until the stuffing is crispy.
Let your casserole cool completely, then store in an airtight container for up to four days. You can reheat in the microwave or the oven at 350 degrees F until heated through.
Final Thoughts:
Thanksgiving is about spending time with friends and family; the delicious food is just an added bonus. Don't waste time in the kitchen this year, and pick one of the easy ways above to cook your turkey.
Have a safe and happy Thanksgiving!