To Clean Or Not To Clean?
Should you have the air ducts cleaned in your home or commercial property? This is a question many homeowners and commercial property owners ask. Our goal is to help you understand the importance of  getting your air ducts cleaned by the end of this article. We're going to cover benefits of cleaning air ducts, frequency of cleaning, and other important information that every property owner needs to know.
What Are Airducts?
The air ducts in your home or workplace serve an important purpose; circulation of the air to maintain air quality. Cleaning the air ducts ensures that the air you breathe is safe. Ducts become dirty and need cleaning for a variety of reasons such as:
Carbon monoxide buildup
Fine particles
Rodents and other pests living inside the ductwork
Mold and fungi growth
Excess dirt and debris, including hair from pets
Property owners generally use a fuel source to heat their property or to cook. These heating and cooking practices produce high levels of indoor air pollution including fine particles and carbon monoxide. Nearly 4.3 million people die each year from exposure to air pollution.
Benefits of Clean Air Ducts
Air pollution is a serious issue in large cities, but not one we generally consider inside our homes or offices. We like to think that our HVAC system will filter out all pollutants before they can become a health hazard, but this isn't always the case. Here are a few very important benefits of clean air ducts.
Improvement in Indoor Air Quality:
Cleaning the air ducts means that the air inside your home will be cleaner. While dirty ducts may not affect everyone equally, people with respiratory conditions and allergies can suffer greatly from inhaling air filled with dust and pollutants. Dirty air ducts may also have mold growth which is dangerous for the health of those in the home or commercial property, including pets.
Cleaner Interior:
Cleaning the air ducts also removes a lot of the dust that settles on furniture, so there will be less dusting needed. Pet dander and dust mites get circulated through the air and settle everywhere. However, duct cleaning helps to limit the level of pollutants that settle on surfaces.
Improvement in the Efficiency of HVAC Systems:
A build up of dust on the components of the air ducting system reduces the efficiency of the unit. This means that the system will work harder, which also leads to an increase in energy bills.
How Often Should I Clean the Air Ducts?
The frequency of cleaning of air duct systems depends on several factors. In most cases, it can be done every three to five years. Here are a few factors that affect the air duct cleaning schedule:
Breathing Issues: If there are people living or working in the home or office who are asthmatic or suffer from other respiratory problems, the ducts should be cleaned more often.
Number and Types of Pets: The number of pets present is another factor that influences the duct cleaning schedule. Pet dander is always present when pets are present. If the pets shed a lot, their hair will be pulled into the ducts and transported to other parts of the building as well.
Construction Dust: Sawdust and drywall dust will be an issue for your HVAC system if you've had recent construction work done such as remodeling.
Heavy Pollen Areas: Some areas have a higher amount of pollen than others. If pollen is an issue or if you suffer from allergies you may need to clean the air ducts more often.
Smokers: Air ducts in a home or building with smokers will need to be cleaned to get rid of the smoke residue. Not only can those with sensitive noses smell hints of smoke, but secondhand smoke would also be present.
You know your home, office, or commercial property better than anyone else. Take good care of the air quality to ensure that there are no pollutants in the home or office.
Air Duct Cleaning Tools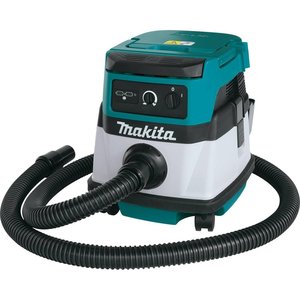 We have a great variety of air duct cleaning tools. One of the most important things you will need is a heavy-duty vacuum with attachments to thoroughly clean the air ducts like our 18 volt X2 LXT Lithium-Ion Cordless or Corded 2.1 gallon dry vacuum. The more powerful the cleaning tools are, the cleaner the air ducts will be. A heavy-duty vacuum cleaner will clean and trap all pollutants to prevent them from reentering the air.
How To Clean Air Ducts
Hire a pro, that's how! Professional air duct cleaning is generally the best bet simply because a professional company will have the required equipment. Air duct cleaning equipment can get expensive for a homeowner or commercial property owner who doesn't plan to regularly clean the air ducts. Besides, air duct cleaning is very messy business that requires a good amount of preparation and experience. This is best left to the Pro's.  You will thank us for this advice.