Maintaining a beautiful, green lawn requires a lot of work, but finding the right lawn mower for your yard can also be difficult and time-consuming. There are a lot of factors that go into picking the perfect lawn mower for your yard. Depending on the terrain of your property or deciding on gas or battery-powered, in this guide, you can learn about all the different types of lawn mowers and find the perfect fit for you.
What to Consider When Buying a Lawn Mower
Before you purchase your lawn mower, it's important to consider several key variables. You'll first want to consider the different types of lawn mowers, the cutting width, the type of fuel it uses, the engine size, and the price.
Type of Lawn Mower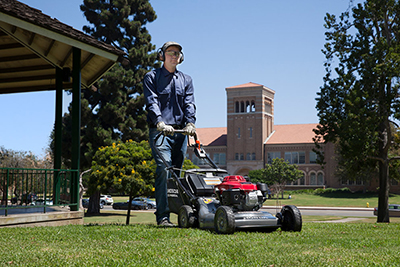 The first component you'll want to factor in is the type of lawn mower you're going to select. There are many different types of lawn mowers, so it's important to select the one that best suits your yard.
Self-propelled. These self-propelled lawn mowers push themselves with a pressure-sensitive bar on the handle. Its wheels assist you by pushing forward in any direction you choose.
Walk-behind. Requiring the most work, the walk-behind lawn mowers have no feature to assist you and are pushed manually.
Electric. Electric lawn mowers don't use gas like most mowers and run on lithium-ion batteries and have some advantages making them more appealing. They start up instantly, are quiet, and don't require much maintenance.
Riding. Riding lawn mowers are equipped with a steering wheel with easy handling. They also have bigger mowing decks and a good turning radius.
Zero-turn. Zero-turn lawn mowers are also riding lawn mowers. They are wider and allow for 360-degree pivots in one place, making them more convenient for avoiding obstacles in the yard.
Lawn Mower Cutting Width
Not all lawns are created equal. This should go without saying, but you don't need a zero-turn mower for a small lawn, and you wouldn't cut a large rural yard with an 18-inch deck lawn mower. This is where cutting width comes in. The width that a lawn mower can cut strongly correlates with how quickly you can mow your lawn. If you have a wider cutting width, it'll be easier for you on a bigger yard. Smaller cutting width is not only great for smaller yards, but they are also more agile for situations where you need to get around obstacles.
Lawn Mower Fuel Type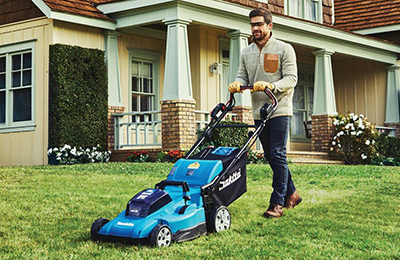 The two main fuel sources for lawn mowers are gas and electricity. Electric lawn mowers can be corded or battery-powered; corded lawn mowers may have a constant power supply but can be inconvenient to use in bigger yards.
Gas vs. Electric
Gas-powered lawn mowers are a great option as they provide more power and have longer runtimes on a single tank. The drawback of using a gas-powered lawn mower is that they do need constant maintenance.
Battery-powered lawn mowers are easier to use. They are super easy to start and are very quiet compared to gas-powered lawn mowers. The drawback of using them is that they don't provide as much power, and the lithium-ion batteries only give about 45 minutes of runtime.
Lawn Mower Engine Size
Researching the engine size of a lawn mower is another important variable before you purchase. If you know you'll be dealing with tougher conditions such as tall and wet grass, a larger engine will be more suitable for you. Engine volume is measured in CCs (cubic centimeters), so the higher the CC, the more torque your lawn mower will have.
Lawn Mower Price
The last thing to factor in is price. When purchasing anything, this can be the dealbreaker and lawn mowers are an investment. With factoring in all of the previous things as well, try to get the best option you can at an affordable price for you.
Best Self-Propelled Lawn Mowers
A self-propelled lawn mower is one of the more common types of mowers available today and appear similar to a traditional push mower, but they have one distinguishing feature. A transmission guides the mower forward, negating the need to manually push it. This provides a handful of advantages; first, it requires less energy from the user; second, it creates a more even cut as the mower's speed is consistent. Self-propelled mowers do usually carry a higher price tag than a push mower and have more mechanical parts, so they may require increased maintenance over their lifespan.
Honda 21-Inch Self-Propelled 3-in-1 Lawn Mower (HRN216VKA)
As a part of Honda's newer HRN series, this mower features cutting-edge power, design, intuitive controls, and easier operation and serviceability, making you more efficient during lawn care. The HRN216VKA provides 9% more power and 18% more torque than previous Honda models. Seven different cutting heights and 5 different speed settings provide maximum control over your lawn cutting abilities. This Honda lawn mower is a 3-in-1, which means it's capable of mulching, bagging, and discharging. An Auto Choke feature makes starting the mower easier, so you aren't tiring out your arms trying to power it up.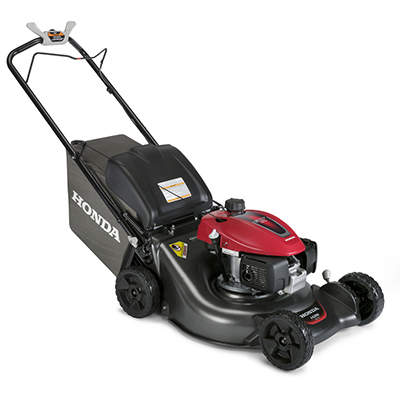 Honda 21-Inch Self-Propelled 4-in-1 Versamow Lawn Mower (HRX217VKA)
The standout feature of this Honda lawn mower is its 4-in-1 Versamow System with Clip Director that allows for mulch, bag, discharge, and leaf shred cutting options. The twin blade MicroCut System uses four cutting surfaces that create ultra-fine clippings, so you aren't left with a clumpy mess during mulching. The MicroCut System also creates more clippings per bag to mow 30% farther before you have to empty. For complete control over the rate of the mower, it has a variable speed Select Drive that can be switched between 0 to 4 mph. The NeXite deck provides a lifetime limited warranty, so you don't have to worry about rust during the equipment's lifespan.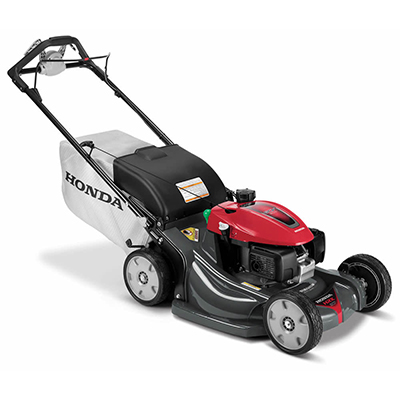 Toro 21-Inch Super Recycler Lawn Mower (21563)
Toro's Super Recycler Lawn Mower is a landscaper's dream. It features top-of-the-line dual-blade accelerators that are incredibly sharp combined with under-dek bumpers to cut clippings into an ultra-fine mulch, adding vital nutrients and vitamins back into your lawn. For lawn enthusiasts that prefer bagging, the power of the Vortex air intake technology and a commercial-grade bagging tunnel push clippings further back in the bag utilizing all the available space. With that technology, you'll spend less time emptying the bag. Flex handle suspension technology delivers ultimate comfort so you can easily glide over bumps or holes in your yard.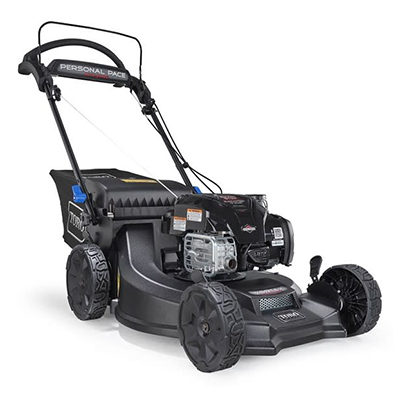 Honda 21-Inch Commerical Self-Propelled Lawn Mower (HRC216K3HDA)
Built for professionals, the Honda Commerical Self-Propelled Lawn Mower is built for simple starting, easy operations, and quick stopping, with a handful of other advanced features. The mower's Honda GXV160 commercial engine provides unmatched power and quiet operation with superior noise control. The exclusive Honda MicroCut twin-blade system creates finer clippings, so you get a better mulch. The HRC216K3HDA offers eight different heights best suited to all types of grass and mowing conditions for added flexibility in clipping height. The steel deck features front axle and bumper protection for increased durability.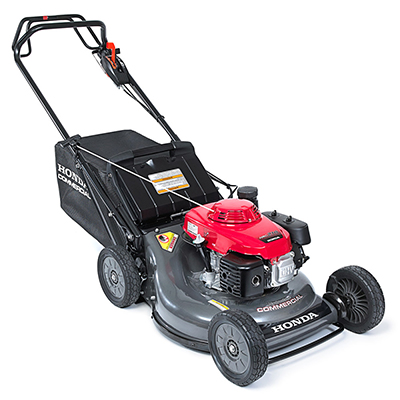 Toro 30-Inch Personal Pace TimeMaster Lawn Mower (21200)
If you need to clear a larger lawn in less time, this is definitely the mower for you. With the larger 30-inch deck, you can cut wider paths than many other self-propelled lawn mowers. The TimeMaster features Personal Pace with Traction Assist that senses your preferred walking pace and automatically adjusts so you're controlling the mower and not it controlling you. The Traction Assist handle creates additional control over the lawn mower's path and speed. A Quick Stow Storage Handle allows for two different storage positions and handle heights for added comfort. The deck height can easily be adjusted at 2 points for quick adjustments.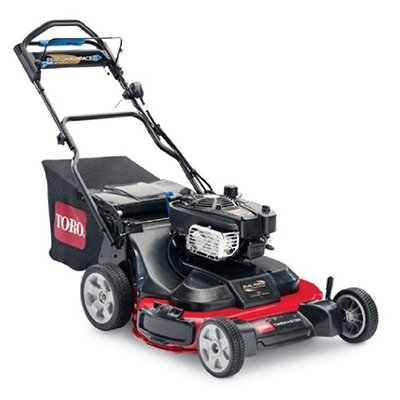 Best Electric Lawn Mowers
Battery-powered mowers are all the rage these days as part of the evolution of cordless outdoor power equipment. EGO is a brand commonly associated with cordless lawn mowers, but many of the other top brands, such as Makita, DEWALT, Milwaukee, and Echo, have quickly joined the party. An electric motor has many advantages, such as zero fuel emissions, quieter operation, and reduced maintenance. They're also usually much lighter than their gas-powered counterparts.
Cordless mowers aren't without their drawbacks, though. They tend to be more costly than a gas mower, and their shorter run times can be a hindrance as you may run out of power in the middle of mowing, depending on the size of your yard.
Makita 36V LXT Self-Propelled Cordless Lawn Mower Kit (XML11CT1)
Makita's 36V LXT Self-Propelled Cordless Lawn Mower provides an efficient mowing experience without any mess or noise. The XML11CT1 is capable of hanging with its gas counterparts with a powerful motor that delivers up to 3,000 RPM for a faster cut. Four LXT 5.0Ah batteries provide up to 40 minutes of run time and can be recharged in about 45 minutes, so you don't have to worry about too much downtime if you run out of juice in the middle of mowing. A single lever quickly adjusts the entire deck to your desired cutting height of 1-1/4- to 4-inches. A folding handle allows the mower to be stored in a compact, upright position.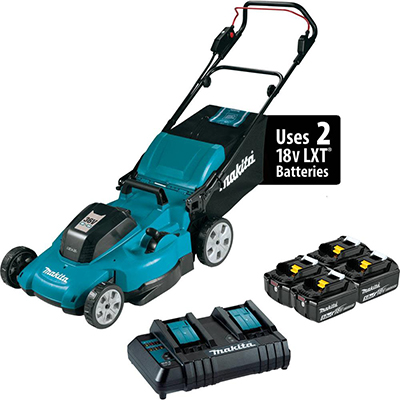 EGO 21-Inch Self-Propelled Cordless Lawn Mower (LM2102SP)
EGO's 21-Inch Self-Propelled Cordless Lawn Mower features enough torque to contend with gas-powered motors to work through the toughest conditions. That powerful motor combined with LED headlights, you'll have no problem cutting all hours into the night. Powered by a 7.5Ah lithium-ion battery, the mower is getting ultimate run-time of about an hour with a similar recharge time. The LM2102SP offers mulching, bagging, and side-discharge options. Push-button, start, a folding handle, and single-lever deck-height adjustment makes this one of the more feature-rich cordless mowers on the market.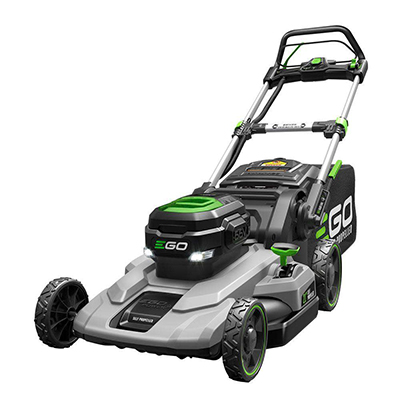 Echo eFORCE Self-Propelled Cordless Lawn Mower (DLM-2100SPC2)
Echo's eFORCE Self-Propelled Cordless Lawn Mower is another amazing addition to their outstanding outdoor power equipment lineup. Its powerful brushless motor provides similar performance to gas models. Dual battery storage allows for maximum power and performance, and an auto-switch battery makes it easy for power to switch to the backup battery once the first is drained of power. A runtime of up to 70 minutes is one of the longest runtimes on the market and can be recharged in 150 minutes with a standard charger and 75 minutes with a rapid charger. A cushioned handle reduces hand fatigue and makes for a more comfortable cutting experience.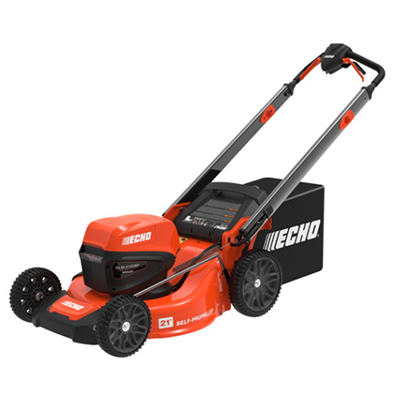 DEWALT 2x20V MAX Cordless Lawn Mower (DCMWSP255Y2)
DEWALT's Cordless Lawn Mower is a cut above the rest. Featuring a brushless, direct-drive motor the mower delivers a longer runtime of 70 minutes and plenty of power. Auto-sensing technology maintains a steady speed so you get an even cut and allows for higher RPM so the mower can handle thicker grass. 11-inch rear wheels allow for greater traction when mowing, so you can easily get up and down any hilly surfaces. The folding handle makes it easy to transport the mower and allows for vertical, compact storage that takes up 70% less space. A dual-lever height adjustment allows for more cutting options anywhere from 1-1/2- to 4-inches.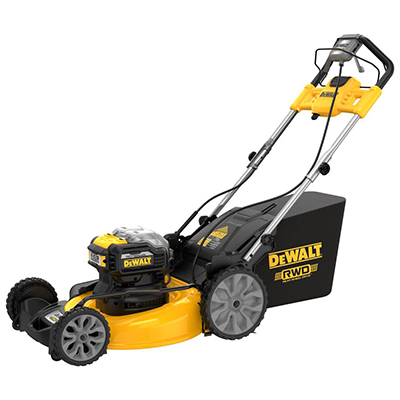 Milwaukee M18 FUEL Self-Propelled Cordless Lawn Mower (2823-22HD)
Milwaukee is one of the latest additions to the cordless lawn mower market, but the late start allowed them to bring all the bells and whistles to their mower. The M18 FUEL Cordless Mower features a POWERSTATE Brushless Motor that delivers more max torque than 200cc gas models for the most demanding cutting applications. An advanced electronic package provides instant throttle response on the blade and drive motor, so full throttle is reached in under one second. Two M18 REDLITHIUM HIGH OUTPUT HD12.0 Batteries deliver up to 60 minutes of runtime on a 1/2 acre of cutting while removing 1-inch of grass. The batteries can be recharged in a little over 2 hours.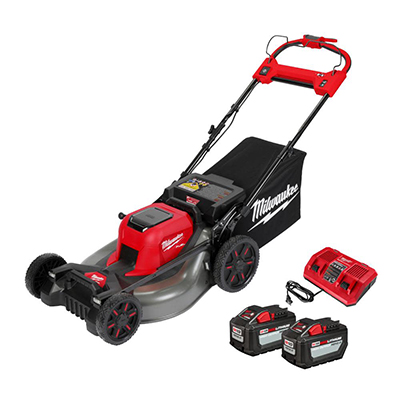 Best Push Lawn Mowers
Gas-powered push mowers are very similar to self-propelled options, with the major difference being all the forward power comes from you. The main draw of these mowers is they're usually cheaper than a self-propelled model, and that's because the transmission that pushes a self-propelled mower is removed. They also offer more control over the mower, considering you're the main source of power, so you won't find the mower getting away from you. That control also makes push mowers more maneuverable.
The obvious drawback of a push mower is it takes more manual energy to operate. In that same vein, push lawn mowers are better suited for flat lawns because it's tougher to push a lawn mower up unlevel terrain.
Oregon 22-Inch Push Lawn Mower (MNA152707)
Oregon offers one of the most affordable gas lawn mowers on the market with their 22-inch Push Lawn Mower (MNA152707). They didn't sacrifice any power or features with the lower cost, though. Powered by a Briggs and Stratton 550ex series motor, this mower is capable of 140cc to handle some of the toughest cutting jobs around. the ReadyStart systems required no priming or choking to start the mower, saving time and making you more efficient. The mower features three modes of operation, mulching, bagging, and side discharge. The high-domed steel deck provides for superior mulching, so you aren't leaving large clumps of grass around your yard.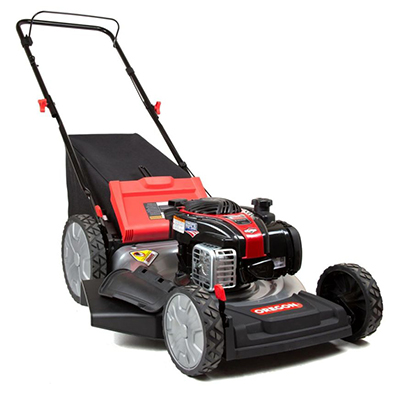 SKIL PWRCORE 20V Cordless Push Lawn Mower (PM4912B-20)
You're not going to find a much better deal on a cordless mower than the SKIL PWRCORE Cordless Push Lawn Mower. Two PWRCORE 20 4.0Ah lithium batteries feature technology that warps each cell with cooling material for a 25% longer runtime and 2 times the battery life. Both batteries take less than 100 minutes to recharge if you run out of juice. For added convenience, the SKIL mower features a push-button start to get mowing faster and single-lever height adjustment between 6 settings. When you're finished mowing or storing the mower at the end of the season, the telescoping handle folds down completely, creating a smaller footprint in a garage or shed.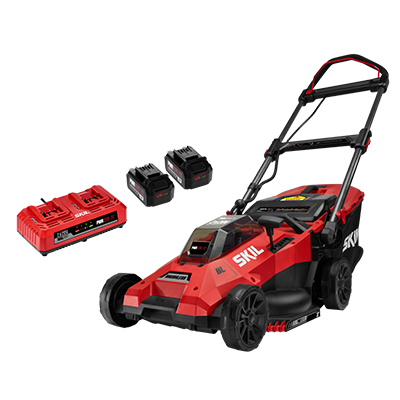 Toro Recycler Push Lawn Mower (21332)
This Toro Push Lawn Mower is built specifically for homeowners looking for a high-quality mower with a user-friendly design. The push mower features Toro's patented Recycler cutting technology that creates a finer mulch that returns nutrients to the soil for greener, healthier-looking lawns. Lightweight and maneuverable 11-inch rear wheels provide optimum traction over rough terrain so you aren't fighting with your lawn while mowing. The crowning feature of the 21332 is its hassle-free maintenance that requires zero oil changes. Just check the oil levels in the lawn mower and fill when needed.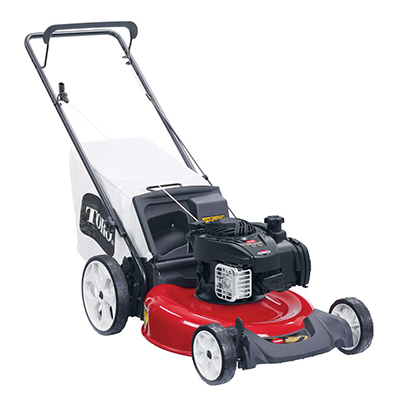 DEWALT 2x20V MAX Cordless Push Lawn Mower (DCMWP233U2)
This mower features all the power and performance with plenty of additional convenient features you've come to expect from the DEWALT brand. The cordless push mower features a brushless direct-drive motor that provides a whopping 75 minutes of runtime, so you'll never run out of battery life in the middle of mowing. It features 6 different cutting positions between 1-1/4- to 3-3/4-inches for maximum control over the height of your grass. Innovative, auto-sensing technology maintains a high RPM, so you won't have to worry about getting bogged down in long grass while mulching, bagging, or using the side discharge.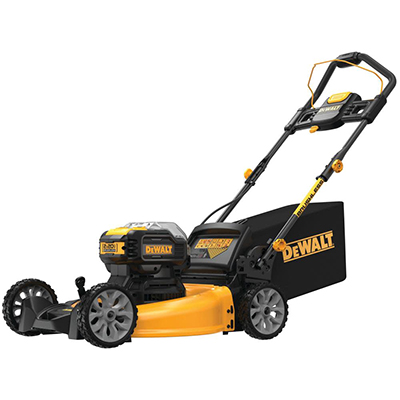 EGO Select Cut Cordless Push Lawn Mower (LM2133)
Flexibility is the name of the game when it comes to EGO's Select Cut Cordless Push Lawn Mower. The mower features a multi-blade cutting system that delivers more torque than premium gas options. The system comes with 2 interchangeable blades, the EDGE Premium Mulching Blade and the EDGE Premium Bagging Blade. The mulching blade is ideal for your weekly mowing and delivers the quality and performance expected from a high-end lawn mower. The bagging blade is a heavier duty blade that cuts grass into fine fragments, making it ideal for both bagging and mulching. Bright LED headlights provide the additional option of mowing into the later hours.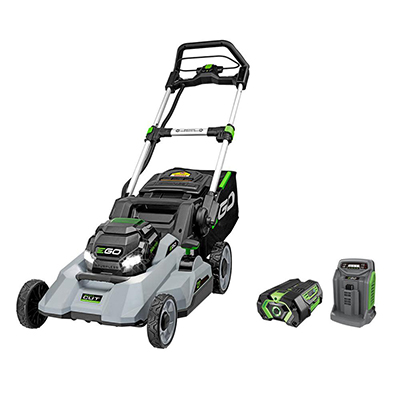 Best Riding & Zero-Turn Lawn Mowers
Riding and zero-turn lawn mowers are the big dogs of all types of mowers and are built to handle large lawns or fields. They're both technically riding mowers, but when you think of a traditional riding mower, you probably envision a lawn tractor. A lawn tractor is a good option if you need to be more efficient while cutting your grass but don't necessarily have the budget for a large commercial-level mower. The main drawback of a lawn tractor is its lack of maneuverability.
If you want to be able to move around your lawn like a seasoned pro, turn to a zero-turn lawn mower. With two lap bars, they offer the ability to pivot and make sharp turns, thus increasing your efficiency. Their maneuverability and large size offer the maximum cutting capability. Because of their larger size and additional versatility, zero-turn options are generally larger investments than lawn tractors.
Husqvarna 24HP 48-Inch Riding Lawn Mower (960 43 03-03)
A quality entry-level riding mower, the Husqvarna TS 148X offers cutting-edge performance, durability, and operator comfort. As a part of their 100 Series, the mower features a deluxe comfort seat with an extra-thick cushion for improved comfort, so you don't have to worry during longer mowing applications. An ergonomic, soft-touch steering wheel reduces hand fatigue. Many of the other features of this mower are all about convenience. The automatic choke creates easy operation as you can just turn the key and go and aren't wasting time trying to start the mower. Cruise control maintains a constant speed even when mowing over rough terrain.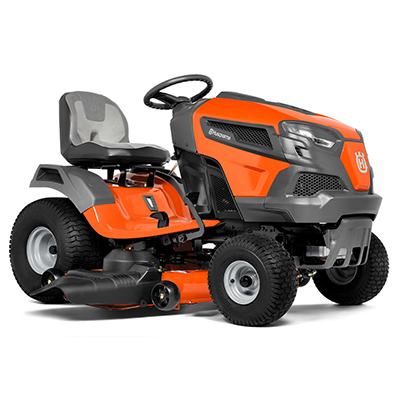 Toro 50-inch TimeCutter Zero-Turn Lawn Mower (75750)
The Toro TimeCutter Zero-Turn Mower was built to replicate the power of their landscape contractor equipment in a homeowner model. Living up to its namesake, the TimeCutter features a 50-inch deck that cuts mowing time up to 50%, so you can spend more time relaxing in the sun. The IronForged deck is built tough as nails for increased durability over the life of the mower. A handcrafted high-back seat with armrests provides ultimate comfort while mowing. Smart Speed Technology provides more control over the mower without losing blade speed. An under-seat compartment makes it easy to safely store important accessories and tools.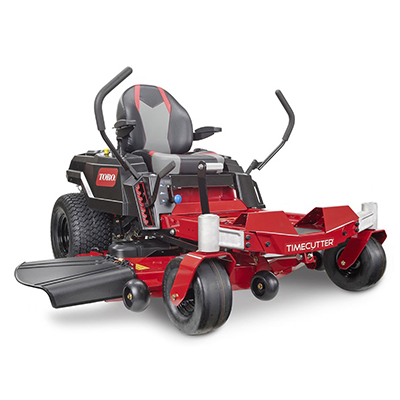 Husqvarna 24HP 54-Inch Riding Lawn Mower (960 43 03-21)
The Husqvarna 54-inch Riding Lawn Mower features a versatile ClearCut cutting deck combined with a powerful 24 HP Kawasaki engine, so you are guaranteed a perfect-looking lawn in less time. This riding mower is built to handle the rough spots on your lawn with ease. A dash-operated differential lock works in tandem with large rear wheels for increased traction without overheating the mower. A high-back seat provides added comfort during longer cutting projects, preventing any back pain or fatigue. The easy-access fuel cap doesn't require the engine hood to be open during refueling, making you more efficient.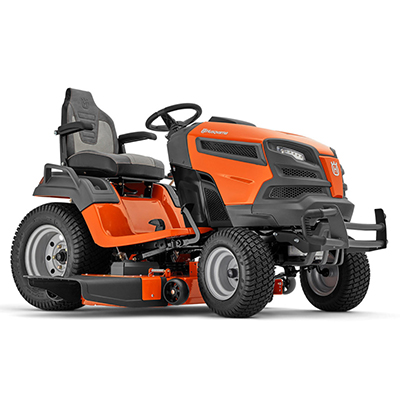 EGO POWER+ Z6 Zero-Turn Riding Lawn Mower (ZT4204L)
For power and convenience, the EGO POWER+ Z6 Zero-Turn Riding Mower is the perfect fit. Four 56V 10.0Ah ARC Lithium batteries and 4 brushless motors provide 22 HP, which is equivalent to many gas models. With that horsepower combined with a top speed of 8 MPH, the Z6 can clear up to 2-acres on a single charge. An on-board LCD interface makes it easy to customize your ride between three different modes, control, standard, and sport. Other convenient features such as LED lights, USB charging port, and Bluetooth technology create a lawn mowing experience that is unlike any other on the market today.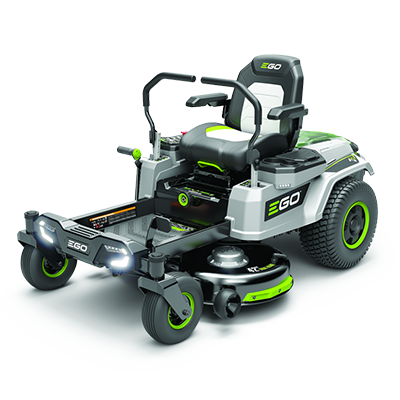 DEWALT Z148 Commerical Zero-Turn Riding Lawn Mower (47AHBCA6038)
The entirety of the DEWALT Z148 Commerical Zero-Turn Riding Lawn Mower is built for efficiency, performance, and comfort. Adjustable lap bars can be dialed-in for maximum comfort and control over the mower. A wide foot pan is perfect for operators of all sizes to feel comfortable during long days. Offset front caster wheels allow for stable deck balance for an even, professional cut and maintain a smoother ride at higher speeds. This mower is capable of speeds of up to 8 mph, so you can cut more at a faster speed. An automotive-inspired, adjustable high-back seat absorbers impact over rough terrain, so you're more comfortable through the day.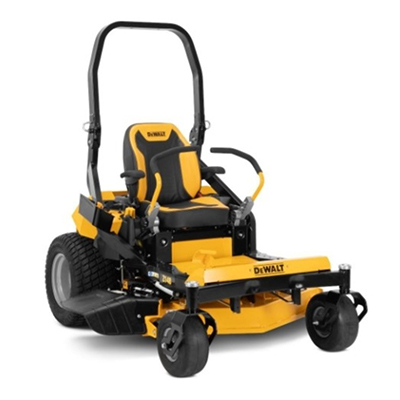 Shop more lawn mowers from some of the top brands in the industry, such as Black and Decker, Bluebird, Generac and more at Acme Tools.