Before you know it, spring and summer will soon be upon us. Whether you're a homeowner or opening your own lawn care business, cutting grass will soon be at least a weekly chore. There is a very wide variety of lawn mowers that it might be a little overwhelming. For anyone who can't make up their mind, we have prepared a little guide to give some ideas about how to choose the right mower so you don't end up hacking away with the wrong tool.
Get In Tune With Your Yard
There are many types of lawn mowers, so it helps to understand the basic capabilities of each one. That said, the size and type of lawnmower you will need will heavily depend on the size of yard and type of grass you have. For example:
Reel mowers are best for small, flat areas such as very small yards.

Self-propelled gas-powered mower can easily handle yards that are 1/4 of an acre or less.

Riding mowers and tractors are ideal for areas a 1/2 an acre or larger – such as a golf course, large country garden or small pasture.
Pro tip: before you buy any type of lawn mower or outdoor power equipment, keep in mind that noise level is something you many need to be aware of if you live in a place that has noise ordinances in place. For example: small communities with homeowners' associations often have noise level restrictions, and some municipalities put a limit on noise as well. If you reside in a rural setting, then noise is probably not as much of an issue.
The following chart offers a simple lawn mower comparison between terrain, size and noise level.
Explore the Different Types of Lawn Mowers
Reel Mowers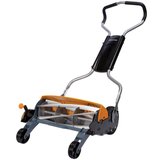 Reel mowers are the simplest to use. You just take them out of your shed or garage and start pushing. They're lightweight and compact, making them easy to store and transport. These mowers are also more cost-effective to maintain than their motorized counterparts, and they produce no polluting exhaust. Reel mowers do require an even surface, which means they might not be feasible to use in your yard. If you have a friend or neighbor with a reel mower, ask to borrow it and take it for a test mow before making any decisions.
Electric Mowers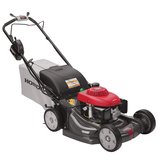 Electric mowers are another eco-friendly lawn maintenance option. They're much easier to start than gas mowers, and you don't have to worry about having enough fuel on hand to finish your job. Cordless mowers operate on batteries that can often transfer between the mower and other lawn tools, which makes them appealing to professional landscapers. The battery and charger can be an investment though, and you'll need two batteries on hand to swap between the charger and the mower. Corded mowers run on AC power via an outdoor extension cord. The cord can occasionally get in your way, and you're limited by the length of the cord. Ultimately, corded models are best for urban and suburban homes with small, flat yards.
Gas Mowers
Gas mowers tend to have the greatest amount of cutting power and speed among walk-behind models. They're simple to use, but do require that you regularly change out the oil, filters and spark plugs. Depending on how the motor delivers power to the wheels, you can get a front-wheel, rear-wheel or all-wheel drive mower. Front-wheel mowers are ideal for flat surfaces and making tighter turns while they're in self-propelled mode. Rear-wheel models climb hills easier. All-wheel drive mowers can tackle rough terrain and keep going.
Riding Mowers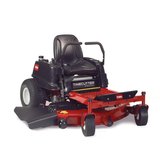 Riding mowers are best used on large plots. Since you're riding instead of pushing, you won't get tired after mowing acres of grass. Rear-engine mowers are the most basic model, and many of them resemble simple push-behind mowers with a seat and steering wheel. They have the lowest power, speed and all-around performance of any type of riding mower. Their main advantage is that you can usually fit a rear-engine mower in spaces that are too narrow for other riding mowers.
Lawn Tractors
Lawn tractors are larger mowers with the engine in the front. Beyond mowing, you can use them to mulch, gather leaves or other landscaping tasks with included or optional accessories. A larger type of lawn mower, garden tractors, features the same functionality as lawn tractors. The difference is size and power. Garden tractors are more powerful and faster than lawn tractors, and the cutting width of smaller lawn tractors is 48 inches, which is larger than the widest common yard tractors.
Zero-Turn Mowers
Zero-turn mowers feature dual control sticks, like a modern tank. They have the tightest turning radius of any riding mower, so they can give you a more precise cut. You just have to make sure that you handle hills with care, as they can tip over if you turn too quickly. Most zero-turn tractors have roll cages to keep you safe.
Tow-Behind Mowers
Tow-behind mowers attach to large tractors or even your ATV. They are the widest cutters available, and are too large for most residential lawns. If you have a large commercial client, such as a country club or a sports field, then a tow-behind mower is likely your best option to get the job done quickly.
Mower Accessories
You can add extra functionality to your machine with optional lawn mower accessories. Walk-behind mowers are the most basic models and have the fewest options, but since you're likely to use them for simple lawn care, lack of accessories is seldom an important issue. The most common add-on for walk-behind mowers is a mulching kit, which prepares yard debris for your compost pile. A striping kit lets you make an attractive, professional-looking pattern in your lawn.
Always Keep Mower Safety and Maintenance in Mind
Riding mowers and tow-behind mowers have more options, and can even take the place of cultivators with the right attachments. In addition to stripers and mulchers, you can attach sweepers to riding mowers and clean the lawn as you pass, or attach aerators to improve the health of your grass. These attachments can double your productivity since they do the work of two machines simultaneously. Most riding and tow-behind mowers are usually used for long projects, which requires you to sit on a running machine for up to several hours at a time. You can purchase new or custom chairs for comfort.
Any gas-powered motor needs oil to run and prevent overheating. Keep extra oil and filters on hand so you can change them out as needed and get back to your yardwork. Store every mower indoors to protect it from the elements. Space is an issue, so make sure that your mower fits in your garage or shed. In the cold months, you can use fuel stabilizer to keep the gasoline from going bad and damaging the engine.
As you mow, you'll need to keep yourself safe from flying rocks or other debris that gets kicked up by the blades. Wear pants if possible, as well as closed-toe shoes. Consider safety glasses to protect your eyes. For longer jobs, especially in the summer, keep cool with a water bottle. You can attach a sun shade to some riding mowers for extra comfort and to prevent heat exhaustion.
Everyone's lawn is different, with its own special requirements for maintenance. The right types of lawn mowers go a long way towards providing outstanding results and making it easier for you to take care of yours or your clients' property. Take a look at our extensive lawn mower selection and find the model that best matches your needs.
| Type of Lawn Mower | Terrain - Flat | Terrain - Uneven | Very Small Suburban | Less than 1/4 acre | 1/4 - 1/2 acre | Over 1/2 acre | Noise Level |
| --- | --- | --- | --- | --- | --- | --- | --- |
| Reel Mower | X | | X | X | | | Very quiet |
| Push - Corded | X | | X | X | | | Quiet |
| Push - Cordless | X | | X | X | | | Quiet |
| Push - Gas | X | X | | X | X | | Depends on engine size, the smaller the engine the lower the noise. |
| Riding - Rear Engine | X | X | | | X | X | Depends on engine size, the smaller the engine the lower the noise. |
| Riding - Lawn Tractor | X | X | | | X | X | Noisy |
| Riding - Garden Tractor | X | X | | | | X | Noisy |
| Riding - Zero Turn | X | | | | | X | Noisy |
| Tow-behind | X | X | | | | X | The mower is very quiet but the tractor needed to operate is noisy |