With a great job comes a great mess, and despite how some individuals may moan and groan at the thought of cleaning, it is a vital step in making hard work look nice.  Thanks to the new Bosch GAS18V-02 18V Cordless Hand-held Vacuum, getting rid of a mess just got a whole lot easier.  Bosch has had a long history of making extremely high-quality tools, and this vacuum is no different. We are really excited about it, and thanks to a boatload of cool features, we think you will love it too.
Does it suck
All vacuum puns aside, this beast draws in air at an astounding rate of 21.2 CFM to pick up anything you put in front of it.  Paired with the Bosch 18V batteries, you will get 7 minutes of runtime for every amp-hour the battery has, so you will have plenty of time to make everything squeaky clean.  
A two-stage rotational airflow catches 90% of debris in the first stage alone, and anything that makes it past that point will run into a HEPA clog-free filter.  The high-efficiency particulate air filter nabs even the smallest particles, which helps keep your air pure as you clean.
Accessories for Days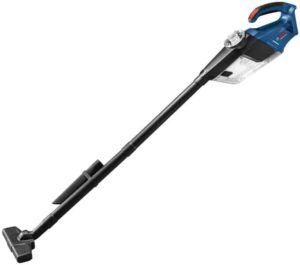 Hidden nooks and crannies are no match: the kit includes 5 accessories, including a flexible hose and a narrow crevice end so you can steer to any hard-to-reach corner and get every last speck of dust.  Along with the hose and crevice tool, the package will also include a floor nozzle and two extension pipes. Choose whichever length is most comfortable for you and walk behind it as an upright vacuum, or clean tables, counters, benchtops, and other surfaces with a mid-length tube.  
Turn the Volume Up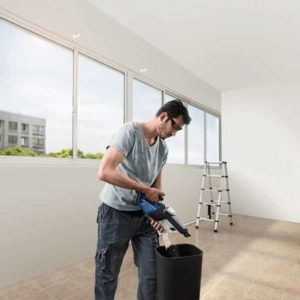 You will be taking fewer trips to the garbage, thanks to the sizable bagless dust storage that can hold a volume up to 61 cubic inches, which is more than two pints!  It is made from durable clear plastic too, so you will never have any doubts knowing when it's time to empty all the crud into the trash. Even so, without bags needing to be replaced, disposing of the dirt and dust is as easy as pushing a button to flip the lid open, and then letting gravity do its thing.  
Hold on Tight
Bosch prides itself on creating innovative and ergonomic designs for their tools, as perfectly demonstrated by their cordless reciprocating saw.  The GAS18V-02 cordless vacuum is no different, with an open top-mounted grip, allowing the tool itself to hang beneath and take all the work out of using it. It's light as a feather too, at only 2.9 pounds, so you might even forget you're carrying anything at all.
A Few Final Words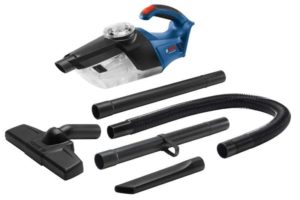 If we had to pick three words to describe this tool, they would be Efficient, Powerful, and Comfortable.  Use it as a handheld vacuum to clean a workbench, or as a stand-up to clear sawdust off the floor. However you need to clean, this tool pack the punch you need to get the job done right.  While it is only currently planned as a bare tool, it will be compatible with all Bosch 18V batteries, so it will be a perfect addition to your collection.
| Product | What you Get | Power | Capacity | Release |
| --- | --- | --- | --- | --- |
| Bosch GAS18V-02 18V Cordless Hand-held Vacuum Cleaner | Handheld Vacuum Cleaner, filter, two extension pipes, a floor nozzle, a crevice nozzle and a short hose | 18 volt | 61 cubic inches |  Summer 2018 |