The Bosch GBH18V-26 isn't just any cordless rotary hammer. The rotary hammer is the workhorse of any construction site, providing the power and torque to drill and chisel in concrete and masonry materials. But the real differentiator among these power tools is putting all of that performance in a package that delivers great power at low weight – and that's the story of the Bosch GBH18V-26 1″ SDS-plus® EC brushless rotary hammer.
Overview
This Bosch rotary hammer delivers 1.9 Ft.-Lbs. of torque in a tool that weighs only 7.7 lbs. The ergonomic L-shape design offers great horizontal power transmission. Combined with a Bosch 6.0 Ah 18V lithium-ion battery, this is a power tool that will drill longer and hit harder than bigger tools with more weight.
On-Tool Dust Collection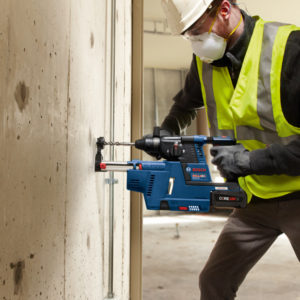 The advantages of 2x motor life and less maintenance comes with the tool's lighter weight and the reduced-size Bosch EC brushless motor. Bosch electronic precision control ensures soft-start (70 percent) to help avoid walking or skating.
The Bosch GBH18V-26 rotary hammer also features an integrated dust extraction attachment, GDE 18V-16 Professional. The attachment has its own motor that draws power from the rotary hammer battery and has on/off functionality. The Bosch GDE 18V-16 Professional attachment automatically starts at the same time as the rotary hammer and continues to operate for two seconds after drilling is ended. An integrated HEPA filter provides reliable dust protection.
Added Safety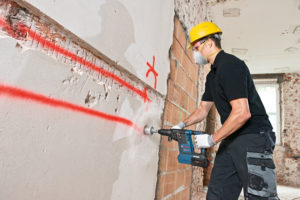 The Bosch GBH18V-26 1″ SDS-plus® EC Brushless Rotary Hammer features proprietary KickBack Control, an integrated acceleration sensor that virtually stops the drill's rotation during bit bind-up situations. It's designed to reduce potential arm and wrist injuries. In addition, the tool includes industry-leading Bosch vibration control for added user safety and ease of use.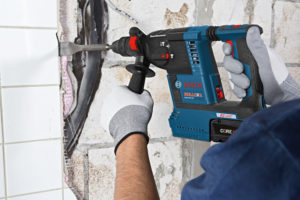 The Bosch Flexible Power System is one of the most versatile Lithium-ion battery platforms available. The system offers complete compatibility by allowing 18V FatPack and SlimPack batteries to be used with any tool. And Bosch 18V 2.0 Ah and larger batteries feature CoolPack technology, which offers a heat conductive housing to keep batteries cooler for superior runtime and up to 2X longer life. All Bosch batteries provide cold weather performance to -4°F. Each battery also includes a fuel gauge.
Flexible Bosch Power
The rotary hammer includes Bosch-exclusive Electronic Cell Protection (ECP) that protects the battery against overload, overheating and deep discharge for longer life. Likewise, Bosch Electronic Motor Protection (EMP) protects the motor against overload with integrated temperature management.