The Bosch Power Box has been filling job sites across the country with great sound.  We wanted to see if this AM/FM Radio, Charger, Digital Media Stereo with 360° Sound could stand up to the rigorous demands of Acme Tools.  Bowling to Boom Lifts, let's see how it holds up.

Bowling With Bosch
The PBA is made up of the best bowlers in the world. We first tested the Bosch Power Box by bowling it into some blow up pins and as expected it held up just fine.  There were some minor scratches on the roll cage but this test did nothing to stop the great sound of the Bosch radio. Power Box Annihilation will have to come a different way.


With Rahn still believing he could put the Bosch Power Box out of commission with one of his deadly draw shots we decided to ramp it up a little bit and set up the cinder block pins.


The cinder blocks were no match for the Bosch Power Box.  It took everything we could throw at it and kept playing just as clear as it did when we first started.
Bosch Drop Test
Knowing that we could not bowl our way to submission we decided to look back at what others have done to this radio.  Many have dropped it off of ladders, thrown it down stairs, and kicked if off of moving vehicles but nobody has given it a 2 story drop test.  We decided to have some fun instead of dropping it off of a 2 story building, we brought a JLG X600AJ 60′ compact boom lift into the mix.


After the 20′ drop the radio did shed some extra plastic and the battery did fall out of its holder but after reinstalling the battery it kept on playing.  We were impressed at how tough this radio was.  With it still playing we had to keep trying to knock it out.  Next stop, 40′.



Needless to say 40′ did not knock it out but it did cause it to lose quite a bit more weight.  The roll cage to the radio was crushed, the AM/FM radio antenna was laying on the ground, the front control panel was intact but you could see the electrical connections holding it in place and again the battery popped out, which we are starting to think that Bosch designed it this way on purpose. After reinstalling the battery the unit did work, on Bluetooth only, but it did work.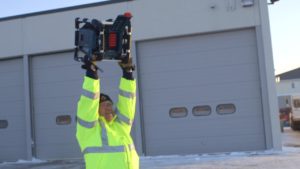 Final Thoughts
You may think that bowling with the Bosch power box radio was not much of a torture test.  We look at it being everyday use, rolling around the back of a truck and being knocked over at the jobsite.  It handled all of these tests with flying colors so we are happy to say that the Bosch power box is jobsite tough.  The 20′ and 40′ drop tests were extreme for this unit and we guess that on a normal jobsite this will never happen but it is good to know that if it takes a 2 story or 4 story drop it will keep on playing.  Our only regret on doing this test is that the lift we used was rated for 60′ but due to the windy conditions on the day we tested we were unable to bring the radio up to its full height.  That could be a test for another day…