Cresent Tools recognized the struggle that plumbers and other similar industries face during different applications. The struggles include pipe wrenches slipping, reduced leverage, harsh angles, and double the time it takes to complete a job. As a solution, Crescent developed an innovative pipe wrench grip to accomplish those challenging tasks.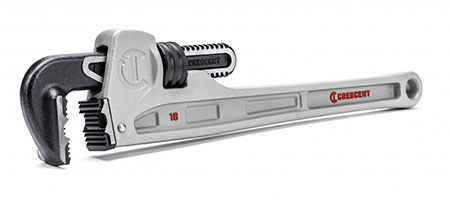 Features
The Cresent K9 Pipe Wrench Collection features the new and innovative grip. Integrated K9 Angle-Access Jaws bite in an arc of 30°, which is a lot more compared to standard pipe wrench operation limits. The Jaws provide unmatched access in tight areas, which makes these wrenches ideal for the plumbing, pipe fitting, oil/gas, fire/sprinkler, and MRO industries. For increased usability, the pipe wrenches come with a high-speed adjustment to make resizing quick and easy. Also, they feature a ratcheting head for one-handed use. Additionally, the eleven new products featuring the grips consist of of either cast iron or aluminum. The aluminum model is 40% lighter, reducing user fatigue.
Final Thoughts
With Crescent Tools being one of the most trusted brands of professional hand tools, it comes as no surprise that these wrenches have the ability to make your most challenging tasks simple. With pipe wrenches that can accomplish real-world job applications, the plumbing, and many other industries, are no longer limited.
Find the innovative K9 Pipe Wrenches at an Acme Tools near you or visit our online store at acmetools.com.