Now that spring is officially here, it's time to start thinking about the spring cleaning projects needed in your workshop. Cleaning and organizing your work space can seem challenging, so we've put together a list of accessories to help organize and store your tools. Browse the list for Milwaukee PACKOUT accessories, tool boxes, tool bags, and other tool organization to help you Do Your Best Work this season.
Tool Organization Options:
Packout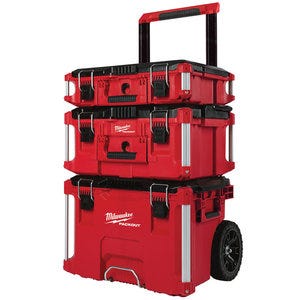 Milwaukee PACKOUT Kit
The 3pc Tool Box Kit includes the Milwaukee PACKOUT 48-22-8424 Tool Box, 48-22-8425 Large Tool Box, and 48-22-8426 Rolling Tool Box. Along with a 75 lb weight capacity, the ultimate storage kit features an IP65 rated weather seal to keep out the elements and jobsite debris. With 9″ terrain wheels, metal-reinforced locking points, and mounting locations, this kit offers the best tool organization and storage.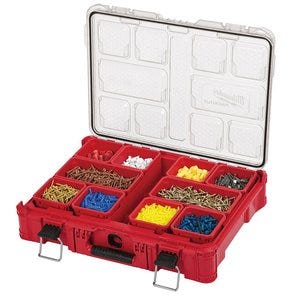 Milwaukee PACKOUT Organizer
The versatile and most durable Milwaukee PACKOUT tool box has a clear top to locate the tools inside quickly and contains a center slot for storing long bits and blades. The tool box is made with impact-resistant polymers and metal reinforced corners, providing up to 75 lbs of weight capacity and durability in harsh jobsite conditions. As another storage option, users can mount the tool box with the integrated screw slots.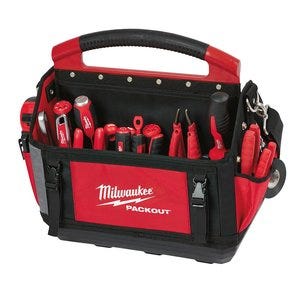 Milwaukee 15″ PACKOUT Tote
Organize and store your power tools, hand tools, and accessories in one of the 31 total pockets in the Milwaukee PACKOUT 15″ storage tote. For easy transports and increased comfort, the tote features a padded shoulder strap and an overmolded handle. Designed for ultimate durability, the tote consists of 1680D ballistic material and all-metal hardware.
Tool Boxes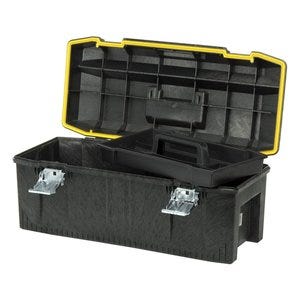 Stanley FatMax 28″ Structural Foam Tool Box
The extra heavy duty Foam Tool Box features a water resistant structural foam that is ideal for carrying power tools, hand tools and medium to large items. In order to allow room for more storage, the tool box features a half tray. Additionally, the lid features a v-groove with a ruler that holds lumber and pipes in place while cutting.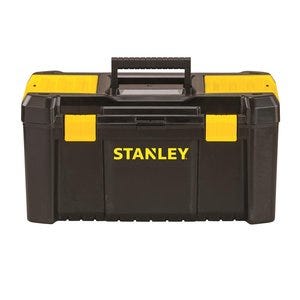 Stanley 19″ Essential Tool Box
The Stanley Essential Tool Box is engineered to store almost anything. With a new design, the top organizers are now ideal for organizing small parts. The tool tray allows for flexible storage, and the wide latches provide extra security.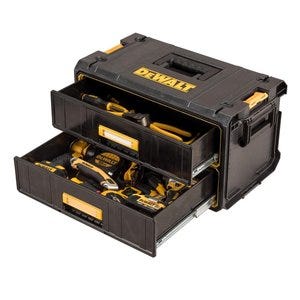 DEWALT ToughSystem Two-Drawer Unit
The DeWalt Toughsystem unit stores hand tools in two different deep drawers. The ball bearing slides allow for easy access to your tools, and the side latches connect to other ToughSystem tool boxes. Also, the unit can be mounted on a wall in your workshop.
Tool Bags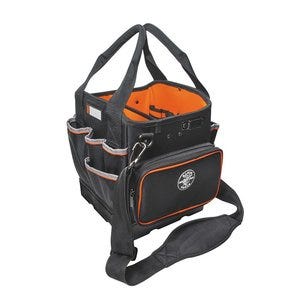 Klein Tools Tradesman Pro 10″ Tote
The Tradesman Pro Tool Bag has plenty of pockets for storage, 40 pockets to be exact. For increased durability, the bag consists of 1680d ballistic weave and comes with a molded bottom that protects from the elements. User-friendly features include an orange interior that helps users spot tools quicker and a padded shoulder strap.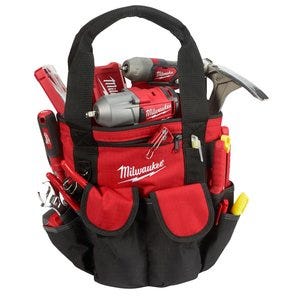 Milwaukee 50 Pocket Bucket-Less Tool Organizer
The 50 Pocket Bucket-Less Organizer allows you to easily transport your everyday essential tools. The pockets come in a range of sizes, giving users multiple storage options. Zippers and covers on the pockets allow users to carry tools around with confidence. For increased durability, the organizer is made from 600-denier Ripstop polyester and features a waterproof design that keeps the contents safe from water damage and corrosion.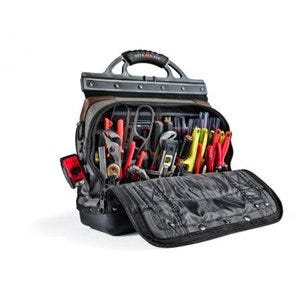 Veto Pro Pac TECH-XL Service Technician Bag
Find maximum storage with the Veto Pro Pac TECH-XL Bag. The tool bag consists of 80 vertical inside and outside pockets and two bays on the front and back. The front storage bay holds tools up to 14″ long, while the back bay accommodates larger tools. Also, the exterior features a quick-access pocket with small interior pockets for the tools you use most often. The bag consists of double-stitched plastic coil zippers that are tough, easy to grip, and protected with large tabs.
Tool Chests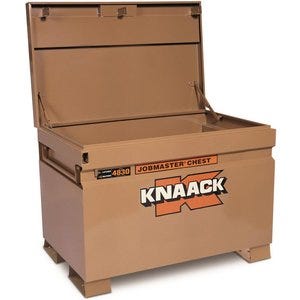 Knaack JOBMASTER Chest
Quickly and safely transport your items between locations with the Knaack Chest. The tool chest has plenty of storage space, measuring 30″ wide, 4″ long and 34-1/4″ tall. To prevent theft, Knaack integrated the WATCHMAN IV three-point Lock System. Additionally, the baked powder-coat finish prevents the tool chest from wear and tear.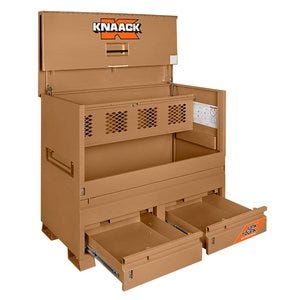 Knaack STORAGEMASTER Piano Box with JUNK TRUNK and Thermo Steel
The Knaack STORAGEMASTER is ideal for storing and locking your tools, equipment, supplies, and other items. The tool chest offers storage room without taking up too much space. It measures 60″ by 30″ and has a storage area of almost 44 cubic feet. The shelves neatly store your items, while the Junk Trunk Quick Access Drawer is stores frequently used items and your essential tools. Also, the WATCHMAN IV Lock System protects the chest and items from theft.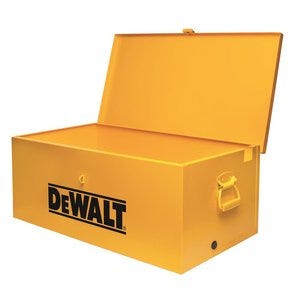 DEWALT Welder's Box
Carry rods, torches, and other welding equipment in the Welder's Box from DEWALT. The box features a welded piano hinge that runs the full length of the back for easier opening/closing, and the high-strength side handles make it easy to pick up and carry around. For convenient operation, users can run the supply hose through the integrated cutout hole. To prevent theft, a padlock can be attached to the 14-gauge latching hasp. Also, the chest has a powder coat finish that protects the metal box from rust and corrosion.
Shop Tool Organization and other products at Acme Tools.