Threading pipe is a job necessity, but the tools to do so are big and bulky. Milwaukee is proud to show the first ever Cordless Pipe Threader, and changing the way trades professionals work.

Threading pipe is one of the crucial tasks that need to be done when setting up pipes. Before the cordless threader, it was done by hand or machine. Ratcheting would need space to allow for the motion and using heavy-duty machinery required plugging into an outlet. Sometimes you got lucky and had access to one or the other. Not every job will be the same, and you need tools to adapt to your surroundings. Sometimes you won't have outlets, and you might not have space to ratchet and be able to thread a pipe. Milwaukee has devised a solution to not having space or power with the first CORDLESS Pipe Threader.
This tool will give the user control like never before that will do away with the need for cheat bars, ropes, or pipe wrench supports. As well as giving them safety and protection with the technology inside the tool while simplifying the job from start to finish.
What's New?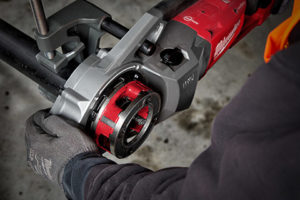 When it comes to threading pipe, nothing is new. You're threading pipe. But one of the most common problems with other corded threaders is over-rotation. With over-rotation, it can lead to loss of control and potential injury to the user. The first thing Milwaukee integrated into this tool was a way to avoid that risk. AUTOSTOP Kickback Control technology will activate when a lock-up occurs and will shut down the tool automatically.
A dedicated support arm is also included in most kits. The arm clamps on the pipe to hold the tool stationary, helping stabilization. Preventing any unnecessary turns or twist to the thread, which could cause more problems for installations. Then with a die head retention lock, it will also prevent unwanted die head rejection, which means that it will eliminate the need to contact the spinning die head at the start of the thread thanks to combining an in-line side grip. Making this as easy as inserting the pipe and pressing the trigger.
The Specs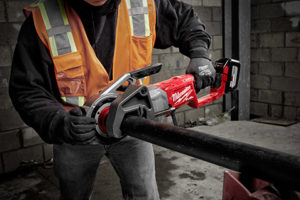 The technology that Milwaukee has integrated into the 2874-22HD makes working in cramped spaces easier while saving you time and energy. Running on M18 REDLITHIUM battery platform, it will eliminate the need of troublesome cords and have the power to thread 2" black iron pipe, stainless steel, and rigid metal conduit.
Not to forget the POWERSTATE Brushless motor working alongside the battery to push through the hardest work day and can work all day. With this tool, you also get ONE-KEY technology, which makes this the first threader that can be tracked, managed, and secured wirelessly.
Able to thread pipe between ⅛"-2", this can handle most jobs tossed its way and can make a little less than 25 2" BIP threads on a single charge. All of this in a 25.6 lbs tool that offers multi-speed selector and a variable speed trigger. It is giving you the control to work at the speed you need to get the job done fast and safely.
Final Thoughts
The Milwaukee Cordless Pipe Threader 2874-22HD changes work for anyone who will ever have to thread pipe, conduit, or stainless again. Giving the user control like never before compared to other threaders but also the portability thanks to the M18 battery platform. Manage, customize, and track with ONE-KEY, and have unmatched power with REDLINK technology. Thread more pipes on one charge. Get a project done no matter how where it takes you and how cramped.
Be on the lookout for this tool and has an expected release date in Jul 2019.
---
Did you like this article? How else would this tool help you with your next job? Let us know in the comment section down below. Don't forget to stay up to date with the latest tool news by following our blog. You can find more Milwaukee news as well as other tool brands. We also have DIY builds, tools for the seasons, and buying guides for the tool lover in your life.
Still want more Milwaukee tools? Then head to our online store. There you can find a great deal on Milwaukee and other brands every day. That way you can Always Do Your Best Work.