DeWalt has new hammer drills that will leave you shaking, with anticipation. DeWalt is releasing a new series of hammer drills, and they are perfect from demolition or chipping, trenching, and more. This new line of drills will make foreman, trades pros, and other industries that deal in concrete ecstatic. They handle specific issues for workers and improve on comfort, maintenance, and control speed,  to optimize the tool and get the best work.
Ready to go Cordless?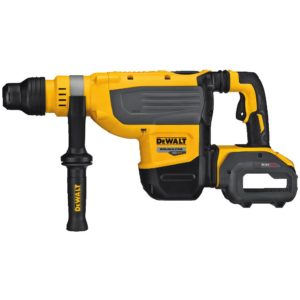 The first one mention is the DeWalt DCH733. The FLEXVOLT 60V MAX Brushless 1-7/8" Combination Hammer features a comprehensive E-Clutch System and SHOCKS Active Vibration Control Technology.  E-Clutch system is a  bind-up control feature that increases control to the user when a bind-up/stall situation occurs. Sensing a stall during operation, it manages the torque accordingly to prevent the hammer jerking out of your hands and causing potential damage. An essential feature as the DCH733 can reach up 350 RPM in hard concrete and can achieve 13.3 Joules. You can pre-order this tool as a kit or as a bare tool (DCH733B).
Don't Need Cordless?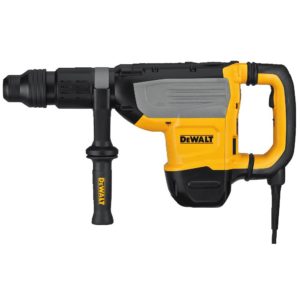 But if battery power does not suit you, DeWalt is also releasing four corded SDS hammer drills as well. The first two are 1-7/8" (D25733K) and 2" (D25773K) Combination Hammers and come with the E-Clutch system and the SHOCKS technology. The D25733K can achieve 13.3 Joules, and the D25773K can get to 19.4 Joules, and both offer a two-mode operation for chipping only and rotary hammer drilling. With each one having an optimized drill range respectively, for the 1-7/8" it has a range of ¾" & 1-¾" while the 2" ranges between 7/8" & 1-7/8".
Both drills are ideally suited for horizontal and downward drilling for rebar application, core drilling and chipping in any mid-to-lower wall and floor applications. The 1/78" SDS (D25733K) has #5 – #9 rebar applications and can drill up to 5", while the 2" SDS (D25773K) has #7 – #14 rebar applications and can drill up to 6".
There are improvements to help make maintenance and safety easy while offering more comfort while using the drill. For service, they installed a brush service indicator light to specify when the tool needs a tune-up. They have also developed an ergonomic rear handle with soft grip and a low vibration side handle. Having these two handles make working long hours with the tool easy and can reduce the risk of Hand-Arm Vibration.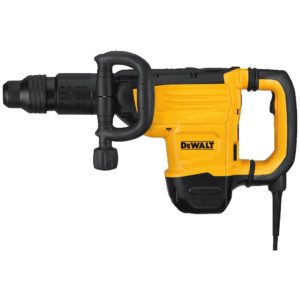 Demolition is also receiving new corded hammers as well, with the 19lb Chipping Hammer (D25872K) and 22lb Chipping Hammer (D25892K) both with SHOCKS technology. With a large comfortable trigger, service indicator, and constant speed control, you could operate a tool like this and be sure it is working at its best.
What They All Have in Common
All the new hammers feature a variable speed dial, constant speed control, and are Tool Connect Tag Ready (Tag Sold Separately). So no matter what tool you get, it will have the capability of security and adjustable to fit the job the way the user needs.
A Table 1 dust compliant system means this tool adheres to the OSHA ruling on protection for workers exposed to silica dust. This tool is also part of DeWalts Perform & Protect line of tools that are designed to provide a high level of performance without sacrificing performance.
Finally, a hammer drill is not complete without a bit, and DeWalt introduces the SDS MAX Bits that feature a new technology designed to reduce fatigue and minimize braking. Compatible with the new 1-7/8" to 2" hammers, the redesigned head bonds to a high alloy steel body that remains stable during impact. These SDS Max masonry bits are best for through-holes, post-installed rebar connection, and drilling holes for mechanical or chemical anchors.

Conclusion
Developed, designed, and made to make the demolition job not only safer but easier. DeWalt expands on the Perform & Protect line of tools to make sure that any worker can do their job without fear of injury. Check out the rest of the tools from Dewalt at acmetools.com. Also, check out the rest of our blog for NEW tool highlights and other helpful content.