DEWALT has released some sweet new batteries over the past few years. They currently run two primary voltage platforms for their large cordless tools: 20-volts and 60-volts, but DEWALT battery compatibility can be a bit of a headache. We have you covered when finding the correct battery to pair with your tool.
Difference Between DEWALT MAX, XR, ATOMIC, and POWERSTACK?
DEWALT MAX introduced lithium-ion batteries and was the next line after 18V. They are standard size with brushed motors. Next in line came the XR. XR aimed to improve on the MAX by making it compact adding in brushless motors and high-capacity lithium-ion batteries. Lastly, DEWALT designed Atomic. Atomic is a compact and powerful line of tools. Like the XR, it is compact with a brushless motor. It also has a reduced weight, is excellent for tight spaces, and has a longer uses duration.
DEWALT XR Batteries
DEWALT 20v MAX XR batteries are just like standard 20-volt batteries, but they last longer relative to their size. The XR stands for Extended Runtime, so you get extra life out of them before running out of juice.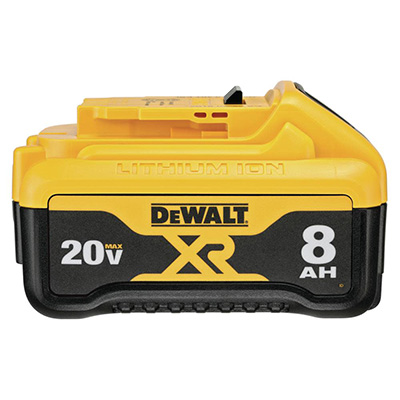 DEWALT ATOMIC Batteries
The ATOMIC Compact Series is a 20V max brushless cordless power tool with slim profiles. The idea behind the ATOMIC Compact Series is to bring you more power—up to 13 percent more—while at the same time being more compact—25 percent more compact than their other models, to be precise.
The DEWALT ATOMIC Compact Series is for anyone who needs a tool that combines power and durability in a smaller format. If your job typically requires power tools in tight spaces or extended periods of overhead work, you may find this series useful.
DEWALT POWERSTACK Batteries
DEWALT recently released an addition to their battery lineup with the POWERSTACK. The new compact battery has 50% more power with a 25% smaller footprint compared to the DCB203. The battery also features twice the lifespan of the DCB203 and features an LED Fuel Gauge to monitor current battery life. The POWERSTACK is compatible with all 20V MAX tools.
DEWALT FlexVolt Batteries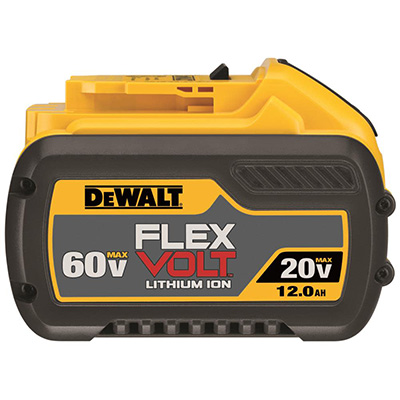 DEWALT revolutionized cordless power tools in 2016 when they released the FlexVolt platform: the first-ever multi-volt battery system. FlexVolt batteries pack 60 volts to power highly demanding tools, including DEWALT's Atomic compact cordless tools, outdoor power equipment, work lights for the job site, saws, and nearly any tool in your trailer. As a bonus, FlexVolt batteries step down and run at 20 volts when attached to lower-power tools.
Besides the heavy-hitting FlexVolt, DEWALT is still running strong with their tried and true 20V MAX platform. This lithium-ion system of slider batteries is compact, rugged, and made for jobs needing moderate power.
What Tools Do FlexVolt Batteries Fit In?
Standard DEWALT, 20-volt batteries, are compatible with all 20-volt tools, as well as all 20-volt chargers. This means that once you join the DEWALT platform, you have access to over 100 products that all use the same battery technology.
However, DEWALT 20V MAX batteries can't be used in FlexVolt 60V and 120V MAX tools. The lower voltage doesn't provide enough juice for the high-demand motors.
DEWALT Battery Compatibility of a 20-Volt Battery In A 60-Volt Tool?
It will not fit. There are plastic tabs on all 60 and 120-volt tools that physically prevent using 20-volt batteries. FlexVolt batteries have special ports that allow their use.
Do DEWALT Batteries Work In Brushless Tools?
Yes, DEWALT batteries will work in all DEWALT tools of the correct voltage, whether the tool is brushed or brushless. Brushless refers to the construction of the motor. Brushless tools will use the batteries more efficiently and therefore last longer per charger than brushed tools.
Are DEWALT 12V and 20V Batteries Interchangeable?
No. DEWALT 12V batteries are only compatible with 12V tools and vice versa with 20V batteries.
DEWALT 12-Volt Tools
DEWALT also produces a line of ultra-compact 12V MAX batteries and tools. These smaller batteries only fit on tools labeled as 12V MAX and vice versa. 20V MAX and Flexvolt batteries are not only too powerful, but they are physically too large for the receptacles on these pint-sized devices.
Do 120V MAX Tools Have Their Own Batteries Too?
No. At this writing, there is only one DEWALT cordless tool that uses 120 volts: the 12-Inch Cordless Miter Saw. While it harnesses 120V DC power, it achieves this by having two slots for 60V batteries running in series. As a substitute, DEWALT created an adaptor for the miter saw to swap out batteries for wall power since they have the same voltage.
Considerations when choosing a DEWALT Replacement Battery
Voltage
DEWALT has three main voltages, 20, 40, and 60. Most tools require a specific voltage, but some are flexible to other voltages.
Amp Hour
It's important to consider how long your projects will take, so having more amp-hour hours on your batteries would be better for longer tasks.
Maintenance
These lithium-ion batteries last about three years, so taking care of them is important. Depending on how much you use them and where you store them, they can last shorter or longer. It may also be a smart idea to have a backup battery, so when your current one runs out, you can keep going and charge the other one simultaneously.
DEWALT Battery Compatibility Chart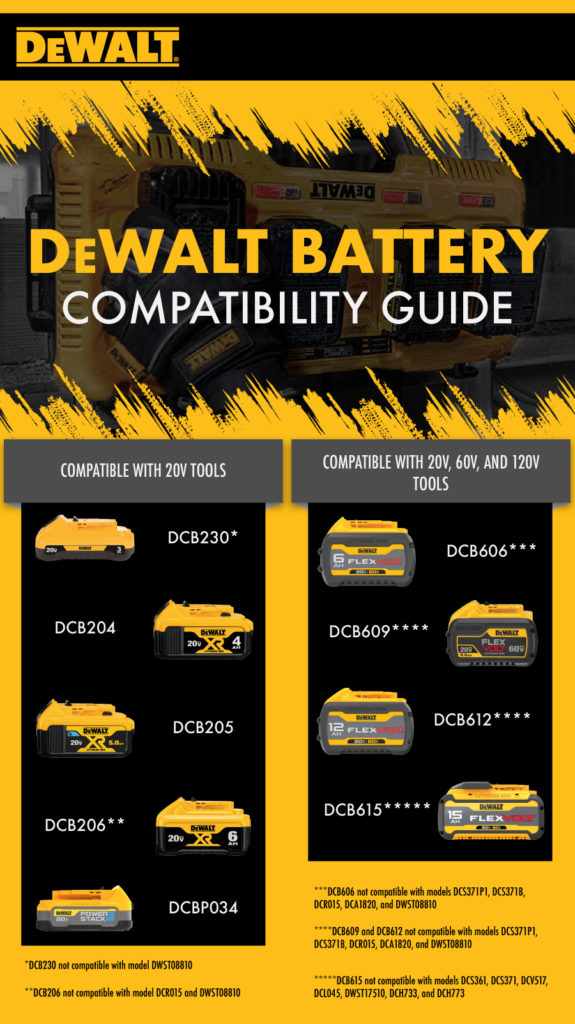 Shop DEWALT batteries and other DEWALT products at Acme Tools.