Threading pipe has been a stationary procedure where the work had to be brought to the tool. UNTIL NOW! DEWALT announces that cordless power threading will soon be available for plumbers, mechanical contractors, and electricians through the use of their FLEXVOLT 60V MAX DCE700 Cordless Threader. Being free of the power cord will allow you to bring your threader to the work and do it faster and safer.
Multiple Trades Will Benefit
For fire sprinkler, mechanical, and electrical applications, the FLEXVOLT® 60V MAX* Cordless Pipe Threader threads up to 2-inch black iron pipe, rigid conduit, and more. At 9.4 in. tall, 26.38 in. long, and 19.98 lbs. (Bare Tool), it accepts a pipe capacity of 1/2 to 2 inches. It has a right-handed thread direction and its die and die head materials are made of high speed steel (HSS) and cast iron respectively. There is no need to set your current die heads on the shelf, the DEWALT Pipe Threader is also compatible with RIDGID® 12R** style die heads.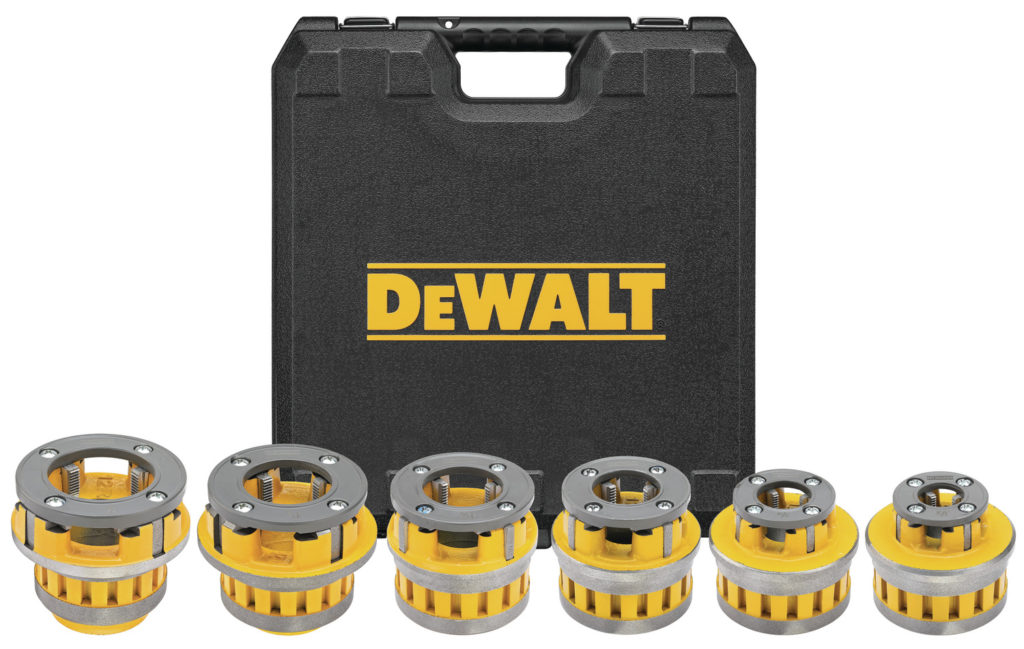 The FLEXVOLT® 60V MAX* Cordless Pipe Threader is equipped with the DEWALT E-Clutch® system. This system senses the motion of the tool and shuts the tool down if a dangerous bind up situation occurs. Additionally, professionals can use the clamp and die arm to avoid direct contact with the die head to begin threading.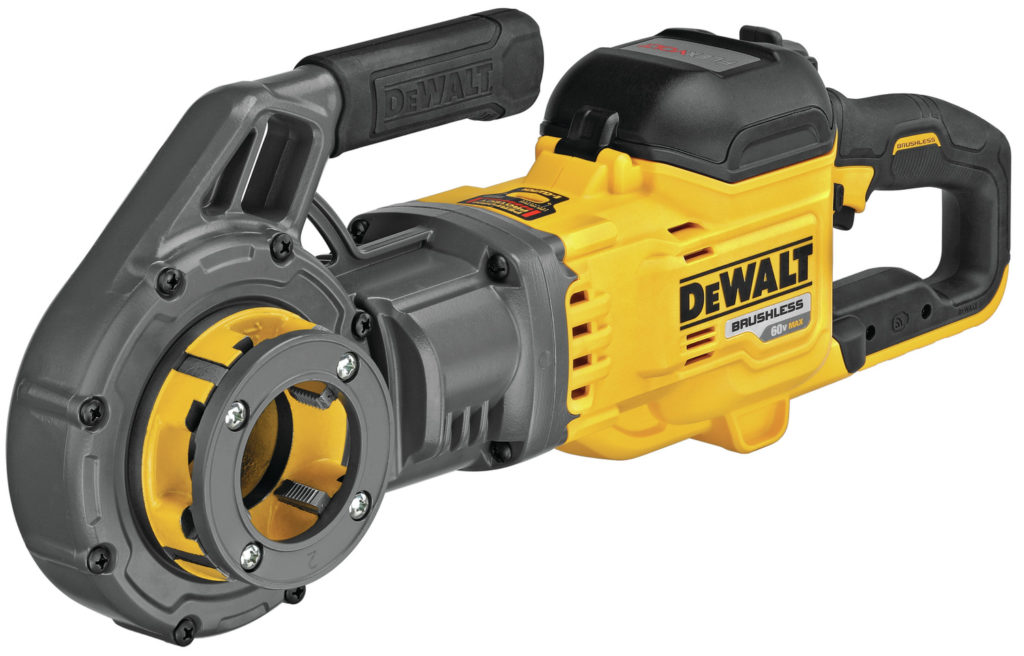 Specifically Designed FLEXVOLT Battery
The FLEXVOLT® 60V MAX* Cordless Pipe Threader also features a specially designed 9.0Ah Battery (DCB609G) available in the Pipe Threader Kits listed below (DCE700X2 and DCE700X2K). This newly designed FLEXVOLT battery features an oil-resistant, glass-filled nylon housing that is secured in a latched and sealed box. Each of these protective layers helps to guard the battery from corrosive cutting oils. A LED low battery indicator alerts the user when battery charge is low. In addition, a patent-pending pipe clamp with depth gauge allows for a quick set up.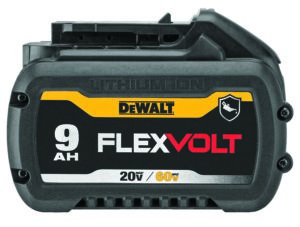 As a Tool Connect™ Tag-Ready tool, the pipe threader can be monitored and tracked (Tool Connect™ tag sold separately). The full list of kits and die head options is below.
Kit Options and Die Heads
| | | |
| --- | --- | --- |
| SKU | Description | MSRP |
| DCE700X2 | Cordless Pipe Threader Kit with (2) DCB609G | $1699 |
| DCE700X2K | Cordless Pipe Threader Kit with Die Heads | $2299 |
| DCE700012 | 1/2″ HSS Die Head | $99 |
| DCE700034 | 3/4″ HSS Die Head | $99 |
| DCE700100 | 1″ HSS Die Head | $119 |
| DCE700114 | 1-1/4″ HSS Die Head | $119 |
| DCE700112 | 1-1/2″ HSS Die Head | $129 |
| DCE700200 | 2″ HSS Die Head | $129 |
DEWALT Threader Warranty
The FLEXVOLT® 60V MAX* Cordless Pipe Threader will come with a three-year limited warranty, one-year free service contract, and a 90-day money back guarantee.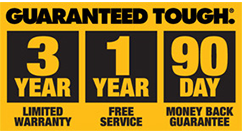 ---
Stay tuned for more information on this product. Acme Tools will be covering any developments and relaying them back to you as they arrive.