DEWALT unveiled two new products for the fall season, a USB Charging Kit (DCB094K) and 20V MAX XR Brushless Wire Mesh Cable Tray Cutter (DCE158D1). Both products fill a niche tool need, but each features cutting-edge technology and technology. The charging kit will keep you running all day long on the jobsite, and the wire mesh cable tray cutter offers ultimate flexibility when making cuts.
USB Charging Kit (DCB094K)
Good luck finding any AC power on a jobsite, which you need to keep cell phones, tablets, and laptops up and running to communicate with other crews or review plans. Enter the USB Charging Kit. Using Power Delivery technology and a bi-directional USB-C charging port, it can input power to charge DEWALT 20V MAX and FLEXVOLT batteries.
The USB-C port can also output power to charge all your personal devices that are critical to day-to-day business. A USB-A port allows charging of devices up to 12 watts using traditional USB cables. A State of Charge indicator makes it easy to see how far along a charge is and how much power is left on the DCB094. The kit includes a DCB094 USB Charger, a 100W rated USB cord, a 65W power supply, and a belt hook.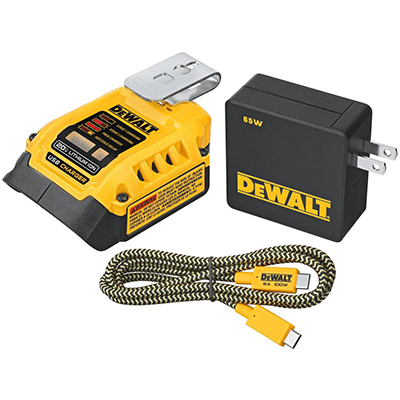 20V MAX XR Brushless Wire Mesh Cable Tray Cutter (DCE158D1)
The 20V MAX XR Brushless Wire Mesh Cable Tray Cutter is designed to cut quickly through up to 6mm carbon steel and stainless steel wire in almost one second. A specialized head design allows for consistent and clean cuts reducing burrs and the need to file blunted cuts. The tool is very versatile and built to handle work in tight spaces. The compact right-angle design allows for multiple orientations using the 360-degree rotatable head with four detent positions.
The new cutter is capable of up to 750 cuts per charge on 6mm steel for higher efficiency before a battery change. The tool is LANYARD READY to prevent drops and TOOL CONNECT Chip Ready to keep track of your cutter for added security.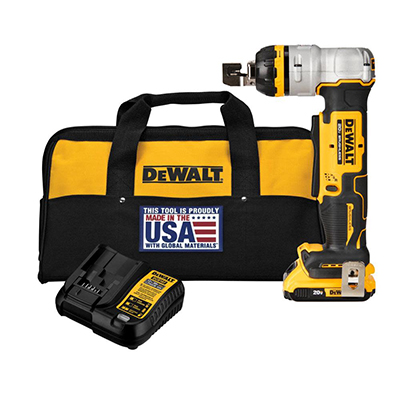 Shop even more DEWALT products such as cordless drills, grinders, nailers, sanders, and more at Acme Tools.