DeWalt is ready to reveal the newest tool in their 20V MAX System that every electrician will want. The DCN701 20V MAX Cordless Cable Stapler is a light and compact solution to replace the usual manual cable fastening methods. It will allow you to be efficient in tight spaces while ensuring you that you get the job done right the first time.
Light and Fast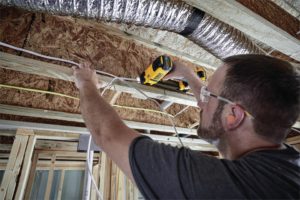 With a lightweight of 4.7 lbs. (without the battery) you can clip this to your work belt and barely notice the difference. Designed to fasten NM-B (Romex) wires and cables, it can be used on lower-voltage applications as well. Able to fasten twice as fast on wire-ups in residential wiring thanks to the cable guide to drive staples safely and accurately.
Bright and Centered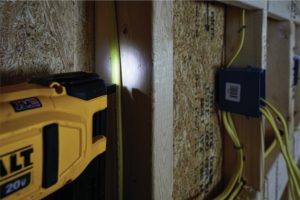 Thanks to its compact frame and lightweight design you can fit into tight places easily. A center-mounted light also means that no matter where that tight space is you will have visibility on your project. Nothing is worse than working hard on a project and knowing its wrong and having to do it again.
Bare or Kit?
Compatible with the new UL Listed DeWalt DRS1800 1" insulated cable staples, sold separately. This tool will make an electrician's already difficult job easier and less stressful. The 20V MAX Cordless Cable Stapler will come both as a kit (DCN701D1) and a bare tool (DCN701B) and will be available early 2019.
Final Thoughts
Working in cramped areas is by no means an easy feat.  Having a tool that won't add onto your already heavy bag, belt, or pouch is something every trades professional should look into getting. Not to mention that your work might lead you into areas that are developing, power is out, or just in a dark area, and you appreciate light in those situations. Especially when you don't have to hold it when you need a free hand or have a work light that you block.
Did you find this article useful? Let us know what you think about the new DeWalt tool and if you would use it or not? Do you want to keep in touch with all the latest tool news? Then make sure to stay up-to-date with the Acme Tool Blog for the latest news. Want to look into more DeWalt Tools? Check out our website for the latest tools and amazing deals. Because at Acme Tools we want you to Always Do Your Best Work.