DeWalt Announces New Brushless Woodworking Tools
We just got word that DeWalt has officially announced some new brushless woodworking tools, and they look great if we do say so ourselves. The first three coming out are a router, random orbit sander, and a D-handle jigsaw. If that doesn't get you excited, we think we can still convince you.
Handy-Dandy Sander
If you haven't heard the good news about cordless random orbit sanders yet, ask around to your friends who have all already upgraded theirs. No more cords caught on the corner of your bench. No more accidentally unplugging the power cable in the middle of working. Plus, did we say this one is brushless? More power, less maintenance. It also has easy single-hand adjustments like speed and power, as well as being sealed to prevent dust from getting inside and gunking it up. There's even a port for your dust collector hose to stop the mess before it happens.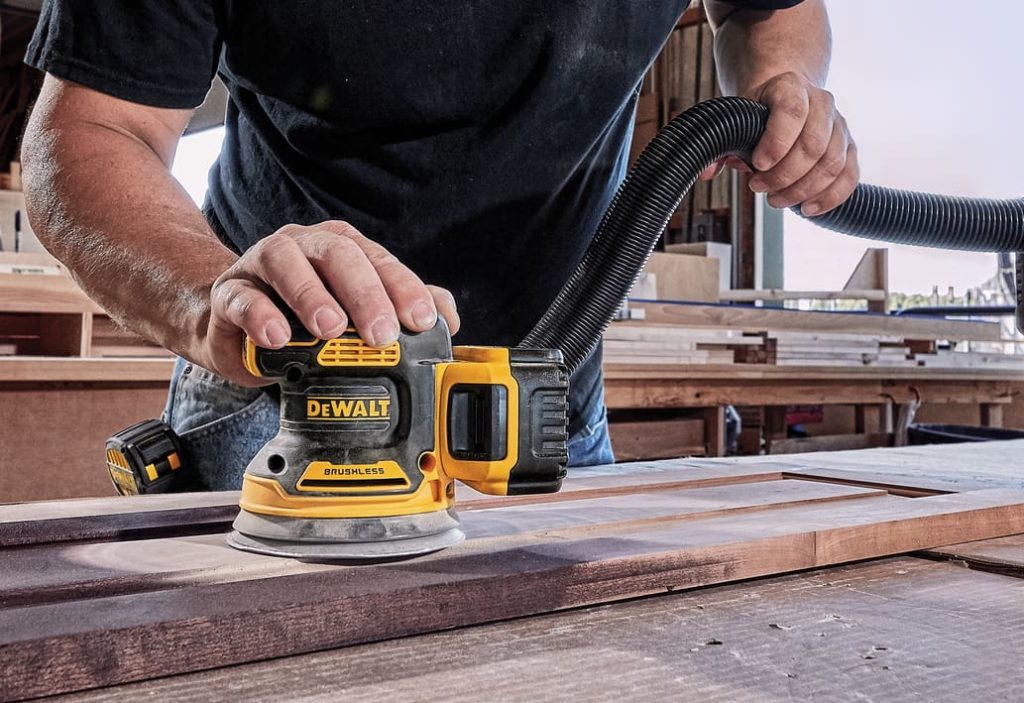 The Jig Is Up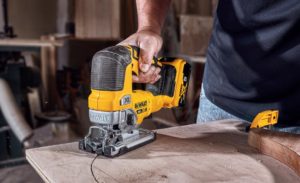 A new brushless jigsaw means you can cut more and for longer than ever before. And all without pesky cords in your way. Gone are the days of pausing cuts to switch hands as you pass the saw under the extension cable. It also features the controls you've come to depend on in your tools. A 1-inch stroke cuts fast and efficiently, especially when paired with 4 different orbital patterns. Keyless blade changes for switching between wood and metal, or when a blade is dull. A blower keeps dust out of your way while cutting, and LED headlights to ensure you stay true to your lines. The top handle is easy to grip while working too, making it all that much more secure.
The Route To Success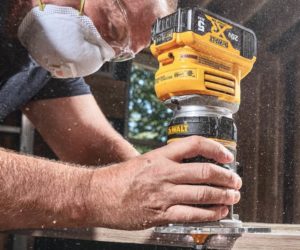 Not even routers can escape the cordless takeover, and DeWalt is embracing the change head-on. The brushless motor adjusts the speed of the bit while cutting, ensuring consistent cutting even under heavy load. Soft start sees a comeback in this tool, turning on slowly and reducing the risk of damaging your work. Electric brakes stop the tool when you turn it off, instead of just waiting around for friction to work its thing. It also has a quick-release clamp for fast and consistent actuation, a depth adjustment ring, a big spindle lock button, and it works with a plunge base. Seriously, everything you need, only battery-powered.
Well Wood Ya' Look At That
DeWalt makes great woodworking tools, and these new additions are no different. They run on the same 20v MAX lithium-ion batteries that you already use in your drill and circular saw. That means no new battery platform to invest in, and no new chargers clogging your workbench. Plus, they work with FlexVolt batteries. If you already use any yellow 60-volt tools, you can use the same power packs in these and get some seriously extended runtime.
What's Next?
As if these new tools weren't good enough, DeWalt went above and beyond and also announced two more to be released in the future. Keep your eyes peeled for a cordless brushless planer, as well as a barrel-grip brushless jigsaw to complete your collection. And all will be the quality you've come to expect from your yellow tools. We'll be sure to tell you about them on acmetools.com and on our blog.
DCS334P1 – Brushless Jig Saw Kit with 5.0Ah Battery
DCS334B – Brushless Jig Saw Bare Tool
DCW210P1 – Brushless Random Orbit Sander Kit with 5.0 Ah Battery
DCW210D1 – Brushless Random Orbit Sander Kit with 2.0 Ah Battery
DCW210B – Brushless Random Orbit Sander Bare Tool
DCW600B – Brushless Router Bare Tool