When you think of music on the job site, you may imagine a boom box radio. Not only can you not find those anymore but those are obsolete and very ineffective. You could turn to other Bluetooth wireless speakers, but most of those can't handle a job site work environment. They can have great sound in a perfect environment where no saws are working, no drills going on, and no construction supervisor yelling at you. But for those situations the DeWalt DCR010 12V/20V MAX Jobsite Bluetooth Speaker is what you'll need.
---
Big Sound, Tiny Box
This small and compact speaker boosts dual 3-inch woofers that deliver premium sound, powerful bass, and loud volume throughout the job site. Meaning no matter where you are, you can still hear your favorite song to pump you up throughout the day. But you don't have to leave your phone by the speaker or leave it plugged in to get it to work. It can stay connected up to 100-ft away. If you need to look at plans for a project that is on the other side of the site you won't have to worry about your music cutting on and off.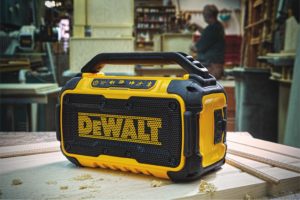 ---
DeWalt Built for Your Convenience
A Seriously Tough Speaker
Not like other Bluetooth speakers where they can give you volume but can't take a beating, DeWalt has made sure it can. The speaker features a reinforced, impact resistant housing and metal grille as well as a robust handle. So it can take being roughhoused a bit when you are on a site or transporting it around.
Smart + Efficient Design
The handle also functions as a phone stand that can support the device while not in use. This way you or your crew can see what song is playing and if you need to decide if you want to skip it or not. Underneath the handle is also an additional storage tray, you can store your phone instead or cords to charge your phone.
Phone Charging Capability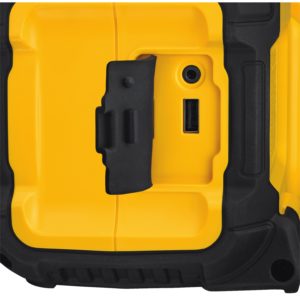 That leads me to mention that not only does this connect via Bluetooth but can also charge your phone. Streaming music can be a strain on your battery and the biggest fear for a lot of people is to have a dead phone in the middle of the day. With the USB port, you can connect your phone and have it back to full power in no time. Not to mention you can connect your phone to an auxiliary cord for music if Bluetooth isn't to your liking.
---
Power through the Day
The DeWalt DCR010 is compatible with both the 12V MAX and the 20V MAX batteries, giving you power wherever you go. If you have a FLEXVOLT Battery, you can run your speaker even longer, annoying your workers with your favorite song on repeat. But if you happen to forget a battery or they are all in use, you can plug it into an outlet thanks to its detachable power cord. Run it off any 120V wall outlet and have power all day to find your groove to get your work done.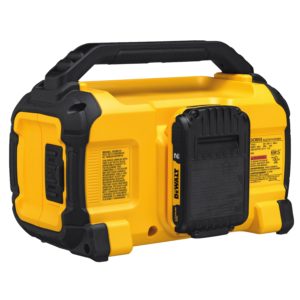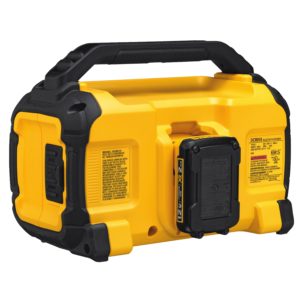 ---
Final Thoughts
Everyone, no matter what your job is, enjoys some music playing while they work. It lightens the mood, makes the day go by faster, and can motivate you to work harder. But working on the job site can make that complicated with debris flying everywhere to your speaker dying on you mid-song. There are so many variables that can cause other wireless speakers not to work. With the DeWalt 12V/20V MAX Jobsite Bluetooth Speaker, you can rest assured you will have entertainment all day no matter where.
This product becomes available in October 2018 and will come as a bare tool for $99 MSRP. Check out other DeWalt tools on our website and stay up-to-date with our blog for the latest tool news and deals.