Any piece of equipment that is versatile is a gem in any trades professionals eyes. Milwaukee has created a new tool that is going to be like a diamond to any trades professional. Introducing the new M12 FUEL 3" Compact Cut Tool, the latest innovation to Milwaukee's ever-growing line of tools. This tool takes a redesign of how cutters work and are operated and improve on it that it's hardly believable.
Look, Mom. One hand!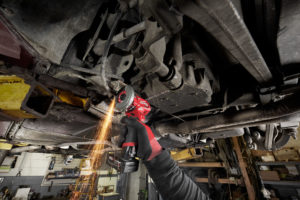 Now for most cutting tools have a silent and mutually understood agreement: you keep both hands on at all times. Never do you hear of cut tools that don't require two hands to operate. Being forced to use clamps to secure your work area can cause a lot of clutter. Clamps can be cumbersome for smaller items and impossible for things that are in a machine that dangle.
Designed for one-handed use, the 3" Compact Cut Tool solves those problems. With its one-handed capability, it can be operated in otherwise tight and hard-to-reach places. That way, workers left in situations where securing the material isn't possible aren't put at risk. Perfect for under the hood jobs, detailing, or removing fixtures in a weird spot.
No more dust in your eyes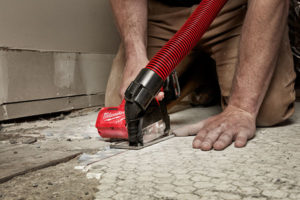 Milwaukee has developed the first ever cordless reversible blade rotation tool. Why does that matter you might ask? When cutting any material, sparks or debris fly towards where the wheel is spinning. The issue is flying debris and sparks can cause obstruction to your cut, cause health issues, and make a mess of your workspace.
With the redirection, you can have all that debris fly away from you rather than towards you. Reducing the amount of time you have to wipe yourself clean from all the residue will also make work more efficient. There is a hose attachment so you can connect it to your vacuum to make sure that all the dust won't go anywhere. The hose attachment can reduce the risk of health issues from breathing in those small particles from construction.
Quicker Cuts
Compact and portable in size doesn't mean that this tool isn't powerful. Rotations at 20,000 RPM gives it the ability for fast cuts in a vast array of materials. Conjunction with the reversible blade rotation, the design, plus the RPM, it provides excellent control in cutting while improving the line of sight to the material.
What Material Can It Cut
Now don't go exchanging your big saws for this guy thinking it can handle all that work. Best for cutting light to medium-gauge metals and other non-metal building materials (tile, drywall, fiber cement, PVC/ plastic, and more.) This little saw can make any job more manageable whether you have to work on multiple materials or just one.
Metal Cutting
Tile Cutting
"Other" Cutting
Sheet Metal

Threaded Rod

Metal Conduit/EMT

Copper Stainless Steel

Misc. Metal Cutting

Ceramic Tile

Porcelain Tile

Grout/Tile Removal

PVC

Fiberglass

Drywall

Fiber Cement
When can I Get it and What comes with it?
Milwaukee is releasing this tool in either a kit or as a bare tool (2522-20). That way, those who are new to the Milwaukee brand can get everything in one go. For the established Team Red member, they can get the tool itself and get straight to work.
For the kit you receive: M12 FUEL 3" Compact Cut Off Tool (2522-21XC), (1) M12 REDLITHIUM XC 4.0 Battery Pack, M12 Charger, Dust Accessory Shoe, (3) Accessory Blades (Metal Cut Off, Carbide Abrasive, Diamond Tile), Blade Wrench, and Contractor Bag.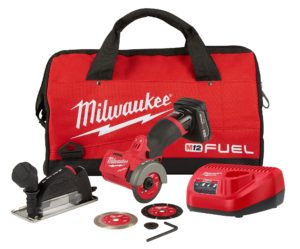 Final Thoughts
The new Milwaukee cutter efficiently cuts through several types of work material while allowing you to do so in small spaces. Its design and power make it an excellent tool for mechanics, tilers, or anyone who has to cut for their job. Check out the rest of the Milwaukee line at acmetools.com and keep up with the Acme Tools Blog for the latest tool news.