Finish you plumbing jobs with the Milwaukee 2782-20 M18 FUEL metal-cutting circular saw. Get just the right length for pipes anywhere on the jobsite thanks to the portable Milwaukee cordless metal-cutting circular saw.
Brushless Motor = Great Performance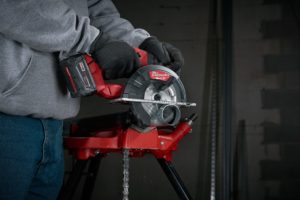 This tool has a POWERSTATE™ brushless motor that has fewer moving parts than traditional designs, which makes it more power-efficient and reduces wear for a longer working life. Its Constant Power Technology (CPT™) design allows the Milwaukee metal-cutting circular saw to work consistently even over extended periods of heavy demand.
Battery Life
As part of the M18 series from Milwaukee, you can use this product with any battery from the same line. It comes as part of a kit with battery and charger to get you started or as a bare tool if you've already started your M18 collection. The Milwaukee M18 FUEL metal-cutting circular saw's REDLINK PLUS™ smart electronics coordinate between the tool and the battery to minimize energy consumption while giving you as much power as possible. It can make up to 370 cuts in 3/4-inch EMT on a single charge, so you can get more done with less downtime. When you're ready for the next part of the project, simply swap the Milwaukee cordless metal-cutting circular saw's battery out to the tool you need for the rest of the job.
User Friendly
The unit weighs under 5 pounds to make it easier to carry around and use until the project is done. This tool is also comfortable to use, thanks to its grip-textured ergonomic handle. It comes with a METAL TECH™ blade for cleaner, cooler and dry cuts. The front of the blade cover has a clear window to make it easy to see where you're cutting. This Milwaukee metal-cutting circular saw comes with a 5-year limited warranty, so you can use it with the peace of mind that your investment is secure.