Milwaukee is introducing the first of its kind, a CORDLESS stubby impact driver. This tool will allow access to areas where other tools can't reach. While still offering the power to secure bigger bolts and being able to handle the finesse of other delicate areas on a job. Something that any worker who has to put their hands and arms between tight corners would appreciate.
No Cramped Place Left to Hide
One of the greatest things about this tool is the size, and how it can get closer to restricted areas. None of the models exceed 5.1" in length and for a mechanic who is working on an engine, that is something that can make a tough annoying job easy.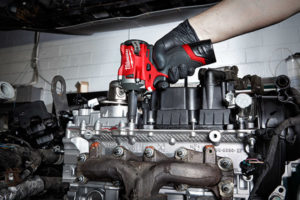 Before Milwaukee's stubby impact, mechanics would revert to using a pneumatic one. They are similar in size but would have to fumble around with the hoses which took away from the portability and maneuverability of the tool. Not to mention the maintenance of the impact would be time-consuming and the noise it would produce while in use would be considerably louder.
Another drawback of the pneumatic impact is that there are barely any controls on how much pressure you would get from the tool. If anything it is similar to a gas pump with its trigger and how it works. Slightly pressing on the trigger, you get less air or squeezing the trigger harder, you get more air. This method was left to a lot of guesswork and would leave the torque being too strong and breaking or stripping bolts in delicate areas, or not having enough power to tighten a stubborn bolt. Wasting time fixing either one or both of those problems.
Choose the Power you need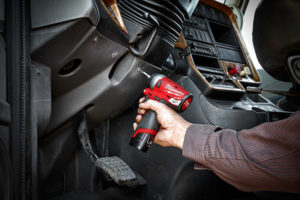 Milwaukee's Stubby Impact has four modes to choose from that handle any tough and hard to remove bolts, then switch to fasten fragile or sensitive areas, and still change back to secure tough heavy-duty jobs. All four modes give you precision control, with the fourth setting featuring an Auto-Shut-Off Mode. The Auto-Shut Off will prevent over-fastening on situations when the bolt is stuck or being uncooperative.
Power Comes in Various Sizes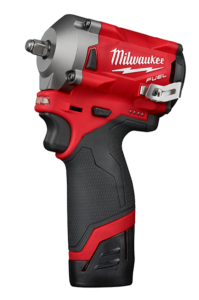 The M12 FUEL Stubby Impacts POWERSTATE Brushless Motors deliver up to 250 ft. lbs. of breakaway torque. With that much power, it can remove most stubborn bolts and fasteners. Available in ¼", 3/8", and ½" sizes you can get the appropriate tool for your work. Get under the hood of any car without getting caught on other parts or having to shimmy through. Though small in size, watch it handle bolts on rims without losing any of its torque.
| | | |
| --- | --- | --- |
| Image | Product Description | Part Number |
| | M12 FUEL Stubby 3/8 in. Impact Wrench Kit | 2554-22 |
| | M12 FUEL Stubby 3/8 in. Impact Wrench (TOOL ONLY). | 2554-20 |
| | M12 FUEL Stubby 1/4 in. Impact Wrench Kit | 2552-22 |
| | M12 FUEL Stubby 1/4 in. Impact Wrench (TOOL ONLY) | 2552-20 |
| | M12 FUEL Stubby 1/2 in. Impact Wrench Kit | 2555-22 |
| | M12 FUEL Stubby 1/2 in. Impact Wrench (TOOL ONLY) | 2555-20 |
| | M12 FUEL Stubby 1/2 in. Pin Impact Wrench Kit | 2555P-22 |
| | M12 FUEL Stubby 1/2 in. Pin Impact Wrench (TOOL ONLY) | 2555P-20 |
Handles any Jobsite and Ready to Work
Built to the "Nothing but Heavy Duty" standard, this impact wrench is built with premium anvil materials encased in an aluminum housing. Not only does the casing make it lightweight but means it can take drops and beatings from even the clumsiest of workers. Adding on to its improved design, with its premium rubber over mold it can withstand corrosive materials while still providing comfort. With the superior durability, this also means that the tool will require less service, making this a no-hassle investment
This tool also comes with the POWERSTATE Brushless Motor, REDLITHIUM Battery Pack, and REDLINK PLUS intelligence Hardware and Software, all running on the M12 Battery line. Milwaukee's stubby impact delivers top performance and productivity with incredible run-time and will not go unnoticed by trade's professionals.
Pre-Order you tools today at acmetools.com and check out the Milwaukee page any other equipment you might need. Don't forget to follow our blog for up to date tool news and other amazing articles.