A Higher Output For More Work
In May of 2018, Milwaukee Tool announced a new revolutionary line of M18 REDLITHIUM High Output XC batteries, paving the way for longer runtime and tools more powerful than ever before. Their new high-output lithium-ion batteries supply more power than any Milwaukee battery has ever before, and now they are finally available!
Say hello to 6.0
While the new 12 amp-hour batteries stole most of the limelight, the new 6.0 Ah design deserves equal fanfare as well. We all want to get as much runtime as possible from our drills, saws, and other small tools. And while we want that extra few minutes of work, we also don't like lugging a brick from our tool belts just for those last few screws. With 20% more power than the previous 5.0 Ah battery design, now you can focus more on your work, instead of staying close to your charger.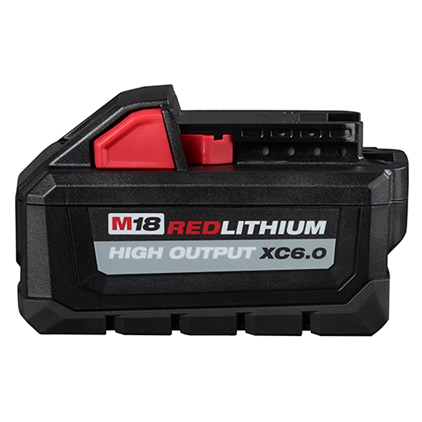 Hot, Warm, Cool, Cold
This bad boy tackles it all. A new cell configuration inside the pack keeps it up to 50% cooler than the widely popular M18 REDLITHIUM XC 5.0Ah. Even on sweltering summer days, you can keep working without your tools needing a break.
On the flip side, these batteries are extremely resistant to cold days too. Being a Wisconsin company, our good friends at Milwaukee are also familiar with the bone-chilling northern weather, and the effects it has on electric tools. The new High-Output units keep cranking all the way down to 0° Fahrenheit. Your hands will get too cold to work before these powerful Milwaukee battery cells give up.
So How Do I Get Mine?
When you first heard about the new M18 batteries, they were still just a distant pipe dream. But no longer! The new high-output batteries are here at acmetools.com and ready to help you step up your game.
48-11-1865 XC6.0Ah Single Battery Pack
48-11-1862 XC6.0Ah Two-Battery Pack