Holy cow, talk about upsets!! We're down to the final eight, and we will see a whole bunch of new sales in the second round. Only one brand makes it to the end and will claim the title of Last Brand Standing. Each brand will feature a starting lineup of their best five products with discounts and/or free goods. Whichever brand scores the highest number of orders will advance to the next round.
The first round saw five higher seeds go down, with the only top-seed surviving being Ego. The two juggernauts, Milwaukee and DEWALT, have been waiting to play as they each had first-round byes. Can Gearwrench and Diablo pull off another upset over the top two and continue their Cinderella run?
Fill out your bracket by clicking the button below. You have until March 21 to make your predictions for the second round. Next week, be sure to check back to see if the underdogs can keep rolling through the tournament.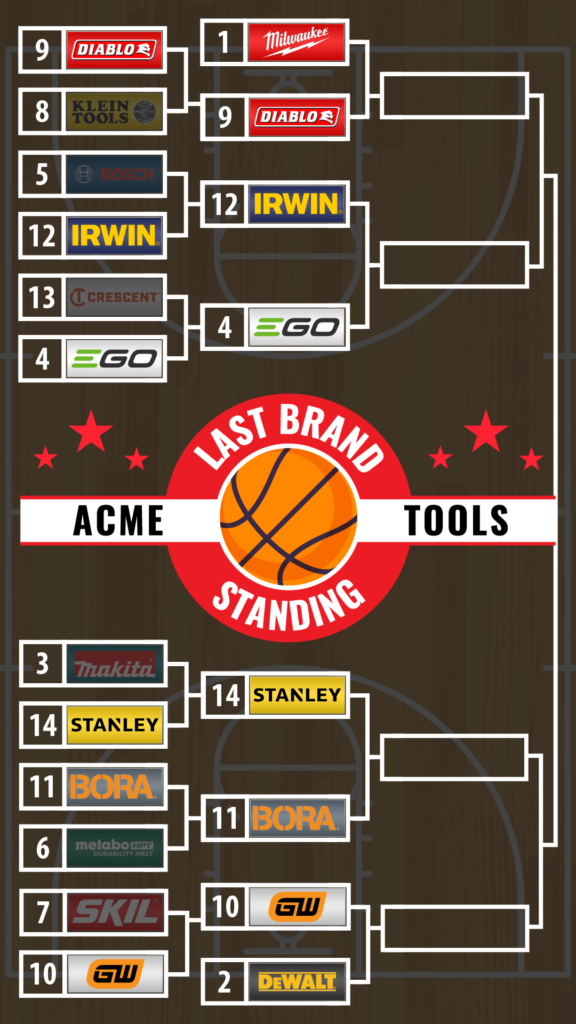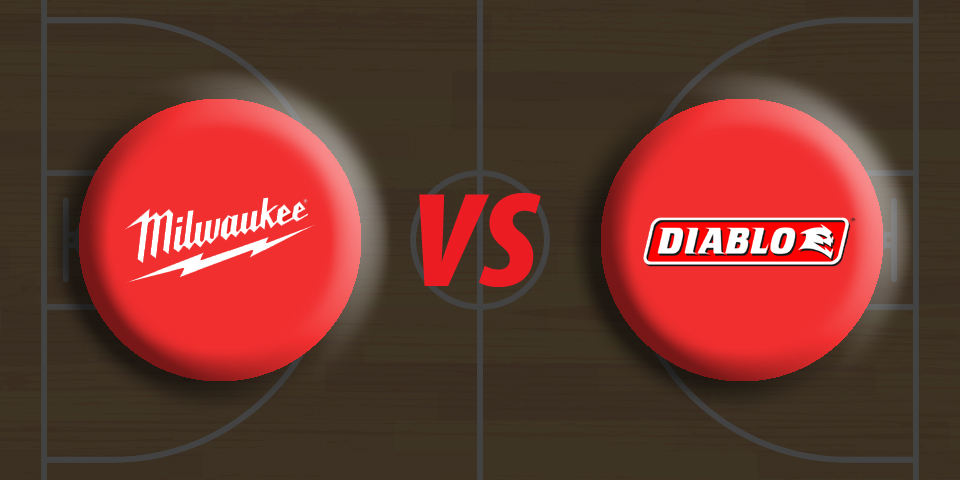 Diablo faces a tall order in taking down the reigning champs, Milwaukee. Milwaukee has brought one of the most diverse lineups in the tournament that features utility, power, speed, and height. Diablo has a small lineup but is focusing on conditioning and endurance to outlast the titleholders.
Milwaukee starts small in the backcourt with the 74-Piece SHOCKWAVE Impact Duty Drive Bit Set that has every trick in its bag and is engineered to be the Most Durable, Best Fitting driver bits around. The M18 Multi-Tool CP Kit features speed and longevity, which will be exactly what Milwaukee needs to withstand the pressure of Diablo's lineup. The Fastback Folding Utility Knife Set is perfect for cutting through defenses and features a metal body for durability.
Diablo is looking to wear down Milwaukee with a roster full of accessories built to last longer than anything else on the market. The 20 Piece T-Shank Jigsaw Blade Set offers both versatility and optimized body designs for fast, clean cuts in wood and longer cutting life in metals. The 9 Piece Carbide General Purpose Hole Saw Set delivers 50-times longer cutting life and faster performance and can be used on wood, nail-embedded wood, and metal.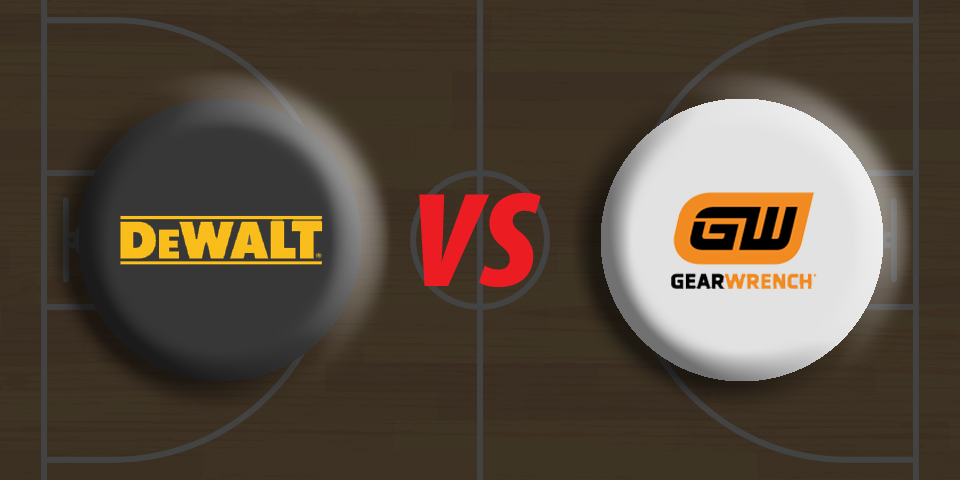 DEWALT has been sitting in wait for its second-round opponent, and Gearwrench is ready. Gearwrench brought their all-star from round one back, and two large tool sets to guard the paint. DEWALT is featuring a lineup for the ages that excels at every position. This may be a two-seed versus a 10-seed, but it will probably end up being much closer than that.
DEWALT's roster features power with a 20V MAX Chainsaw, speed in a 20V MAX String Trimmer, and versatility with a 20V MAX Brushless 3-Tool Combo Kit. The combo kit is made up of a 20V MAX 1/2-In. Drill/Driver, 20V MAX 1/4-In. Impact Driver, and 20V MAX XR 3-Speed Oscillating Multi-Tool for a three-headed monster that is hard to beat. The string trimmer is foldable, making it easy to fit in tight spaces.
Gearwrench has brought a duo of wrench sets akin to the Twin Towers of Tim Duncan and Duncan Robinson. The 21 Piece SAE Standard and Stubby Ratcheting Wrench and 44 Piece SAW/Metric Ratcheting Wrench and Hex Key Sets are full of diverse options to handle anything thrown at them. To assist Gearwrench's duo they have the Extra Large Kneeling Pad to prevent knee pain when working on hard or rough surfaces.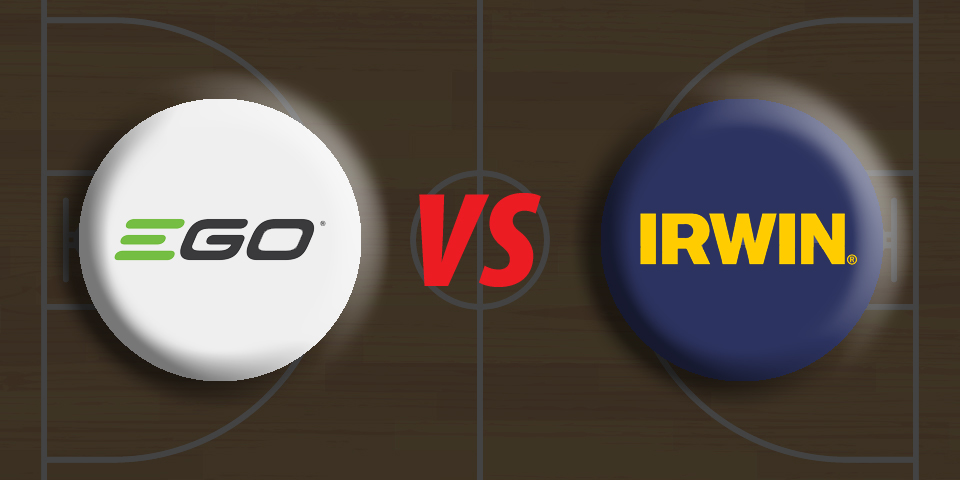 With Ego being the only brand not to get upset, they would appear to be the one to beat right now, and Irwin isn't messing around. Irwin brought a timeless classic to its lineup, and Ego is bringing versatility and power to its roster for the second round. This is a matchup to definitely keep an eye on.
Ego's starting five includes a handful of string trimmers, all with large cutting swaths to cover the paint. Ego brought a two-headed beast to the second round with the 15-Inch String Trimmer and 530CFM Blower Combo Kit that features both power and a large cutting swath. For power down low, Ego has the 16-Inch Cordless Chainsaw Kit that performs at 6,800 RPM via a high-quality brushless motor.
Irwin got past Bosch in the previous round by focusing on accessories, but they've come to fight in the second round. A duo of tools defines their lineup with lockdown defense. The Quick Grip 2-Inch Handi Clamp allows for adjustable clamping pressure with reduced hand force. To round out their lineup and to topple Ego's power, Irwin brought in the original 4-Inch Curved Jaw Locking Plier with an alloy steel body for ultimate durability.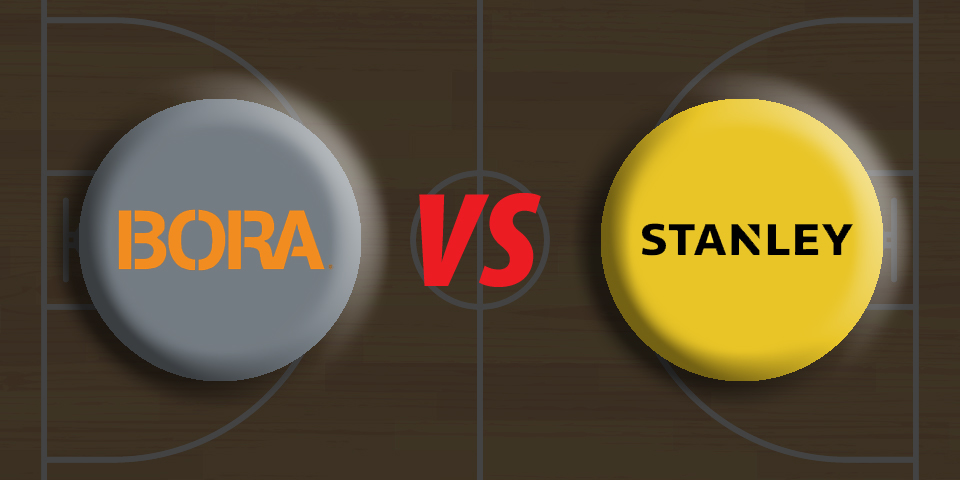 This one is a very close matchup of two cinderella hopefuls. Stanley's lineup is the prototype of a championship-caliber team with both big and small tools, while Bora's roster consists of a handful of tools that are built to assist around the shop.
Bora's products are all about the assist. Between a set of sawhorses, a couple work stands, and a mobile base, most of their lineup is all about facilitating work around the garage or woodshop. The 4-Piece Parallel Clamp Set provides 1,100 pounds of pressure for lockdown defense on the toughest projects. The Super Duty All Swivel Mobile Base makes it easy to push large power tools around the floor for increased flexibility.
Stanley is rolling out a diverse lineup of both big and small giving them a good shot of advancing to the next round. The High-Visibility Retractable Knife is a veteran player that has added an upgraded court vision to its arsenal, so you can always find it to make the perfect cut. The 229 Piece Black Chrome Mechanic's Tool Set is a monster, covering the entire gamut of every need you would have in the garage.