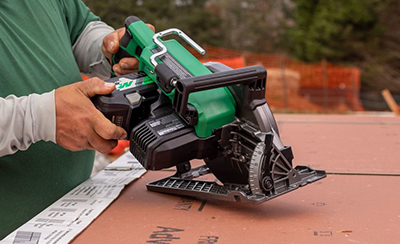 Metabo HPT is releasing a new brushless 36V MultiVolt 7-1/4" Rear Handle Circular Saw as a bare tool (C3607DWAQ4) or a kit (C3607DWA) that includes a 4.0Ah MV battery, the new VPR 24 tooth framing blade, a rapid charger, and a carry bag. This new rear handle circular saw is the lightest weight in its class and offers the power, ergonomics, and other features that demanding professionals need to lead the way in quality and performance.
Inspired by the needs of the professionals, this circular saw is designed to provide the ultimate experience for jobsite cutting applications. This saw also accepts any Multivolt batteries for extreme power and runtime and it accepts the 36V AC adapter for on the go.
Features
This circular saw comes with many great features to help you with your projects. First, as mentioned above it is the lightest in its class at 2 lbs. For runtime, it's capable of up to 500 2"x4" cross-cuts per charge. It offers versatility so you can use the AC adaptor whenever it's needed for your convenience. Its performance is unmatched as it is cordless but cuts as well as a corded circular saw. For its cut capacity, it can cut 5 layers of 1/2" and 4 layers of 5/8" of OSB/plywood with clear site lines for faster and more accurate cuts. Lastly, its brushless motor technology allows for more run-time, increased power, and extended durability for the ultimate experience.
Metabo HPT 7 1/4″ Circular Saw Rear Handle Bare Tool (C3607DWAQ4M)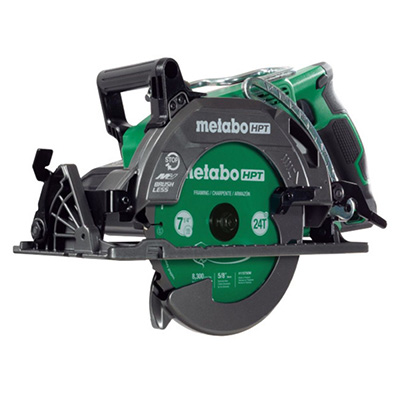 Metabo HPT 7 1/4″ Circular Saw Rear Handle Kit (C3607DWAM)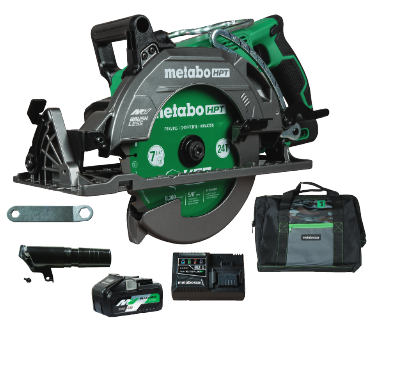 This rear handle circular saw is also backed by Metabo HPT's Lifetime tool body warranty and 2-year Lithium Ion battery warranty.
Shop the new Metabo HPT rear handle circular saw and other Metabo HPT products at Acme Tools.