Over the next few weeks, 14 brands will face off in a single-elimination tournament. Only one brand makes it to the end and will claim the title of Last Brand Standing. Each brand will feature a starting lineup of their best five products with discounts and/or free goods. Whichever brand scores the highest number of orders will advance to the next round.
Making it to the later rounds of the tournament requires experience. Everyone wants tried and true performance in their tools that they can depend on in tough situations. The tournament field is made up of some of the oldest brands in the industry, along with a couple newcomers and some of the top brands.
Fill out your bracket by clicking the button below. You have until March 14 to make your predictions for the first round. Check back each week for a new preview of the next round and to make your new picks.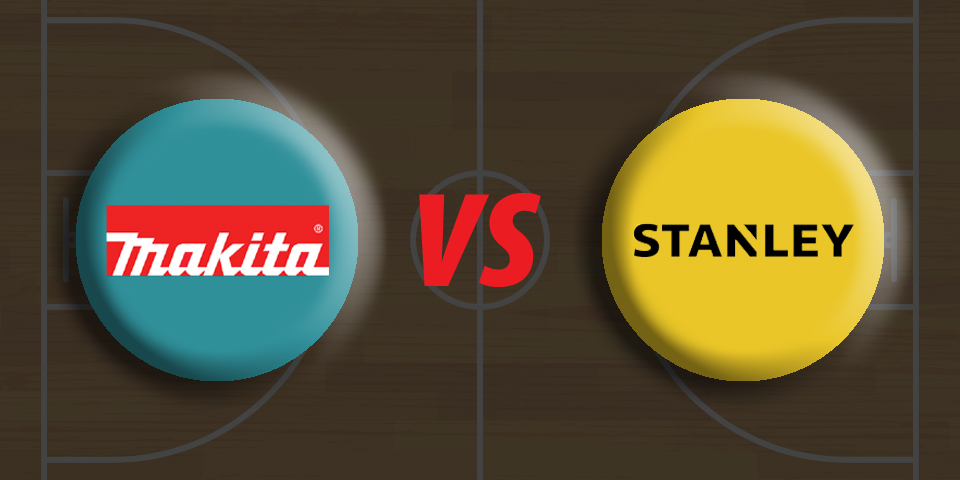 The first matchup sees the three-seeded Makita facing off against last-ranked Stanley. This is a battle of two of the oldest tool brands on the market, with Stanley dating back to 1843 getting the edge on experience. Each brand has entirely different skillsets as Makita is an industry leader in cordless tools while Stanley focuses more on hand tools.
Stanley's starting lineup features a handful of veterans with a superstar in the making rookie tool. Between the solo 25-Foot PowerLock Tape Measure and combo kit that includes the always reliable 25-foot tape and utility knife, Stanley has experience for days. The FatMax Retractable Knife injects some new blood in the mix with its soft-touch grips for better control during cuts.
Makita has no shortage of wily veterans either. Their lineup features several mainstays of the tool industry they have been dominating for years. The top 5 features a utility tool that isn't flashy, but it establishes the base of every good tool. An 18V 4.0 Ah LXT Lithium-Ion Battery and Charger Starter Pack is guaranteed to keep you running late in the game. Turn to the 18V LXT Impact Driver Kit that packs 1,500 inch-pounds of max torque into a lightweight body of only 3.3 lbs for toughness down low.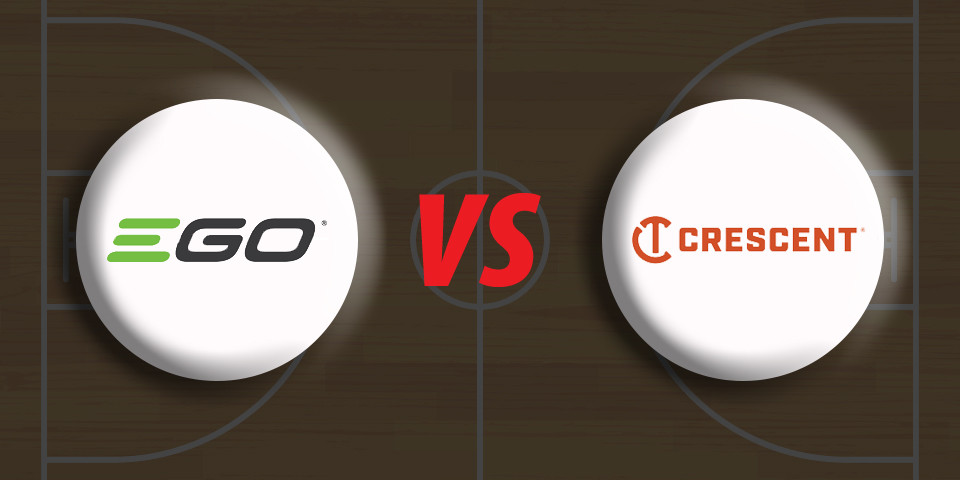 Ego has risen quickly to contend with some of the top brands in the industry, while Crescent has been producing hand tools for over a decade. While Ego seems like a juggernaut at a 4-seed, you can't count Crescent out with their level of experience.
Ego has risen to the forefront of the outdoor power equipment transforming the game and causing some of their top competitors to play catch up. Ego's star player is the 21-Inch Self-Propelled Cordless Lawn Mower. Producing all of the torque expected from a gas-powered mower, Ego's mower also brings less mess, noise, and fumes. Working alongside the mower, the PowerLoad Cordless String Trimmer features a 15-inch cutting swath creating a devastating one-two punch.
Crescent has brought a powerful lineup to the tournament with playmakers in every area. The Crescent 99 Piece General Purpose Tool Set holds every trick in its arsenal with a tape measure, claw hammer, hex key sets, utility knife, pliers, and more. The Tradesman Backpack helps carry the load during tough stretches providing a boost for the rest of the tools in their lineup.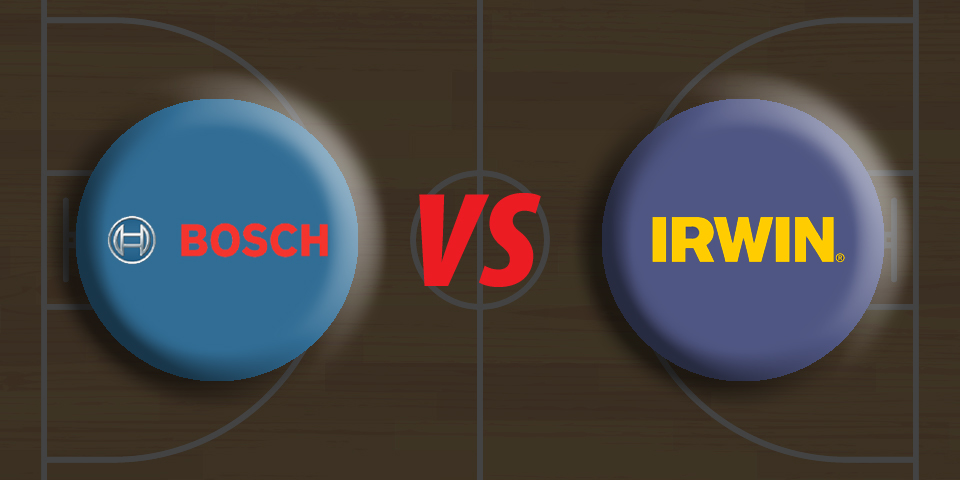 Another David and Goliath matchup here between Bosch, a heavy hitter in the cordless power tool industry, and Irwin, one of the oldest tool manufacturers. At first glance, it seems Irwin would be overmatched, but don't count out a brand that introduced the original Auger bit and Vise-Grip locking tools.
Bosch's lineup is the epitome of versatility, with several tools offering multiple options. The 12V Max Flexiclick 5-in-1 Drill/Driver System offers a magnetic bit holder, locking bit holder, a keyless chuck, an offset angle, and a right angle. The Bulldog Extreme Rotary Hammer features a Vario-Lock design to set the chisel position to one of 36 different settings for working at different angles.
Irwin is focusing on utility in their lineup, featuring various accessories that are at the top of their class. The Quick-Grip 4-Pack 6-Inch Clamps provide security across an entire area, and the Quick-Release trigger makes it easy to clamp with one hand. The SPEEDBOR Wood Drilling 6-Piece Set provides quick, clean holes in the defense.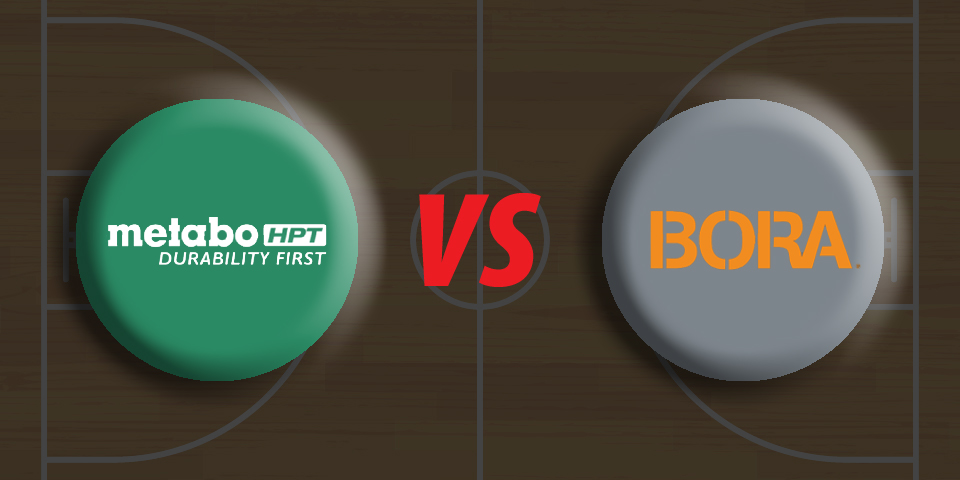 You won't find a bigger matchup of differing styles in this entire field. Metabo HPT features power and speed for increased efficiency that will be impactful for a handful of trades, and Bora provides unmatched performance from their different support systems. Lineups for both brands feature high-end speed and efficiency.
Metabo HPT has a frontcourt of nailers that is hard to rival, along with a couple of saws that are all about precision. The 18V paper Collated Cordless Framing Nailer cuts the hoses and compressors out without sacrificing the performance expected from a pneumatic nailer. The 36V MultiVolt Deep Cut Band Saw Kit offers 16% faster cutting speed than the closest competitor for speed down the court.
Bora's entire lineup emphasizes efficiency, with each tool ensuring you're doing your work as quickly as possible. The Speedhorse-Two Pack provides a support system that can be set up and broken down 30 times faster than conventional sawhorses. Turn to the 5-Piece NGX Deluxe Set for precision cuts making it easy to rip, cut, and break down material without losing time.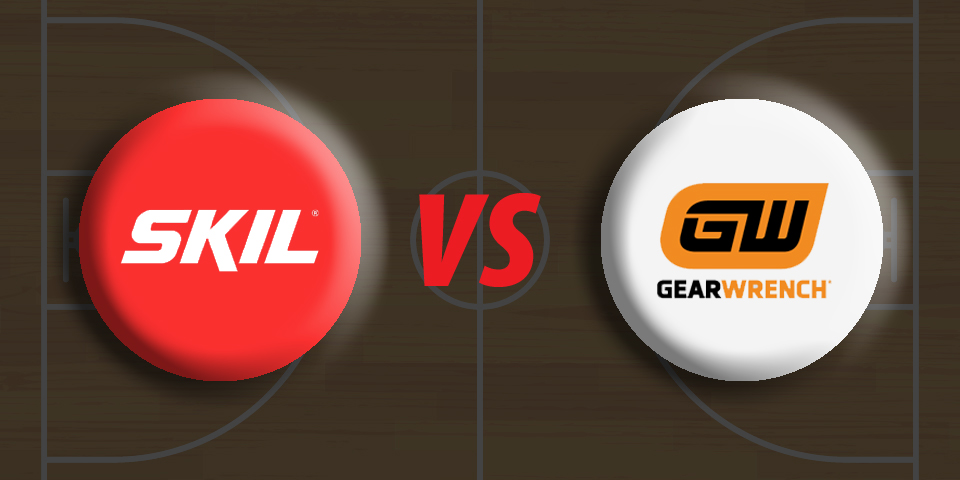 This faceoff features two of the most recognizable brands in their respective fields. GEARWRENCH is a mainstay in many garages across the world, producing some of the top mechanic's tools on the market. On the other hand, SKIL has become almost synonymous with saws producing the industry's first handheld circular saw in 1923.
GEARWRENCH is bringing a few big dogs as well as some leaner options to play. A 25 Piece 90T Wrench and Ratchet set provides versatility in crunch time. The 13 Piece GEARPACK Bolt Biter and Auto Bite Tool Set provides all the vital pieces any mechanic needs. To help fill every need a shop has to run the entire floor, the 239 Piece Mechanics Tool Set is the answer.
SKIL's lineup includes the all-star with some lesser-known additions that are due to become stars themselves. Their offerings are led by the original superstar, the 7-1/4-Inch Magnesium Worm Drive Saw, providing up to 5,3000 RPM cutting speeds. The Rechargeable 4V Screwdriver is small at only 1.1 pounds but packs a punch in its compact size that is perfect for fitting in smaller lanes.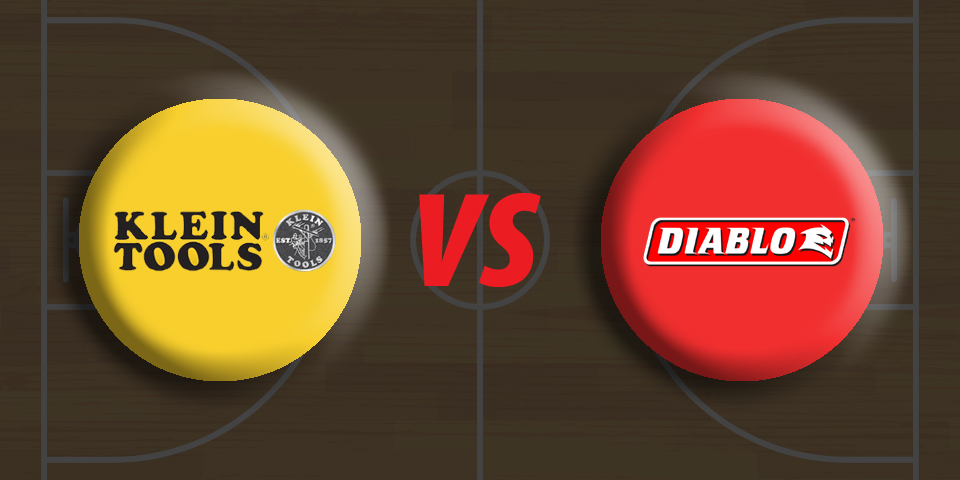 The closest matchup on the slate pits Klein Tools, a premier hand tool retailer, against Diablo, a top-of-the-line cutting tool company. Klein Tools lineup emphasizes usability and convenience, while the Diablo lineup is more about precision and speed.
Klein Tools' roster includes versatility and user convenience. The Magnetic Mounting PowerBox is easily mountable anywhere on a magnetic surface. LED lights on the PowerBox to illuminate dark job boxes, and the tool features four 120V AC power outlets, two USB-A ports, and a USB-C port creating ultimate power flexibility. The 11-in-1 Magnetic Screwdriver/Nut Driver includes three nut driver tips up to 1/4-inch, two Phillips heads, two slotted tips, two TORX tips, and two square recess tips.
Diablo's offerings include a trio of saw blades, a spade auger bit set, and a hole saw kit, making for one of the most diverse cutting lineups in the tournament. The 13-Piece Carbide Plumbers Hole Saw Set delivers 50-times longer cutting life, faster performance, and increased productivity making it one of Diablo's top stars. The Diablo 7-1/4-Inch 60 Tooth Ultra Finish Saw Blade is built for durability and is capable of making clean cuts with very little sanding.