Metabo HPT added another tool to their expanding MultiVolt System. The new 18V Compact Cordless Brushless Trim Router (M1808DAQ4) provides another level of freedom while working on projects in the shop. The router delivers high-level power under load and increases ergonomics while working one-handed, creating a corded experience while staying cordless for added flexibility anywhere.
Metabo HPT Cordless Trim Router (M1808DAQ4)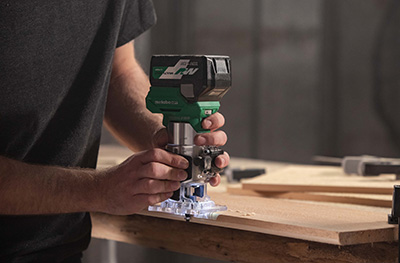 The new router is built for professionals looking to maximize efficiency without creating fatigue during long projects. With a weight of only 2.5 pounds, the lightweight tool is 26 percent lighter than comparable models, so you don't have to worry about your hand getting tired while working. For added comfort, an ergonomic rubber grip, one-handed power/trigger system, and ambidextrous base mounting option provide unmatched flexibility you won't find anywhere else.
The brushless router features variable speed that offers between 10,000 to 30,000 revolutions per minute, creating more control over the router's power. It features a two-stage power/trigger, soft start, and quick brake that stops the bit for even more control over the tool and additional safety. A bright LED light keeps the workspace illuminated to maintain accuracy. With the light combined with the clear guide that provides perfect sightlines of your workpiece, you'll make the perfect cut every single time.
Additional Features
The M1808DAQ4 features a dust collection port that allows you to connect a vacuum to the router so wood debris and dust aren't floating all over the workshop. The depth adjustment feature allows easy changes, including micro-adjustments with minimal effort, for maximum efficiency and accuracy. The router accepts 1/4- and 3/8-inch collets for added versatility in cuts. It also features a lock-on switch for continuous operation and a clamp lever which allows the base to be set for quick and easy repeated cuts. This complete tool comes with both a 1/4" and 3/8" collet, trimmer guide, straight guide, template, dust collection port, and bit changing wrench. 

Metabo HPT 18V Cordless Brushless Trim Router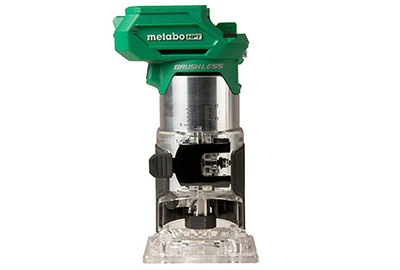 Shop more of Metabo HPT's MultiVolt System and many other tools at Acme Tools.