Metabo HPT aims to revolutionize the cordless tool market. They took another step toward that goal with the recent launch of their new plunge router and metal connector nailer. The 36V MultiVolt Cordless Metal Connector Nailer (NR3665DA) and 36V MultiVolt 1/2-Inch Plunge Router (M3612DA) are the latest additions to Metabo HPT's expanding MultiVolt System. Each tool emphasizes the freedom to complete projects on the GO by cutting the cord.
Metabo HPT Cordless Plunge Router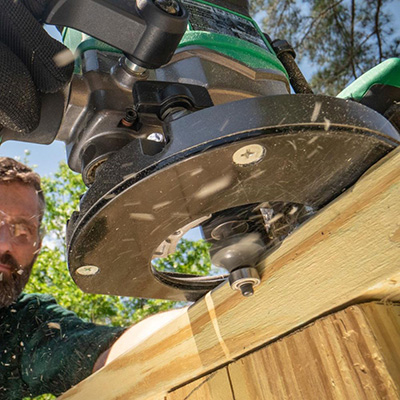 The new plunge router is the first-ever cordless option within the industry. By cutting the cord, woodworkers will be able to work free of a workstation for the first time. The two-peak HP brushless router is the ultimate in flexibility, offering variable speeds of 11,000 up to 25,000 RPM. At over 46 feet per minute through 1/2-inch plywood, the M3612DA can cut faster than similar corded options. The new router is also 40 percent lighter than corded models, weighing only 6.6 pounds with a battery.
Other features include ergonomic grip, soft start, and quick brake. The ergonomic grip combined with a handle-mounted lock-on switch makes longer jobs easier and more comfortable. The soft-start ramps up speed upon startup, so the tool doesn't jerk out of your hand. The router features a bit capacity of 1/4- to 1/2-inch with two included collets and plunge stroke of 1-31/32-inches. An on-board LED light makes it easy to work on projects in dimly lit places as well.
Metabo HPT Cordless Metal Connector Nailer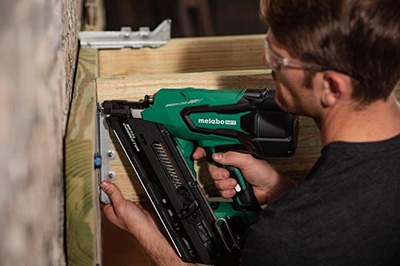 Long hoses and compressors are a pain, and when working in elevated areas, they can be a safety hazard. Metabo HPT's new nailer gets rid of all of that and makes your work more efficient. The Cordless Metal Connector Nailer's Air Spring Drive System delivers a similar feel to a pneumatic nailer while cutting out the need for gas cartridges. The nailer can handle 1-1/2-inch and 2-1/2-inch nails up to 0.162-inch in diameter and can drive 900 2-1/2-inch by 0.162-inch nails per charge using a 2.5 Ah MultiVolt battery.
Both the plunge router and metal connector nailer can transform to corded use with the 36V AC adapter so you can keep on working if your battery runs out. The 36V MultiVolt battery that comes included with each tool can be used on any other 36V Metabo HPT tool, as well as any 18V cordless tool.
Metabo HPT 36V
Cordless Plunge Router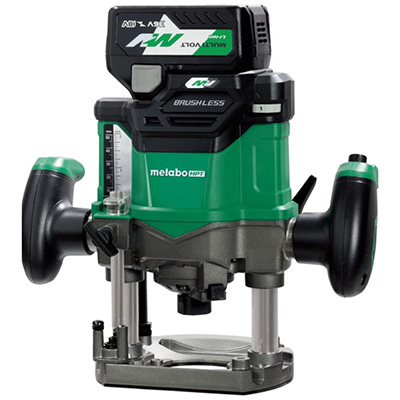 Metabo HPT 36V Cordless
Metal Connector Nailer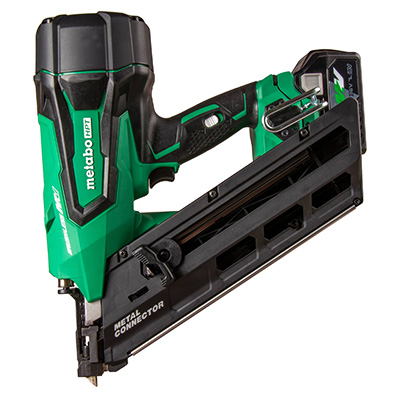 Shop more Metabo HPT products that are part of the MultiVolt System at Acme Tools.