Metabo HPT delivered the newest tool in the MultiVolt family, a 36V Deep Cut Band Saw (CB3612DA). The new band saw brings increased speed and efficiency, allowing the saw to cut up to 4 3/4 inches deep through conduit, steel pipes, fencing, aluminum window frames, wood, and various plastics. The CB3612DA is perfect for electrical, plumbing, mechanical, and commercial work.
Speed and Efficiency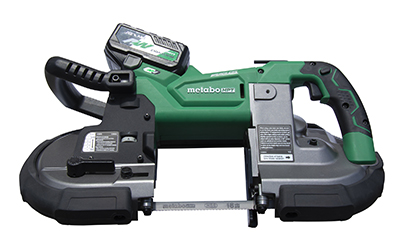 The saw features a cutting speed of 640 feet per minute, which is 16% faster than the closest competitor. A brushless motor combined with an included bi-metal blade allows the saw to cut stainless steel pipe up to 4 times faster than competitors. The bi-metal blade also provides superior blade life, lasting twice as long as a traditional bi-metal band saw blade. At minimum cutting speed the CB3612DA gets 30% more cuts per blade compared to competitors.
Additional Features
The portable saw features a variable speed dial with an auto-mode function that can automatically adjust blade speed to fit the material being cut. The auto-mode function reduces noise and creates maximum battery efficiency. The new saw has the highest variable speed range in all deep cut band saws. The speed ranges from 200 surface feet per minute and goes up to 640 surface feet per minute.
The saw's LED light illuminates the cutting area for increased visibility and it features a pivoting hook for storing the tool when not in use. The portable band saw includes a MultiVolt 36V 4.0Ah battery, which provides increased power and runtime, and can last all day on a single charge. The tool is also compatible with the AC Adapter with cord for extended work periods that are stationary. A rapid charger and plastic case also comes included with the deep cut band saw.
Shop more Metabo HPT products at Acme Tools.