Cutting tile can be a huge hassle. If you try to cut tile dry, the dust gets everywhere, and a wet saw wastes time drying your hands all day. That's where iQ Power Tools' new iQ228Cyclone tile saw comes in. Labeled the world's first 7-inch dry-cut tabletop tile saw, this tool is designed with professional contractors in mind to save time and cut down on the mess.
iQ Tile Saw Dust Control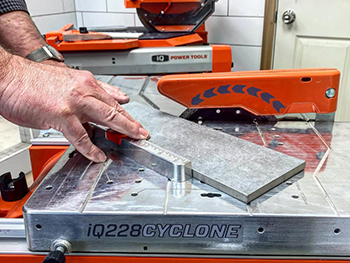 Cutting dry can be a huge mess when cutting tile but the iQ tile saw's integrated dust control system keeps the mess contained. The system works by filtering fine parts from being released into the air. Four cyclones pull the majority of dust into a tub before even hitting the filter, therefore extending the filter's life. A 15amp motor runs both the vacuum and saw motor. This entire system is contained within the saw, preventing 99.5% of the dust from ever hitting the air.
Q-Drive Blade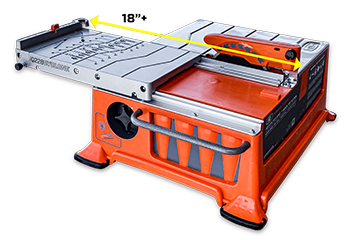 Part of the necessity of wet saws is to keep the blade cool during cuts, but iQ has the answer for that, the Q-Drive blade with Cool Cut Technology. The blade is engineered to cut dry but stays cool to the touch and features no warping or wandering, ensuring you get an accurate, straight cut. The built-in vacuum on the iQ228Cyclone air-cools the blade while removing debris, so the blade isn't cutting the same material twice, which reduces friction and heat.
TRU-CUT System
One feature the iQ228Cyclone boasts is its new TRU-CUT System, which allows for 18-inch rip cuts on the rolling table and 24-inch cuts when locked in place. The system enables you to make intricate and accurate cuts every time. The iQ tile saw's TRU-CUT System includes a fence, iQ Micro Fence, and a Pre-measured Rolling Table. One-inch measured increments off the blade pre-set into the rolling table, along with the Micro Fence that allows 1/16-inch adjustments, ensures you get the perfect cut.
iQ Power
Tools Dry
Cut Tile Saw
Q-DRIVE 10″
Combination
Blade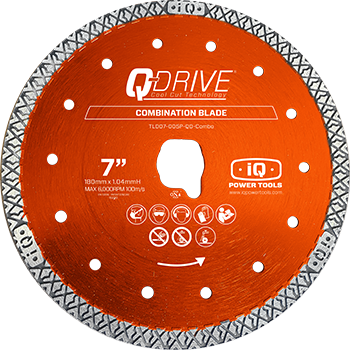 Q-DRIVE 10″
Hard Material
Blade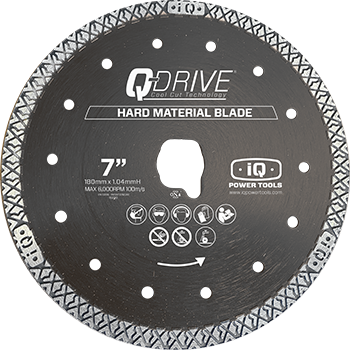 Shop more iQ Power Tools products at Acme Tools.