Metabo HPT is looking to revolutionize concrete jobsites with the industry's first battery-only cordless Duplex Nailer (NR3675DD). The new nailer already has a 2020 Pro Tool Innovation Award from Pro Tool Reviews for best-in-class products ahead of their time. The nailer drives duplex nails up to 60 percent faster than hand driving, making it more efficient and saving money. Therefore, it's the perfect solution for constructing reusable structures such as concrete forms and scaffolding.
Run-Time & Efficiency
The Duplex Nailer aims to put hand driving nails in the past. The tools Air Spring Drive System and 36V MultiVolt battery provides a run-time that's unmatched and saves time on the jobsite. So, the NR3675DD is capable of driving up to 900 Duplex nails per charge using a 2.5Ah MultiVolt battery. For longer jobs, the 4.0Ah MultiVolt Battery provides enough run-time to drive up to 1,200 Duplex nails on a single charge.
The cordless Duplex nailer drives two nails per second with a pneumatic-like feel with its unique Air Spring Drive System. It also features a brushless motor for longer runtime, increased power, and extended durability. A simplified control panel allows you to quickly turn on the tool and start driving nails with zero ramp-up time. The nailer accepts 6D, 8D, and 16D collated Duplex Nails, all of which are available from Metabo HPT.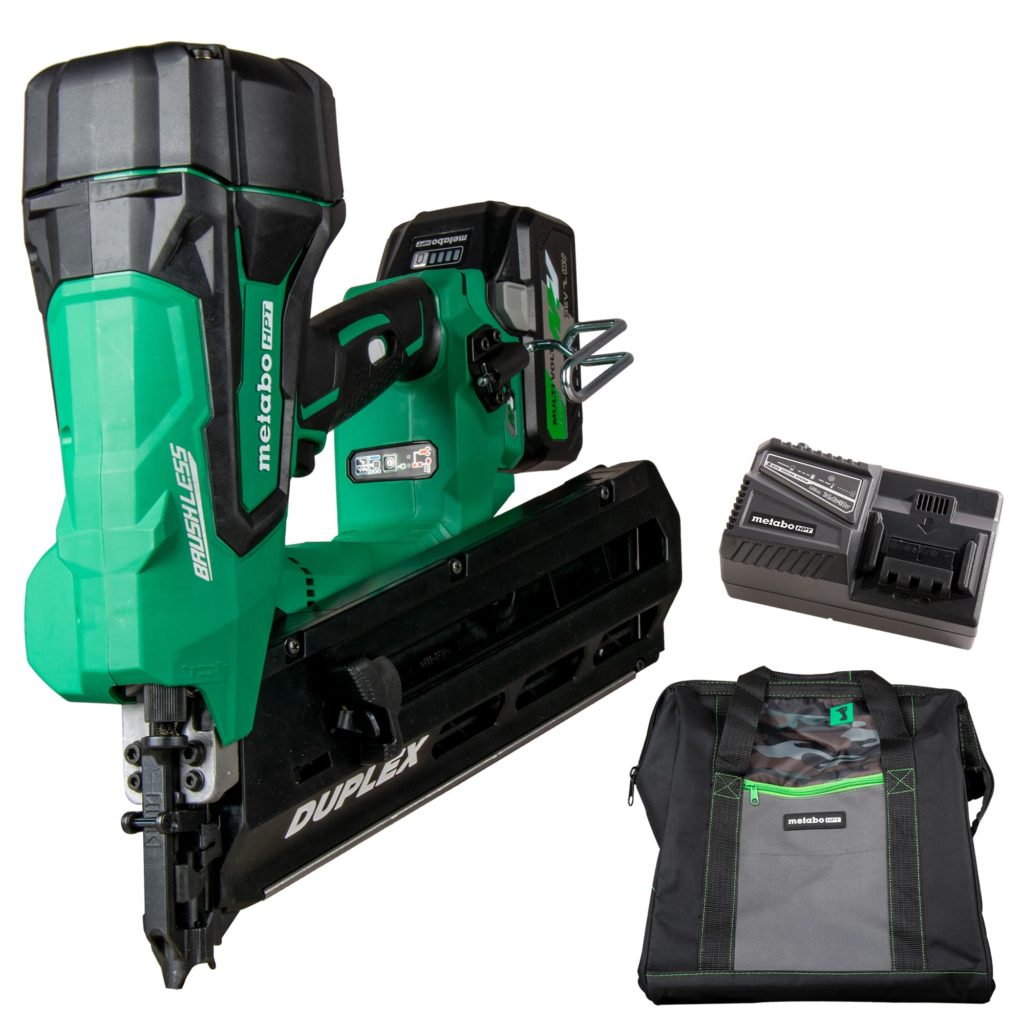 Additional Features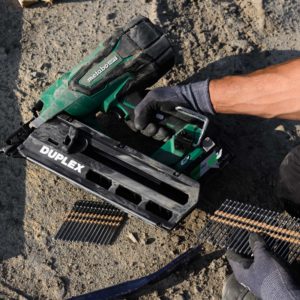 The MultiVolt Duplex Nailer has two features that save time, providing more efficiency on the jobsite. It has a dry-fire lockout system and tool-less depth of drive adjustment. The NR3675DD provides world-class safety, featuring a belt hook and side lock switch to prevent accidental firing.
The MultiVolt nailer weighs just 10.8 lbs with the included 2.5Ah MultiVolt battery and can accept a 36V battery. Also, all MultiVolt batteries are backward compatible with Hitachi and Metabo HPT 18V slide-type cordless tools.