MetaboHPT unveiled its new pancake compressor, The Tank (EC9146), the industry's first 200 PSI High Capacity Compressor. The Tank packs 25% more pressure into a smaller body, versus the Metabo EC710S. That higher pressure provides more power to run a whole framing, roofing, or siding crew simultaneously. The Tank offers professionals a versatile, powerful compressor that features unmatched upgrades.
Capacity and Power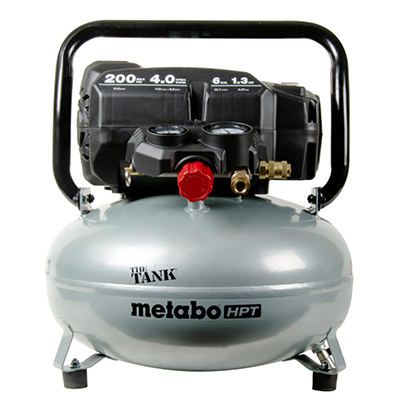 A 6-gallon tank provides plenty of capacity, maximizing productivity. The Tank can drive nails flush with zero delays, thus boosting efficiency. With 4CFM at 90PSI, The EC9146 provides 30% more airflow than the Metabo EC99S, making it easier to run multiple nailers at once with quick reloading. With its capacity and PSI, the pancake compressor can run two framing nailers, siding nailers, or roofing nailers at the same rate as a traditional pancake compressor. It also can run three 15-Ga or 16-Ga finish nailers or five 18-Ga brad nailers at once, allowing a finish crew to get jobs done faster.
Portability and Durability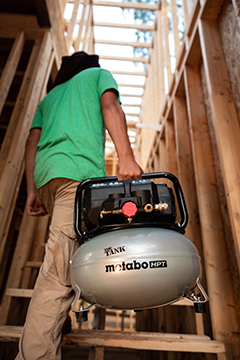 The Tank is 22% lighter than a traditional twin stack compressor, such as the EC99S. The new compressor weighs just 41 lbs. making it easily portable around the jobsite. A solid steel "roll bar" handle makes carrying The Tank up or downstairs easier. The steel handle provides durability for the harshest work environments and protects against damage if bounced around in the back of a trailer or truck. An oil-free design offers low maintenance on The Tank while still delivering high durability for a compressor that's ready for use right out of the box.
Shop more of Metabo's extensive line of tools, such as nailers and compressors, and power tools at Acme Tools. Get early access to deals, hacks, new products, and more by texting ACME to 41928. Be sure to follow our blog for more brand highlights!