Learn more about Metabo's newest electric polisher that will make car and truck enthusiast or remodeler rejoice. 
Metabo is proud to introduce their newest tool, their Variable Speed High Torque Dry Polisher. Meant to give you professional-grade results and intended for those who are in the automotive or stone and concrete polishing market. Get that swirl free look no matter what material you're on with these excellent power tools.
Metabo is presenting the PE 15-20 RT and the PE 15-30, which will replace the 12-175, with planetary gearing that will allow for a more powerful and efficient tool. So no more hand polishing for hours using that elbow grease, unless you like that part of the job. But keep reading to find out which one would be best for you and your work.
What's the Difference?
I'm glad you asked. Though these variable speed polishers are similar, in detail these tools differences are what makes them great for specific jobs. Now the significant difference between these tools is who they were intended for; the PE 15-20 RT is for the automotive and finishing market. While the PE 15-30 is for heavy duty applications.
(PE 15-20 RT)
The Extra High-Torque Variable Speed Dry Polisher has a no-load speed of 300-1,900 rpm, 133 in-lbs. of torque, and 13 Amps. Combined with a soft hand grip, rubberized cover, and the position of the rat-tail handle creates for maximum ergonomic comfort for day-long polishing. Making it perfect for the shop who needs to work on detailing or working out those rough spots on their car or their clients.
The PE 15-20 RT can make car polishing more efficient compared to hand polishing or even other polishers.  With a comfortable grip made to feel like its natural to hold you can go from car to car all day without ever having to worry about discomfort. Only taking 13 Amps this device won't be any reason for a power outage in your shop.
(PE 15-30)
The High-Torque Variable Speed Dry Polisher has a no-load speed of 800-3,000 rpm with 13 Amps. Along with an adjustable loop handle for optimal control while in use. Powerful enough to help strip any impurities or scuff on concrete to get it to a smooth surface ready to apply a polishing coat.
The PE 15-30 can easily adjust to a days work and can quickly shift from grit to grit with any hook and loop pad that you need for your job. Go from cleaning to buffing in one tool is no significant upgrade but having comfort is one feature you can't ignore. With an adjustable loop handle, you can hold or apply pressure as you need without ever having to worry about coming into contact with the surface or the high spinning pads. Nothing could be worse than losing your grip on your tool and having it fly out of your hands. Other than ruining your work by catching yourself and putting marks on your surface. Sure it might be small, but that means more time wasted fixing a small mistake, and those are always the worst.
What do they have in Common?
Now both the PE 12-20 RT and PE 15-30 comprise of a VTC electronics (vario-tacho-constamtic)-Netabo's exclusive technology. This technology helps maintain RPM under load while also protecting the end-user and extends the life of the tool. Both also have overload protection, protecting the machine from overheating. Having this preventative measure will prolong the tools life, and the soft start feature allows for a smooth start-up.
Metabo has also included restart protection. This technology would prevent the tool from starting on its own if there were a power interruption. The last thing you want is polisher starting up when it's not on your intended surface.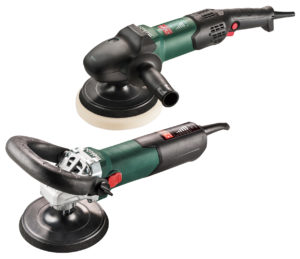 The polishers are equipped with electronic winding temperature monitors with LED displays to save yourself on energy. That way you can see if the tool is close to overheating. Giving you time so you can ease off a bit so that you can still work without interruption. With that in mind, both devices have a lock on trigger/ switch for running the tool for extended periods. You won't have to keep squeezing the trigger or switch to get the hard spot. The loocking feature would reduce the number of hand cramps you would see in a day.
Final Thoughts
Meant for the trades professional who needs more power, comfort, and reliability. From the design of the tools, the technology inside, and how much it can adjust its RPM, this can make the work of polishing concrete, steel, or metal easier. Just make sure that when you're shopping, you pay attention to which one you'll need for your job.
---
Excited about this new product? Tell us in the comment section what about this tool has impressed you. Don't forget to go to Acme Tools online store for all you Metabo tools or any other brand for that matter. There you can find great deals daily. Stay up to date with other tool news like this by checking out the rest of the blog. Tell us what other tools you're excited to see and what kind of articles you want to read. That way we can help you Do Your Best Work.