Metabo unveils two new tools that will improve work time for the user while ensuring optimization of the battery.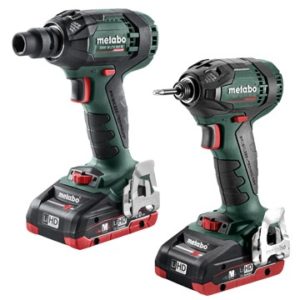 Metabo announces two new tools; the 18V Impact driver (SSD 18 LTX 200 BL) and the 18V High Torque Impact Wrench (SSW 18 LTX 300 BL). Designed with both the trades professional and the homeowner in mind. With a new feature that will help optimize battery life but also prevent an issue that plagues everyone later on in the future.
How Much Power Do They Have?
With every innovation and release of the tool they get more powerful, and this is no exception. The SSW (the compact impact wrench) has a no-load speed of 2,650 RPM, 221 ft. lbs. of torque, and 3,750 BPM. While the SSD (the impact driver) has a no-load speed of 2,900 RPM, 1,700-inch lbs. of torque, and 4,000 BPM. What does all this mean? Well, it means that for securing heavier duty bolts and screws you have a tool that does the job with no problem.
But just because it can handle tough jobs doesn't mean it can switch to ones that need a bit more finesse. Thanks to the 12 speeds/torque levels that both tools have, you can adjust them to fit the job you need. Giving them a wide range of uses and applications.
What's the Catch?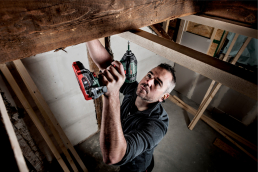 But with power, there has to be a setback. A heavy battery or slow tool, right? Nope. The 18V Impact Wrench and Driver are tremendously fast and have an industry leading power to size ratio. This ratio reduces worker fatigue and allows for more rapid work on a job. The speed is also thanks to the brushless motor, which also increase the number of screws or bolts that can be secured in less time.
What's the New Feature?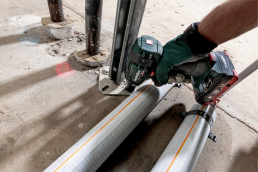 In both tools comes a new feature that will help everyone in the long run. This unique feature is something Metabo calls APS or Automatic Power Shift. This feature supports working with self-tapping screws by automatically reducing torque after drilling to prevent stripping. Because if you have ever had to try to remove a stripped screw from a wall, a shelf, or any other project, you know it's not easy or fun. By having this feature, it gives control to the user while maximizing working speed and efficiency.
Not to mention it includes electronic overload protection to keep the motor from overheating, prolonging the tools life. As well as an LED light to shine a light on your work area and the ability to adjust the placement of the belt hook, either the left or right side.
Final Thoughts
These two tools would be a welcomed addition to any toolbox, shop, or garage. They cater to the trades professional who would use them every day. To the homeowner who would appreciate them when it comes time to building the newest shelf or securing a new picture.
Interested in more tools from Metabo? Check out our online store for the best deals on this brand and many others. Keep up to date with all the latest tool news by checking out our blog and social media pages as well. Find the tools you need for your job and get them at the best prices at Acme Tools, that way you can always Do Your Best Work.