Find out about the newest Steel Storage Solutions from Milwaukee Tools. Mobile Storage to fit any shop or garage.
A workbench needs to fit your needs and handle heavy jobs. But have you ever wanted your workbench to move as well? Milwaukee is giving you that option with their two new steel storage solutions.
These workbenches come in different variations so you can choose the best one to fit your work and your space. These benches come in either two sizes a 40" or 56". Giving you the option to pick the one that fits your space. Made out of heavy-duty 18-gauge steel and a reinforced frame, the bench can handle hefty jobs with no problem. And depending on which you can either customize your bench further to fit your needs.
40" Mobile Work Bench
With the Milwaukee 40" Mobile Work Bench you can choose between a wood top (48-22-8539) or a stainless steel top (48-22-8540). Selecting the style you want and a surface that's perfect for your work — as well the option to add more utility to maximize your bench. With a bolt-on utility shelf, you can extend your storage area for things that you need after a job. Tool organizers to keep the drawers neat and clutter-free. Finally a built-in access power for instant access to energy.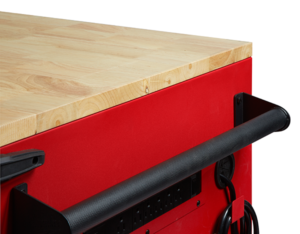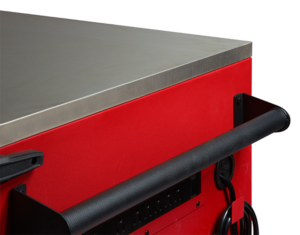 Not only do you get easy access to power but you can move this bench around the shop with ease. Thanks to it 5" industrial casters it can handle the workspace and not cave under the weight allowing for smooth movement around your workshop no matter the weight. With a weight capacity of 1,800 lbs. it can handle a majority of projects with no problem holding the bulkiest tools and supplies.
A big problem though with heavy items in drawers is the loud noise you make when you close them. With the mobile workbench, you won't have to worry about that issue any longer. All six drawers, including the larger bottom one, have a 100 lb. soft close feature, meaning that anything 100 lbs. or under in your drawer will close softly without the noise. A great feature if your workshop is in the garage of your home and you don't want to wake up anyone inside.
56" High Capacity Steel Storage Cabinet & Chest
Then the 56" High Capacity Steel Storage Cabinet & Chest you have the option to get either both the chest and cabinet (48-22-8558 & 48-22-8557) or just the cabinet itself (48-22-8456). So, whether you need tabletop space or security for your tools, the choice is in your hands.
Chest
Similar in many ways to its 40" model there are a few differences between them that you should take note. The chest, for instance, features an electronic lock for secure storage, that way the need for a key is no longer required. Saving you time from having to look and find the key to lock up or open the chest.
Cabinet
But another significant difference between the two is how many drawers the 56" cabinet has, 18 drawers. Each drawer also includes a soft close slide but is rated for 150 lbs. Storing heavier tools or more tools in the drawer without having to worry about loud slamming, and with a two large bottom drawers, you can save a lot of counter space while keeping your shop organized. Weight capacity of 3,000 lbs. with 6" caster wheels, you can load this with your bulkiest tools and supplies and move it around your shop in a one go. Saving you the time of shifting everything one at a time and the strain on your back.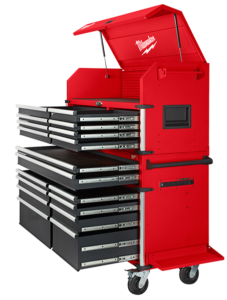 The drawers aren't the only feature included maximizing your productivity. To help utilize the entire space of the cabinet Milwaukee has incorporated tool holders, a folding utility shelf, and a built-in power center with USB ports. Having a place that is designated to hold your tools helps minimize the clutter, your search time for the item, and optimizes your work. Along with the folding utility shelf, you can fold it out when you need it then store it when done. Finally with a power center built-in the cabinet you can charge your batteries or power your tools without needing extension cables. And still, have a place to charge your phone while you're working.
Who Could Use This?
From the mechanic to the DIYer, from your garage to a professional workshop, the cabinet or the workbench would be welcomed in any place where large tools and workspace is needed. The bench, you have a work area where you can work on big to small projects with all your items in arms reach. The cabinet and the chest is ideal for the professional shop who needs lots of space, power in one area, and a place to secure their tools when done with a hard day.
Either of the two storage solutions would be appreciated by anyone who uses tools and needs a workspace that won't take up to much space. Keep your eyes for this item as it will soon be available January 2019
---
Did you find this article useful? Let us know in the comment section down below what you think of the storage system from Milwaukee. Interested in more items like this? Check out Acme Tools website for the best deals and tools on the market. That way you can always Do Your Best Work.